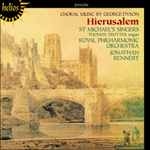 Dyson: Hierusalem & other choral works
'Hierusalem is a wonderful piece which I would bracket with Finzi's Dies Natalis and Howells's Hymnus Paradisi as one of the best examples of mystical ...
'The very beautiful, gently ecstatic Hierusalem … is such a wonderful score that … this recording should be on every shelf that cares about ...
» More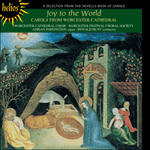 Joy to the World
'Altogether a very enjoyable disc' (Organists' Review)
'…as beautiful as anything you will hear this festive season.' (Yorkshire Post)
» More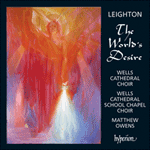 Leighton: The World's Desire & other choral works
Kenneth Leighton's music is at the heart of English Cathedral repertoire, and demonstrates the composer's happy absorption in this milieu from an early age. This latest disc from Wells Cathedral includes some first recordings in impeccable, lasting p ...
» More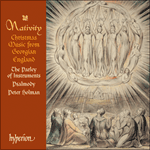 Nativity
'Rasping, rousing and riveting…the freshness and immediacy of the music and musicians are irresistible' (International Record Review)
'It is beautifully played and superbly recorded. A CD to gladden the heart with none of the usual clichés.' (Classic FM Magazine)
» More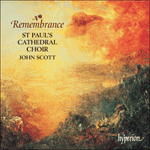 Remembrance
'A lasting souvenir of a moving occasion, a fitting tribute to a great man, but above all, fine listening' (Gramophone)
» More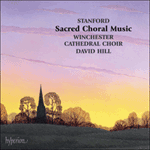 Stanford: Sacred Choral Music
This three-disc set contains a generous selection of Stanford's sacred choral music—settings for Matins, Evensong, motets, anthems and hymns—perfectly performed by Winchester Cathedral Choir at its best, conducted by David Hill.
» More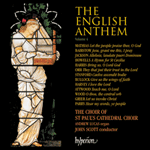 The English Anthem, Vol. 4
'The choir sing with their customary splendour and assurance' (Gramophone)
» More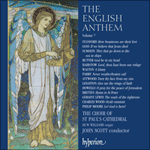 The English Anthem, Vol. 7
'All of the music is of the very highest quality. This disc will offer lasting pleasure and satisfaction to cathedral music enthusiasts and newcomers ...
'Rewarding indeed' (Classic FM Magazine)
» More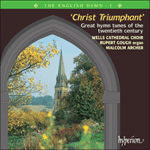 The English Hymn, Vol. 1 – Christ Triumphant
'The time spent listening to it has been delightful. Tone, enunciation, resourcefulness of arrangement and accompaniment, all are exemplary' (Gramophone)
» More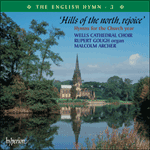 The English Hymn, Vol. 3 – Hills of the north, rejoice
'The voices are magnificent; likewise the organ. The whole record is a delight' (Gramophone)
'There is nothing in this collection that is not worth hearing and much to treasure' (Cross Rhythms)
» More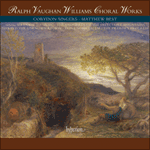 Vaughan Williams: Choral Works
Issued to mark the fiftieth anniversary of Vaughan Williams's death, this collection is tantalizing: it starts with one of the best-selling discs in the catalogue, the Serenade to Music, and includes such favourites as the Five Mystical Songs and The ...
» More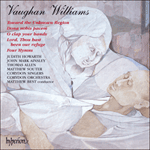 Vaughan Williams: Dona nobis pacem & other works
'An enticing VW collection whose attractions are enhanced by Christopher Palmer's typically illuminating booklet notes' (Gramophone)
'Sit back and enjoy this VW concert of uncommon power and beauty … another luscious plum in the Hyperion catalogue' (Soundscapes, Australia)
» More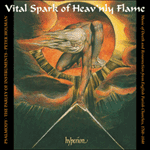 Vital Spark of Heav'nly Flame
'Once again Peter Holman's scholarship offers a fascinating glimpse of a neglected repertoire' (BBC Music Magazine)
'An infectious CD bringing to life a neglected period and its forgotten music. What fun parish music must have been for the likes of Jane Austen, Will ...
» More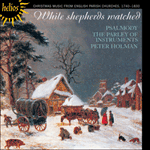 While shepherds watched
A Christmas record with a difference! This jolly disc revives the little-known tradition of 'gallery music', suppressed by the Oxford Movement in early Victorian times because it was too cheerful. All fifteen works vitally capture the enthusiasm of a ...
» More