Here is a selection of the finest and most popular choral albums available from Hyperion. If your tastes are rather more 'specialist', you can use the 'advanced search' box with such composite terms as 'flemish renaissance polyphony', 'baltic contemporary choral music' …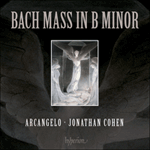 Bach: Mass in B minor
Gramophone-Award-winning ensemble Arcangelo and their inspirational director Jonathan Cohen, one of the brightest stars in the early music galaxy, present Bach's great masterpiece in a glorious new recording made following a thrilling performance ...
» More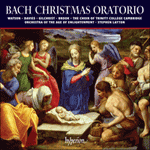 Bach: Christmas Oratorio
Stephen Layton and the combined forces of Trinity College Choir Cambridge and the Orchestra of the Age of Enlightenment present a joyous rendition of Bach's Christmas Oratorio, featuring James Gilchrist, acclaimed as one of the greatest Evangelist ...
» More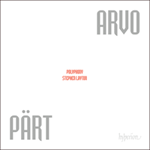 Pärt: Choral Music
Stephen Layton and Polyphony have a long and fruitful relationship with the music of Arvo Pärt. Their recording of Triodion and other choral works won a Gramophone Award and became a cult classic. The extraordinary purity of Polyphony's singing is ...
» More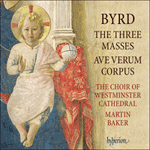 Byrd: The three Masses
A new recording of the most perfect of Tudor masterpieces, Byrd's three Mass-settings, from the cradle of their nineteenth-century rehabilitation. Westminster Cathedral Choir is enjoying a vintage period, and here we hear its trademark sound in al ...
» More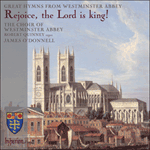 Rejoice, the Lord is king!
Westminster Abbey rings with the voices of the choir and organ lifted in the great hymns which are a vital part of our national character and history. The recording brings the experience of Abbey occasions—from royal weddings to state funerals—int ...
» More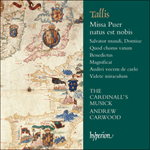 Tallis: Missa Puer natus est nobis & other sacred music
Gramophone Record of the Year-winning group The Cardinall's Musick continues its exploration of Tallis's sacred music. These recordings not only showcase the greatest repertoire of the English Renaissance in dazzling performances, but also illustr ...
» More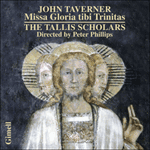 Taverner: Missa Gloria tibi Trinitas
"I chose to celebrate our 40th anniversary with Taverner's because I believe it to be one of the greatest compositions ever to have been written in England—a perfect ambassador for the repertoire we have made our own. It is also spectacularly diff ...
» More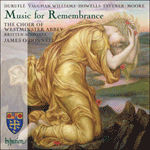 Music for Remembrance
Throughout the past century Westminster Abbey has been a focus of national remembrance on Armistice Day. This latest album from its Choir is a programme of memorial music composed in England and France in the shadow of two World Wars. The main fea ...
» More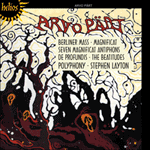 Pärt: Berliner Messe & Magnificat
Here is some of the most spiritually uplifting music of our generation, sung by that most virtuosic of choirs, Polyphony. Arvo Pärt has succeeded in capturing the attention of a broad public through his consummate ability to weave a sense of inevi ...
» More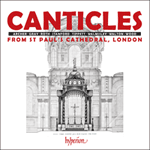 Canticles from St Paul's
The world-famous St Paul's Cathedral Choir and organist Simon Johnson under their director Andrew Carwood perform classic and contemporary settings of the Canticles: the crowning glory of the Anglican liturgy.
» More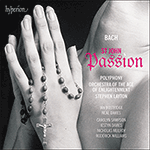 Bach: St John Passion
Polyphony and Stephen Layton present their celebrated performance of Bach's dramatic masterpiece. They are accompanied by the Orchestra of the Age of Enlightenment and a matchless team of soloists, including Ian Bostridge, acknowledged as the grea ...
» More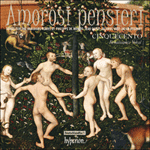 Amorosi pensieri
A new departure for the wonderful all-male vocal ensemble Cinquecento. They turn to the secular music—generally much less well known—of the Renaissance masters Philippe de Monte, Jacobus Vaet and Jacob Regnart whose sacred music they have explored ...
» More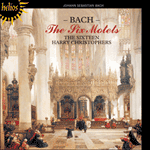 Bach: The Six Motets
Bach's six motets are among the greatest achievements of choral polyphony in the baroque period. This early recording by The Sixteen and Harry Christophers is a jewel in Hyperion's catalogue, containing performances of utter joy, rendered in sonic ...
» More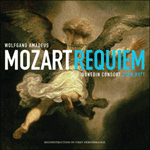 Mozart: Requiem
The Dunedin Consort presents the premiere recording of Mozart scholar David Black's new 2013 edition of Süssmayr's completion of Mozart's Requiem. Taking centre stage are soloists Joanne Lunn (soprano), Rowan Hellier (alto), Thomas Hobbs (tenor) a ...
» More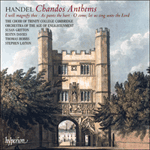 Handel: Chandos Anthems Nos 5a, 6a & 8
Handel's Chandos Anthems are among his less well-known choral works—and are proved by this second volume from Trinity to also be among his loveliest; a perfect example of his 'English' style. Stephen Layton conducts the Choir of Trinity College Ca ...
» More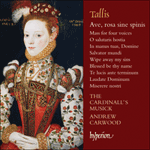 Tallis: Ave, rosa sine spinis & other sacred music
The Cardinall's Musick and their inspirational director Andrew Carwood present a further volume of their Gramophone-Award-winning series of Tallis's sacred music.
» More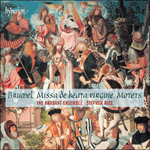 Brumel: Missa de beata virgine & Motets
The Brabant Ensemble continues its exploration of hidden gems of the Renaissance with an album of music by Antoine Brumel, famous for his 'Earthquake' Mass but otherwise barely known today.
» More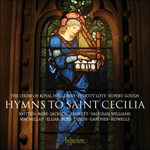 Hymns to Saint Cecilia
A new choral compendium from the highly regarded Choir of Royal Holloway, comprising twentieth- and twenty-first-century works written in honour of Saint Cecilia, the patron saint of music.
» More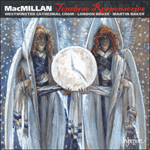 MacMillan: Tenebrae Responsories & other choral works
Westminster Cathedral Choir return to acclaimed Scottish composer James MacMillan, whose powerful, passionate and luminous music has made him one of the best-loved choral composers of today.
» More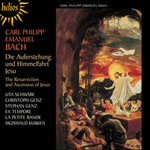 Bach (CPE): Die Auferstehung und Himmelfahrt Jesu
The oratorio 'The Resurrection and Ascension of Jesus' is among CPE Bach's greatest masterpieces, and inspired many later composers including Haydn and Beethoven.
» More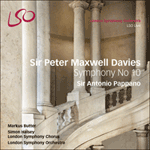 Maxwell Davies: Symphony No 10
The LSO and London Symphony Chorus premiere the Tenth Symphony from iconic British composer (and Master of the Queen's Music) Sir Peter Maxwell Davies.
» More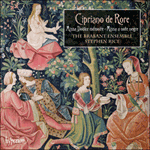 Rore: Missa Doulce mémoire & Missa a note negre
A new recording from The Brabant Ensemble and Stephen Rice features the sacred music of Cipriano de Rore, a Renaissance master principally known for his madrigals. The album contains two Mass settings based on French chansons and a selection of mo ...
» More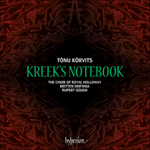 Kõrvits: Kreek's Notebook
The Choir of Royal Holloway have proved themselves as inspirational performers of contemporary Baltic music through their previous recordings. This latest album features a major contemporary work based on Estonian folk hymns, suffused with dreamy ...
» More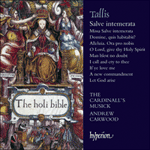 Tallis: Salve intemerata & other sacred music
The Cardinall's Musick and Andrew Carwood continue their exploration of the sacred music of the acknowledged master of the Tudor era, Thomas Tallis. This project follows the completion of their multi-award-winning Byrd series.
» More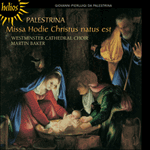 Palestrina: Missa Hodie Christus natus est & other sacred music
A sumptuous Palestrina recording from Westminster Cathedral dedicated to the festival of Christmas, the main work being the stunning 'Missa Hodie Christus natus est'—one of Palestrina's most popular works.
» More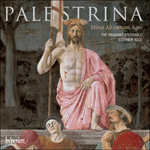 Palestrina: Missa Ad coenam Agni & Eastertide motets
Within Palestrina's huge output there are many hidden gems, lacking both recordings and modern performing editions, and it is from among these that The Brabant Ensemble's director Stephen Rice has chosen the repertoire for this album. The Ensemble ...
» More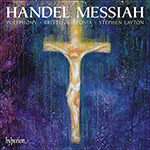 Handel: Messiah
'No-one, but no-one performs
Messiah
better every year than the choir Polyphony under the conductor Stephen Layton' (
Evening Standard
). Polyphony's live
Messiah
at St John's Smith Square has become one of the highlights of the ...
» More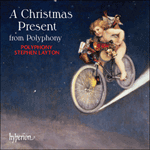 A Christmas Present from Polyphony
'Stephen Layton directs the performances and deserves major credit for the very high standards evident on this compilation' (BBC Music Magazine)
'This is a disc for listening to in peace, after the Christmas Day festivites are over and the visitors have gone' (The Daily Telegraph)
» More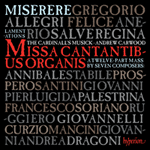 Allegri: Miserere & the music of Rome
The Cardinall's Musick finished 2010 in a blaze of glory with their Gramophone Recording of the Year award for the last volume of their Byrd Edition—a fitting tribute to the soaring artistry of the group and their director, Andrew Carwood. Their e ...
» More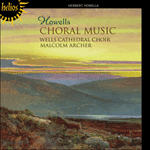 Howells: Choral Music
Howells' 'Coll. Reg.' settings immediately set the benchmark for twentieth-century liturgical composition and led to the composer being besieged by requests from cathedrals and collegiate chapels for other such 'custom-built' settings. A generous ...
» More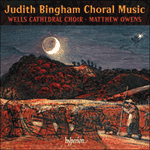 Bingham: Choral Music
Under the inspirational direction of Matthew Owens, Wells Cathedral Choir have made a speciality of the performance of contemporary sacred music and commissioned many new works. Here they present an album of Judith Bingham's choral works, includin ...
» More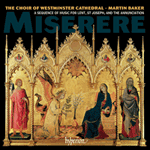 Miserere
A new release from Westminster Cathedral Choir which demonstrates the splendours of the liturgy in the season of Lent. Masterworks from the Renaissance—familiar from the choir's previous award-winning recordings—alternate with Sarum chant and work ...
» More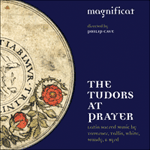 The Tudors at Prayer
Celebrated choir Magnificat continue their much-lauded exploration of Tudor Latin sacred music with 'The Tudors at Prayer', which includes music by Taverner, Tallis, Mundy, White and Byrd. The highlight is Mundy's towering 'Vox Patris caelestis', ...
» More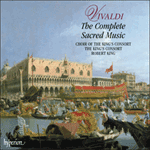 Vivaldi: The Complete Sacred Music
'For King's sterling service to the Vivaldian cause, one of his most important recording and satisfying projects to date, I am thankful' (Gramophone)
'If you're waiting for the perfect collection of Vivaldi's sacred music, this is it. It was a happy day when this beautiful boxed set arrived in my m ...
» More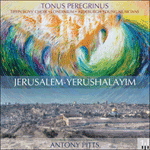 Pitts: Jerusalem-Yerushalayim
This is the first recording of dynamic English composer Antony Pitts' largest work to date, and the first release in a new partnership between Hyperion and the label 1equalmusic. The expert vocal and instrumental ensemble Tonus Peregrinus is joine ...
» More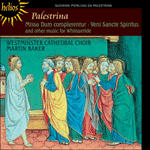 Palestrina: Missa Dum complerentur & other music for Whitsuntide
Westminster Cathedral Choir have the music of Palestrina at the centre of their daily ritual. This album focuses on music for Whitsuntide.
» More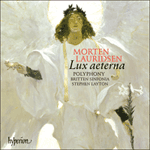 Lauridsen: Lux aeterna & other choral works
'Exquisitely sung by Polyphony with strong support from the Britten Sinfonia under Stephen Layton' (The Observer)
'The music has freshness and an affecting emotional pull to it that explains its popularity with singers and audiences across the pond. Stephen Layton ...
» More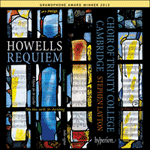 Howells: Requiem & other choral works
Hyperion's Record of the Month gathers together sometimes austere, sometimes thrilling, always beautiful choral music by the original British composer Herbert Howells, seamlessly performed by Stephen Layton's Choir of Trinity College, Cambridge.
» More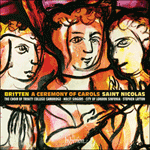 Britten: A Ceremony of Carols & Saint Nicolas
Two of Benjamin Britten's greatest Christmas choral works are performed by the choir of Trinity College Cambridge and Stephen Layton. The cantata Saint Nicolas tells the story of the saint and his exploits, and features one of the composer's celeb ...
» More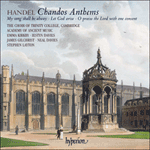 Handel: Chandos Anthems Nos 7, 9 & 11a
In a year of Handel celebration and many new recordings, this is a welcome addition to the discography. Stephen Layton, the Academy of Ancient Music, the Choir of Trinity College, Cambridge, and a stellar group of soloists—in fact, the best in sol ...
» More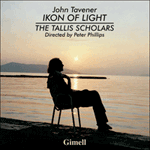 Tavener: Ikon of Light
'John Tavener created an early reputation as both prodigy and agent provocateur with large-scale unconventional works. Following his conversion to the Orthodox Church his music became inspired by its liturgical and mystical texts. The results of t ...
» More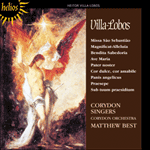 Villa-Lobos: Missa São Sebastião & other sacred music
Sacred choral music by Brazil's most famous composer, Heitor Villa-Lobos, performed by one of Hyperion's best-loved recording groups.
» More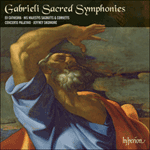 Gabrieli: Sacred Symphonies
Giovanni Gabrieli's magnificent liturgical settings from the heart of the Venetian polychoral tradition are performed with exuberance and majesty in the composer's four-hundredth anniversary year.
» More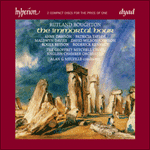 Boughton: The Immortal Hour
'This superb complete recording was a salutary shock: the opera is a kind of masterpiece, bleak, passionate and inspired … Enthusiastically recom ...
'Vividly atmospheric. Quite exceptional on all counts … I was quite bowled over [by] this delightful opera' (Gramophone)
» More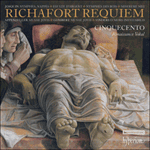 Richafort: Requiem & other sacred music
Richafort's Requiem, once attributed to Josquin and now believed to be a tribute to the great Renaissance master, is performed here with a selection of motets by their contemporaries. The programme is sung with luminous beauty by Hyperion's all-ma ...
» More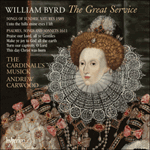 Byrd: The Great Service & other English music
The Cardinall's Musick are acknowledged as the premier performers of Byrd's choral music. Their recordings of his Latin church music received the highest possible critical acclaim and the final volume won Gramophone Record of the Year. Now they tu ...
» More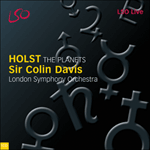 Holst: The Planets
The Planets became one of the most popular and widely recognized musical works of the twentieth century. Holst himself conducted the LSO in two early recordings of his masterpiece. Sir Colin Davis's blazing performance, recorded over three evening ...
» More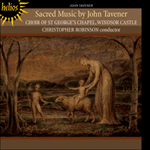 Tavener: Sacred Music
Arguably Britain's greatest living choral composer, Sir John Tavener's music is performed in churches and cathedrals throughout the land and at the most important state occasions. This recording includes The Lamb, perhaps one of the best-known cho ...
» More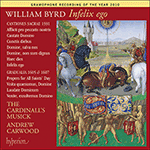 Byrd: Infelix ego & other sacred music
The Cardinall's Musick's award-winning Byrd series reaches its final volume. Throughout this series it has become evident that such a comprehensive survey shows the genius of the composer in a uniquely effective way: by demonstrating the extraordi ...
» More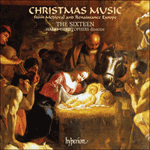 Christmas Music from Medieval and Renaissance Europe
'A most unusual and attractive record' (The Guardian)
» More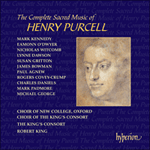 Purcell: The Complete Sacred Music
'It is hard to speak too highly of this enterprise … much enjoyment to be had' (Gramophone)
'the performances from The King's Consort and its Choir, the Choir of New College and a starry line-up of soloists have such qualities of concentratio ...
» More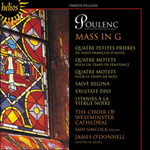 Poulenc: Mass & Motets
A generous selection of Poulenc's wonderful and varied liturgical works, including some of Poulenc's most beautiful and tender music as well as the famous Mass in G.
» More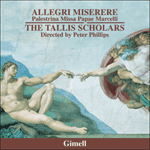 Allegri: Miserere; Palestrina: Missa Papae Marcelli
Music written for the Sistine Chapel, including two new recordings of Allegri's Miserere—one with the familiar top Cs, and one with additional embellishments developed by Deborah Roberts during hundreds of concert performances by The Tallis Schola ...
» More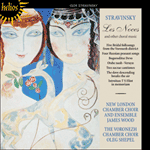 Stravinsky: Les Noces & other choral works
Stravinsky's choral work Les Noces—the epitome of his 'Russian' style—is placed in context in this recording where the New London Chamber Choir are joined by the Voronezh Chamber Choir who bring an authentic Russian sound to the ensemble.
» More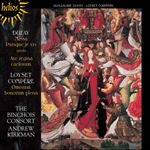 Dufay: Missa Puisque je vis & other works
Another album from The Binchois Consort's award-winning exploration on Hyperion of 15th-century music, in particular the worlds of French and English music during the Burgundian period.
» More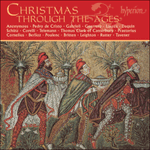 Christmas through the ages
'Other than to assure you that it works for me, need I say more?' (Fanfare, USA)
» More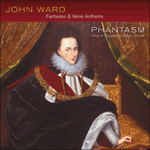 Ward: Fantasies & Verse Anthems
Featuring ambitious and accomplished music for voices and viols, this new album from the award-winning Phantasm offers a privileged glimpse of a special moment in English music history.
» More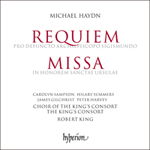 Haydn: Requiem
'A good version of the Requiem appeared last year … but this new one has the edge, in the sharpness of the orchestral contribution (the crucial b ...
'The booklet note by King covers useful ground. On the music King is very good, making numerous shrewd observations and conveying the enthusiasm that ...
» More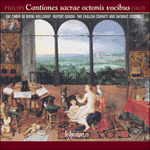 Philips: Cantiones sacrae octonis vocibus
Glorious eight-part choral music, thrillingly accompanied by The English Cornett and Sackbut Ensemble, by an Englishman who spent most of his working life abroad and was heavily influenced by Italian composers.
» More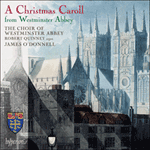 A Christmas Caroll from Westminster Abbey
Hyperion presents a delightful and unusual selection of music for Christmas from the Abbey Choir. It encompasses all the diverse themes of Christmas which have inspired composers across the ages: light shining in darkness; the tenderness of mother an ...
» More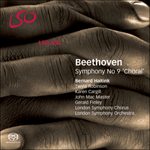 Beethoven: Symphony No 9
Beethoven's Symphony No 9 is a landmark in the history of music, changing the concept of what a symphony could be. The use of solo singers and a chorus in the final movement was revolutionary, and the emotional journey to a glorious vision of a wo ...
» More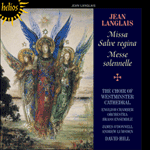 Langlais: Missa Salve regina & Messe solennelle
This recording from The Choir of Westminster Cathedral also features two of its admired former organists and the English Chamber Orchestra Brass Ensemble, all illuminating joyful paeans of praise by the profoundly religious organist and composer J ...
» More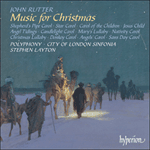 Rutter: Music for Christmas
'It's hard to imagine them better performed than by the award-winning British choir Polyphony' (The Mail on Sunday)
'The performances by both choir and orchestra are ideal in tone, style and accomplishment … A Christmas treat' (Gramophone)
» More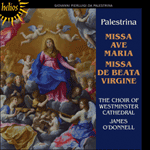 Palestrina: Missa De beata virgine & Missa Ave Maria
In this album we find Westminster Cathedral Choir at the peak of their powers, performing masterpieces of the Italian Renaissance. These two magnificent and contrasting settings perfectly demonstrate why Palestrina has been acknowledged as the mas ...
» More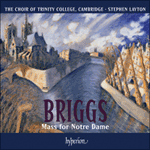 Briggs: Mass for Notre Dame
David Briggs is renowned worldwide for his brilliant improvisations and is also a prolific composer. This disc includes his
Messe pour Notre-Dame
, and features five movements of his own improvisations. These display a masterful range of moo ...
» More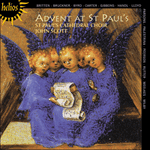 Advent at St Paul's
'This truly rich advent feast is performed wonderfully well on all counts and can be highly recommended' (Organists' Review)
» More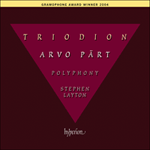 Pärt: Triodion & other choral works
'A triumph … warm melodies and bursts of colourful chords … sublime, ethereal beauty … Polyphony's is a gorgeous performance' (Gramophone)
'Ought to sell by the bucket-load … more than any other composer alive today, Arvo Pärt has given us back the idea of eloquent, beautiful simplic ...
» More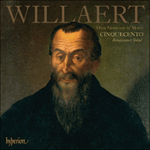 Willaert: Missa Mente tota & Motets
The all-male vocal ensemble Cinquecento have won great praise for their recordings of Renaissance rarities. Their tone, vocal flexibility, collective and individual musicianship and commitment to their chosen repertoire places them at the very for ...
» More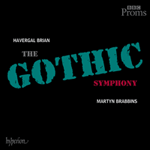 Brian: Symphony No 1 'The Gothic'
This phenomenal recording was captured on 17 July 2011 at London's Royal Albert Hall in front of a sell-out audience. Havergal Brian's Symphony No 1 in D minor—'The Gothic' calls for over 800 performers: just about every known orchestral instrumen ...
» More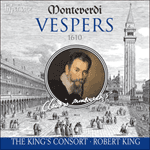 Monteverdi: Vespers
'Despite having heard four wonderful volumes of Monteverdi's sacred music from The King's Consort, and its 2004 Proms performance of the 1610 Vespers, ...
'The majesty and contrapuntal wizardy of this fabulous work never fail to astonish and this is a very fine performance, making effective use of the sp ...
» More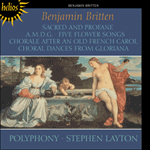 Britten: Sacred and Profane & other choral works
'The programme is delightful and the choir excellent … this has to be one of the strongest winners of the choral award in recent years' (Gramophone)
'Polyphony's brand of singing, clean as a whistle, rhythmically wonderfully alive, impeccably tuned and voiced, polished yet always fervent, is justly ...
» More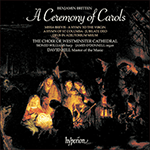 Britten: A Ceremony of Carols
'Not to be missed' (Gramophone)
'The ensemble is superb, the solo work amazingly mature, and the range of tonal coloring a delight. This is an outstanding collection, beautifully and ...
» More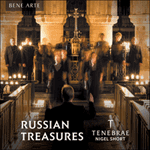 Russian Treasures
This exquisite collection includes some little-known gems, rarely heard outside Russia and never before recorded in the UK, as well as some familiar favourites from this vast area of choral repertoire.
» More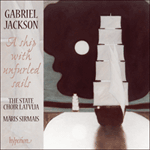 Jackson: A ship with unfurled sails & other choral works
Gabriel Jackson's ravishing sacred choral works are performed by the world-famous Latvian State Choir. The programme includes no fewer than six première recordings and ends with a remarkable setting of Ave regina caelorum for choir and electric gu ...
» More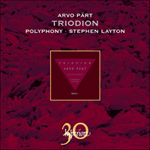 Pärt: Triodion & other choral works
'A triumph … warm melodies and bursts of colourful chords … sublime, ethereal beauty … Polyphony's is a gorgeous performance' (Gramophone)
'More than any other composer alive today, Arvo Pärt has given us back the idea of eloquent, beautiful simplicity … Stephen Layton and Polyphony ...
» More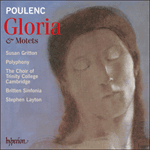 Poulenc: Gloria & Motets
Stephen Layton and Polyphony continue to blaze a trail as great interpreters and dazzling performers of a wide range of choral music. Their recent disc of Bruckner's Mass in E minor and motets was acclaimed as a benchmark recording. For their latest ...
» More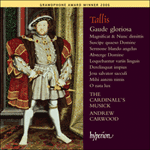 Tallis: Gaude gloriosa & other sacred music
'In its entirety this disc is a sublime tribute both to one of England's greatest composers, and to the skill and conviction of one of today's finest ...
'This superbly sung selection of some of his finest Latin church music will surely prove to be one of Tallis's very best 500th birthday presents. It i ...
» More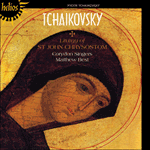 Tchaikovsky: Liturgy of St John Chrysostom
Tchaikovsky's Liturgy of St John Chrysostom is steeped in the Orthodox tradition and the resulting ambience is rich in the manner familiar to Western listeners from works such as Rachmaninov's Vespers.
» More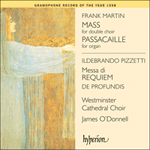 Martin: Mass; Pizzetti: Messa di Requiem
'Magnificent' (Gramophone)
'A recording of arresting immediacy and musical richness' (BBC Music Magazine)
» More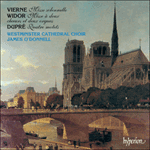 Vierne, Widor & Dupré: Choral Music
'This magnificent disc' (Gramophone)
'There can be little doubt that this release will be one of the recordings of the year and my obeisance goes to all artists involved with this outstan ...
» More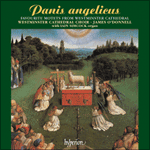 Panis angelicus
'A beautiful disc of sacred motets from one of this country's finest choirs' (Classic FM Magazine)
'What can one say? A feast beyond all dreams. Guaranteed to please' (Organists' Review)
» More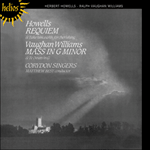 Howells: Requiem; Vaughan Williams: Mass in G minor
'A moving and impressive addition to the a cappella repertoire' (The Daily Telegraph)
'The Corydon Singers are superb in this music … truly exquisite and subtle; this is wonderful choral singing in every way' (American Record Guide)
» More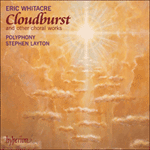 Whitacre: Cloudburst & other choral works
'This beautifully performed and recorded CD contains the bulk of Whitacre's choral canon and displays his delicate yet vital approach to writing for v ...


BBC Music Magazine
» More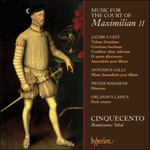 Music for the Court of Maximilian II
'From this showing, Cinquecento would be well placed to advocate Vaet further. An all-male a cappella ensemble, they sound clear and bright, and artic ...
'The fine motets recorded here suggest that his [Vaet] skill in achieving the closest possible union between text and music was comparable with that o ...
» More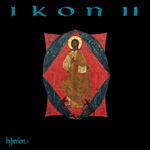 Ikon, Vol. 2
In 1997, the Holst Singers and Stephen Layton produced a disc that immediately became a cult classic and a best-seller. 'Ikon', a selection of great Russian choral music from the 19th century, dazzled with its grand, opulent beauty. Now the same f ...
» More
Browne: Music from the Eton Choirbook
This recording features the subtle, almost mystical music of John Browne and won the Gramophone Early Music Award in 2005. This was the fourth time that Gimell and The Tallis Scholars had received this award.
» More
Rachmaninov: Vespers
'Outstanding. A performance that is at once perceptive, sympathetic and finely sung' (Gramophone)
'Rich and atmospheric, a blissfully unhurried reading' (BBC Music Magazine)
» More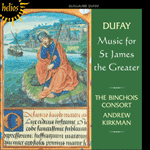 Dufay: Music for St James the Greater
'This is Dufay as I have always wanted to hear him. [It] is as close to a perfect Dufay CD as I have ever heard … So utterly compelling is this r ...
'Superb' (BBC Music Magazine)
» More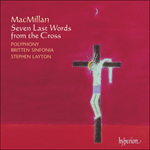 MacMillan: Seven Last Words from the Cross
'An intense, deeply felt interpretation, full of beautiful and affecting singing, with all the elements—string orchestra, featured violin, choir and s ...
'This splendid new performance from Polyphony also conveys dignity, and a sense (hard to explain) that the suffering is, in some mysterious way, redem ...
» More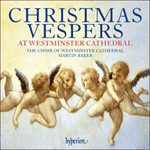 Christmas Vespers at Westminster Cathedral
'With the glorious acoustical space of Westminster Cathedral, this disc has inbuilt atmosphere, enhanced by organ improvisations and by the choir's fl ...
'Christmas comes with a combination of simplicity and stunning excitement in this recording' (American Record Guide)
» More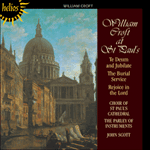 Croft: Te Deum & Burial Service
'This is choral singing of the highest quality' (Choir & Organ)
'The Pauline acoustics are captured to great effect. The notes are helpful and texts are printed. With little competition this will fill a Croft slot ...
» More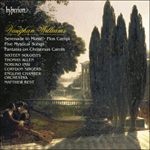 Vaughan Williams: Serenade to Music, Flos Campi, Mystical Songs
'Profoundly moving' (Gramophone)
'Strongly recommended!' (Fanfare, USA)
» More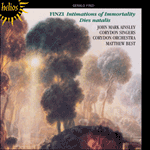 Finzi: Intimations of Immortality & Dies natalis
Finzi's 'Dies natalis' and 'Intimations of Immortality' make the perfect showcase for John Mark Ainsley and the Corydon Singers in this celebrated recording from 1996.
» More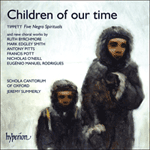 Children of our time
'Here's a vital and beautifully performed collection of modern a cappella choral music from a most excellent choir with a considerable recording histo ...
'This disc offers considerable rewards in an admittedly parochial field, and also preserves a delectable snap-shot of the Schola Cantorum of Oxford on ...
» More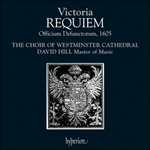 Victoria: Requiem
'Glorious. A rich, luminous acoustic halo seems to surround the music as it soars ever upward. Under David Hill's expert direction this choir has achi ...
'This goes to the head of the list of some fine versions of this requiem' (Fanfare, USA)
» More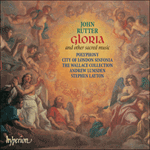 Rutter: Gloria & other sacred music
'Delicious performances of Rutter's wonderfully approachable and finely crafted vocal writing. The sound, too, is outstanding … roof-raising perf ...
'These vibrant performances amply demonstrate the qualities that give the repertoire its lasting and popular appeal … a concert that will bring w ...
» More