Here are our top hundred albums, most popular first. We've excluded albums released within the last few months (which can be found in a separate listing).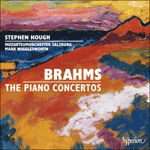 Brahms: The Piano Concertos
This attractively priced double set is one of Stephen Hough's most important recordings. Brahms's two piano concertos are monumental in scale, impassioned and truly romantic. They require and receive here both great virtuosity and intimacy from th ...
» More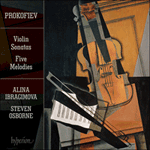 Prokofiev: Violin Sonatas
Hyperion is delighted to present a collaboration—an extraordinary force on the concert platform—in its first appearance on record. Alina Ibragimova and Steven Osborne are musicians of searing, uncompromising intelligence and intense feeling. In hi ...
» More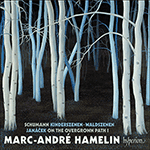 Schumann: Kinderszenen & Waldszenen; Janáček: On the overgrown path I
A new album from Marc-André Hamelin is always a cause for celebration. Here he presents three sets of miniatures (all masterpieces in which their emotional impact is quite out of proportion to their dimensions); a fascinating juxtaposition of two ...
» More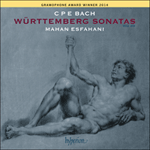 Bach (CPE): Württemberg Sonatas
Hyperion is delighted to present the debut recording of the wonderful young harpsichordist Mahan Esfahani. He has recorded CPE Bach's six 'Württemberg' sonatas, and makes the best possible case for this dramatic and endlessly imaginative music.
» More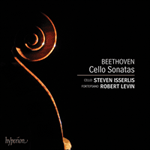 Beethoven: Cello Sonatas
In this new chamber recording, Steven Isserlis—together with his regular collaborator, fortepianist Robert Levin—presents a magisterial and long-awaited compendium of Beethoven's complete works for cello and piano.
» More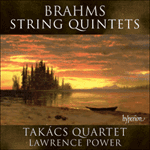 Brahms: String Quintets
The Takács Quartet has been recently described as 'one of the world's most distinguished ensembles'. Here the players collaborate with Britain's greatest living viola player, Lawrence Power, who has also proved himself a remarkable chamber musicia ...
» More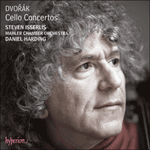 Dvořák: Cello Concertos
Hyperion is delighted to present the world's best-loved cello concerto performed by one of the world's best-loved cellists. Steven Isserlis has waited forty years to record this pinnacle of the repertoire. Also included is a version of the first c ...
» More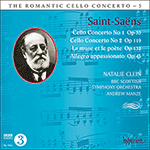 Saint-Saëns: Cello Concertos
Natalie Clein adds a remarkable collection of Saint-Saëns' music for cello and orchestra to her impressive discography. Clein first came to prominence when she won the BBC Young Musician of the Year award in 1994; it is appropriate that she perfor ...
» More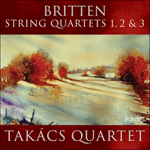 Britten: String Quartets Nos 1, 2 & 3
The Takács Quartet are one of the greatest string quartets recording today. Here in the composer's anniversary year they turn to Britten's absorbing masterpieces.
» More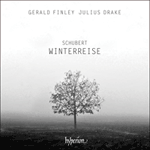 Schubert: Winterreise
The Gramophone award-winning partnership of Gerald Finley and Julius Drake turns to perhaps the most celebrated song-cycle of them all. Schubert's Winterreise is a masterpiece of despair, astonishing in its bleakness and enthrallingly mesmerizing ...
» More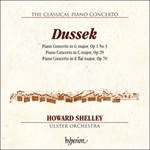 Dussek: Piano Concertos
Following on from Hyperion's popular Romantic Piano Concerto series, The Classical Piano Concerto focuses on the lesser-known concertos from the dawn of the genre. Between about 1770 and 1820—the period dominated by Mozart, Haydn and Beethoven—mus ...
» More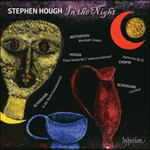 In the Night
This latest recital album by 'the thinking person's virtuoso: an extraordinary pianist' (The New York Times) takes the listener on a journey through that most intense and absorbing of nineteenth-century obsessions, the night. Stephen Hough's thoug ...
» More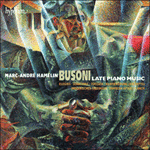 Busoni: Late Piano Music
Marc-André Hamelin is indisputably the king of Busoni pianists. This generously priced triple album offers most of Busoni's mature works and the widest selection of pieces from the Klavierübung so far recorded, many of them for the first time.
» More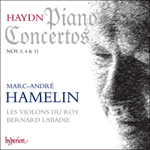 Haydn: Piano Concertos Nos 3, 4 & 11
Marc-André Hamelin is acclaimed as one of today's greatest Haydn pianists thanks to his three dazzling albums of the Sonatas. Now he has recorded the composer's three most popular concertos. This release is the fruit of a partnership with the awar ...
» More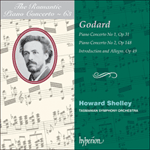 Godard: Piano Concertos
Howard Shelley directs the Tasmanian Symphony Orchestra from the piano in this latest volume of The Romantic Piano Concerto series. As ever, they perform unknown music with consummate style and deep understanding, making the best possible case for ...
» More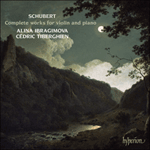 Schubert: Complete works for violin and piano
The luminous partnership of Alina Ibragimova and Cédric Tiberghien returns to Hyperion for this double album containing Schubert's complete music for violin and piano. Their intelligence and technical prowess, their seamless and intimate connectio ...
» More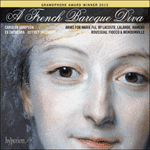 A French Baroque Diva
A welcome return of Carolyn Sampson and Ex Cathedra to Hyperion, performing the rich, fulsome music of the French Baroque. Their recording of love songs from Rameau's operas was hugely acclaimed for Sampson's stylish, fluid, seductive performances ...
» More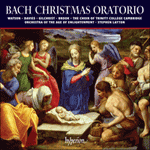 Bach: Christmas Oratorio
Stephen Layton and the combined forces of Trinity College Choir Cambridge and the Orchestra of the Age of Enlightenment present a joyous rendition of Bach's Christmas Oratorio, featuring James Gilchrist, acclaimed as one of the greatest Evangelist ...
» More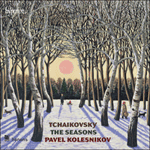 Tchaikovsky: The seasons
Russian pianist Pavel Kolesnikov became Laureate of the Honens Prize for Piano in 2012 and gave his Wigmore Hall debut at the beginning of 2013, where the critics delighted in his outstanding pianism and intelligent programming. Hyperion is deligh ...
» More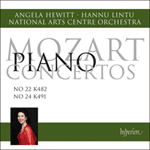 Mozart: Piano Concertos Nos 22 & 24
Writing in The Observer, Stephen Pritchard wrote of the first volume in this series: 'Judging from this first example, it's going to be a journey as revelatory as her exploration of all the major keyboard works of Bach.' Here Angela Hewitt is join ...
» More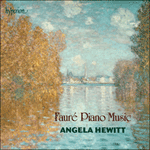 Fauré: Piano Music
Angela Hewitt's recordings of French piano music have received the highest critical acclaim, her 'tenderness, Gallic wit, verve, and—the most important ingredient of all—charm' proving perfect for this repertoire. This album includes the major wor ...
» More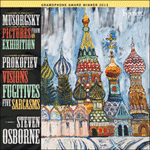 Musorgsky: Pictures from an Exhibition; Prokofiev: Visions fugitives & Sarcasms
Steven Osborne performs masterpieces of the Russian repertoire in this recording of Musorgsky's Pictures from an Exhibition, one of the most original and challenging works in the piano repertoire and one which has been in Osborne's concert reperto ...
» More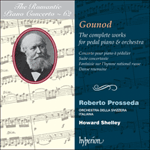 Gounod: The complete works for pedal piano & orchestra
The Romantic Piano Concerto series reaches 62 and makes an interesting (although temporary) departure: these four works are for pedal piano. Italian pianist Roberto Prosseda, who gave the first modern performance of Gounod's Concerto for pedal pia ...
» More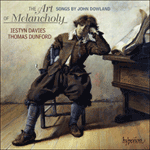 Dowland: The Art of Melancholy
The marriage of music and poetry and the extraordinary writing for both lute and voice combine to proclaim Dowland as the father of English song. Countertenor Iestyn Davies has gained international fame through his operatic performances (including ...
» More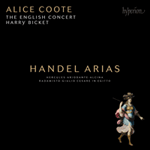 Handel: Arias
Hyperion is delighted to present a tour de force from the supreme mezzo-soprano of today, Alice Coote, accompanied by The English Concert and Harry Bicket, making their Hyperion debut. Coote performs a selection of Handel's greatest arias from ope ...
» More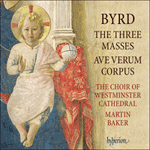 Byrd: The three Masses
A new recording of the most perfect of Tudor masterpieces, Byrd's three Mass-settings, from the cradle of their nineteenth-century rehabilitation. Westminster Cathedral Choir is enjoying a vintage period, and here we hear its trademark sound in al ...
» More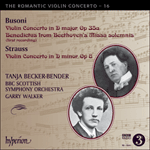 Busoni & Strauss: Violin Concertos
German violinist Tanja Becker-Bender returns to the Romantic Violin Concerto series having dazzled the critics with her 'great lyrical force and tremendous sense of drama' in her recording of the Reger concerto. Here she appears with Hyperion hous ...
» More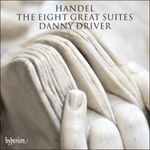 Handel: The Eight Great Suites
Danny Driver's recordings of CPE Bach's keyboard works have been much admired: praised by critics as deeply stylish and revelatory accounts of eighteenth-century works on a modern piano, with Driver's impeccable pianism constantly present. Now he ...
» More
Mozart: Piano Concertos Nos 17 & 27
Angela Hewitt turns to two of Mozart's greatest and most popular concertos for her latest album. These captivating performances, notable for impeccably stylish and heartfelt playing, are enhanced by the brilliant partnership with conductor Hannu L ...
» More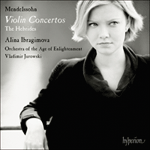 Mendelssohn: Violin Concertos
Mendelssohn's Violin Concerto in E minor is one of the best-loved works of the genre. It's played here with brilliance and charm by a dazzling young violinist whose versions of the classics of the repertoire have garnered great critical acclaim. A ...
» More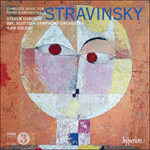 Stravinsky: Complete music for piano & orchestra
A new album from the Gramophone Award-winning team of Steven Osborne, the BBC Scottish Symphony Orchestra and Ilan Volkov. Here they present Stravinsky's music for piano & orchestra as a rare complete set, plus the Concerto in D for string orchest ...
» More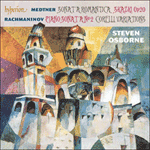 Medtner & Rachmaninov: Piano Sonatas
Steven Osborne has become increasingly admired for his performances and recordings of Russian Romantic piano music. Here he presents an impressive selection from two masters who lived and worked contemporaneously. Medtner's 'Sonata Romantica' is i ...
» More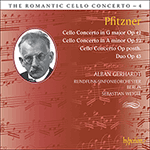 Pfitzner: Cello Concertos
Hyperion's Romantic Cello Concerto series continues to bring new works into a repertoire currently dominated by Dvořák and Elgar. Alban Gerhardt performs the three concertos by Hans Pfitzner, a composer remembered most for his opera Palestrina.
» More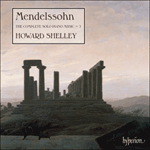 Mendelssohn: The Complete Solo Piano Music, Vol. 2
Howard Shelley is acclaimed as the living master of early Romantic piano music. Here he presents the second instalment of a six-volume set of Mendelssohn's solo piano music. This volume includes the Rondo capriccioso, a favourite virtuoso concert ...
» More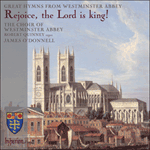 Rejoice, the Lord is king!
Westminster Abbey rings with the voices of the choir and organ lifted in the great hymns which are a vital part of our national character and history. The recording brings the experience of Abbey occasions—from royal weddings to state funerals—int ...
» More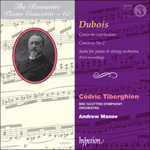 Dubois: Piano Concertos
The wonderful French pianist Cédric Tiberghien has made several admired recital and chamber recordings. Now he joins the impressive roster of pianists who have contributed to Hyperion's Romantic Piano Concerto series with Volume 60: Théodore Duboi ...
» More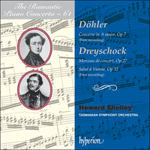 Döhler & Dreyschock: Piano Concertos
The Romantic Piano Concerto series reaches Volume 61, and continues to probe into the obscurest depths of the 19th-century piano world. Döhler's Piano Concerto in A major and Dreyschock's Salut à Vienne are both first recordings.
» More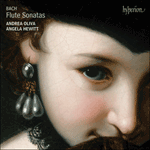 Bach: Flute Sonatas
Angela Hewitt appears in chamber mode, accompanying Andrea Oliva (described as 'one of the best flutists of his generation, a shining star in the world of the flute' by Sir James Galway) in a programme of Bach's flute sonatas. Of unfailingly remar ...
» More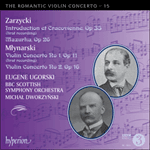 Młynarski & Zarzycki: Violin Concertos
In this latest volume of Hyperion's Romantic Violin Concerto series, we journey to Poland for two concertos by Młynarski and two works for violin and orchestra by Zarzycki (who will be familiar to Romantic Piano Concerto collectors).
» More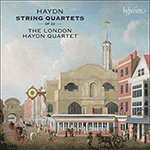 Haydn: String Quartets Op 33
The London Haydn Quartet perform Haydn's popular Op 33 quartets on period instruments. The set is beautifully recorded and competitively priced.
» More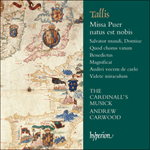 Tallis: Missa Puer natus est nobis & other sacred music
Gramophone Record of the Year-winning group The Cardinall's Musick continues its exploration of Tallis's sacred music. These recordings not only showcase the greatest repertoire of the English Renaissance in dazzling performances, but also illustr ...
» More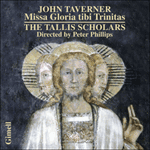 Taverner: Missa Gloria tibi Trinitas
"I chose to celebrate our 40th anniversary with Taverner's because I believe it to be one of the greatest compositions ever to have been written in England—a perfect ambassador for the repertoire we have made our own. It is also spectacularly diff ...
» More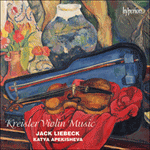 Kreisler: Violin Music
Hyperion is delighted to welcome award-winning violinist Jack Liebeck to the label, together with his frequent collaborator, Katya Apekisheva. Liebeck presents a selection of music by 'revolutionary player and the epitome of the Viennese violinist ...
» More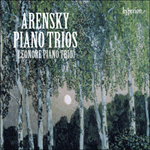 Arensky: Piano Trios
Arensky's Piano Trios represent a fine example of the Russian romantic piano trio, a form 'invented' by Tchaikovsky, Arensky's close friend and influence. Hyperion is delighted to present the Leonore Piano Trio (Tim Horton, Benjamin Nabarro and Ge ...
» More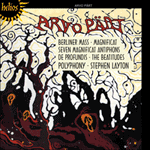 Pärt: Berliner Messe & Magnificat
Here is some of the most spiritually uplifting music of our generation, sung by that most virtuosic of choirs, Polyphony. Arvo Pärt has succeeded in capturing the attention of a broad public through his consummate ability to weave a sense of inevi ...
» More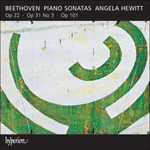 Beethoven: Piano Sonatas, Vol. 4
Angela Hewitt presents a fourth volume in her acclaimed series of Beethoven's piano sonatas, which has delighted her fans worldwide.
» More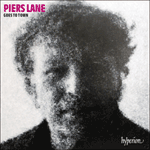 Piers Lane goes to town
Piers Lane gambols delightfully through the 20th century in this album of encores, party pieces and a few pianophile rarities, ranging from Dame Myra Hess's unforgettable arrangement of Bach's Jesu, joy of man's desiring to Dudley Moore's equally ...
» More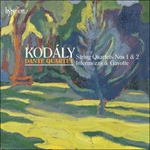 Kodály: String Quartets, Intermezzo & Gavotte
The chamber works recorded here span Kodály's career and demonstrate how successfully he placed true Hungarian style at the heart of classical music. The Dante Quartet, winners of the BBC Music Magazine Award for their album of Franck and Fauré, r ...
» More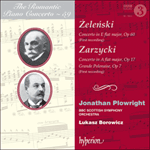 Zarzycki & Żeleński: Piano Concertos
This 59th volume of the Romantic Piano Concerto series features Jonathan Plowright, whose brilliant and utterly idiomatic performances of Romantic Polish piano music have confirmed him as a master of this repertoire. Here he collaborates with the ...
» More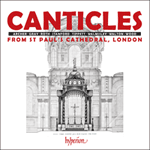 Canticles from St Paul's
The world-famous St Paul's Cathedral Choir and organist Simon Johnson under their director Andrew Carwood perform classic and contemporary settings of the Canticles: the crowning glory of the Anglican liturgy.
» More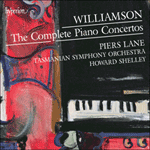 Williamson: The Complete Piano Concertos
This double-album set of Malcolm Williamson's complete Piano Concertos is an important document—containing the world premiere performance of Concerto No 4—as well as a compendium of deeply appealing music. Williamson wrote with a generosity of emo ...
» More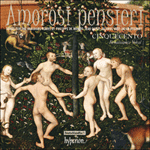 Amorosi pensieri
A new departure for the wonderful all-male vocal ensemble Cinquecento. They turn to the secular music—generally much less well known—of the Renaissance masters Philippe de Monte, Jacobus Vaet and Jacob Regnart whose sacred music they have explored ...
» More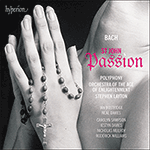 Bach: St John Passion
Polyphony and Stephen Layton present their celebrated performance of Bach's dramatic masterpiece. They are accompanied by the Orchestra of the Age of Enlightenment and a matchless team of soloists, including Ian Bostridge, acknowledged as the grea ...
» More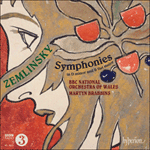 Zemlinsky: Symphonies
The BBC National Orchestra of Wales and Martyn Brabbins perform two works from the crucible of the Viennese fin de siècle. Zemlinsky wrote his two completed symphonies while studying at the Conservatory and they show the influence of his conservat ...
» More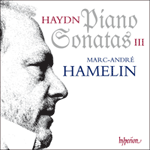 Haydn: Piano Sonatas, Vol. 3
This third double-selection of Haydn Sonatas gravitates around those written in the 1770s, including the great C minor Sonata from the composer's 'Sturm und Drang' period, plus three early works from the 1750s and the D major Sonata written during ...
» More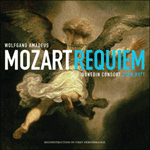 Mozart: Requiem
The Dunedin Consort presents the premiere recording of Mozart scholar David Black's new 2013 edition of Süssmayr's completion of Mozart's Requiem. Taking centre stage are soloists Joanne Lunn (soprano), Rowan Hellier (alto), Thomas Hobbs (tenor) a ...
» More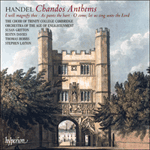 Handel: Chandos Anthems Nos 5a, 6a & 8
Handel's Chandos Anthems are among his less well-known choral works—and are proved by this second volume from Trinity to also be among his loveliest; a perfect example of his 'English' style. Stephen Layton conducts the Choir of Trinity College Ca ...
» More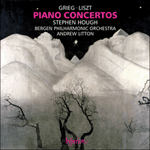 Liszt & Grieg: Piano Concertos
A concerto album from Stephen Hough is always a significant event and for this new recording Stephen travelled to Norway to join forces with Andrew Litton and the Bergen Philharmonic. Performances are exciting and magisterial, Stephen's breathtaki ...
» More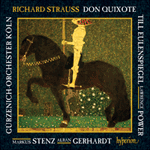 Strauss: Don Quixote & Till Eulenspiegel
A new recording of two of Strauss's most popular tone poems, by the very orchestra which gave their premieres in the 1890s, under their principal conductor Markus Stenz. Don Quixote features Hyperion artists Alban Gerhardt and Lawrence Power, admi ...
» More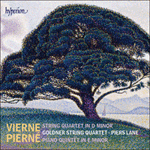 Pierné: Piano Quintet; Vierne: String Quartet
The admired Goldner String Quartet presents two utterly charming—yet little-known—examples of French chamber music by contemporaneous composers Pierné and Vierne.
» More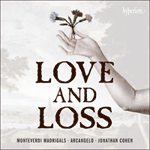 Monteverdi: Madrigals of Love and Loss
Gramophone Award-winning ensemble Arcangelo (in their first recording as a vocal and instrumental group) presents a selection from Monteverdi's last three books of madrigals. These ardent and passionate works are microcosms of Monteverdi's great o ...
» More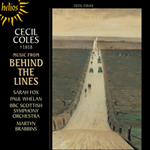 Coles: Music from Behind the lines
Cecil Coles was killed near the Somme on 26 April 1918 during a heroic attempt to rescue some wounded comrades. He was one of the most talented of the composers who lost their lives in the First World War, yet few remember him now. Travelling on a ...
» More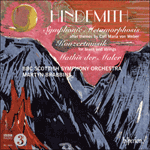 Hindemith: Symphonic Metamorphosis & other orchestral works
This album contains Hindemith's most popular orchestral works, including the Balanchine-choreographed Symphonic Metamorphosis, performed with precision and empathy by Hyperion regulars the BBC Scottish Symphony Orchestra and Martyn Brabbins.
» More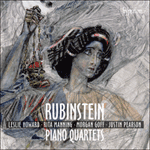 Rubinstein: Piano Quartets
Pianist Leslie Howard is acclaimed as 'a virtuoso in the true Romantic style with its emphasis on musicality as much as bravura' (The Guardian). He is joined here by three of his frequent string collaborators for two forgotten masterpieces of the ...
» More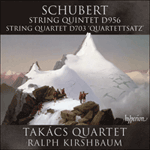 Schubert: String Quintet & String Quartet D956 & 703
The Takács Quartet and Ralph Kirshbaum present the most hauntingly beautiful of all Schubert's chamber works, the String Quintet—completed six weeks before the composer's death. Also recorded here is the 'Quartettsatz': a fragment—of the very high ...
» More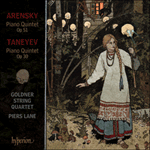 Arensky & Taneyev: Piano Quintets
Two chamber works from nineteenth-century Russia, performed by Piers Lane and the Goldner String Quartet. These marvellous discoveries are little-known on the concert platform, but are proved in this recording to be masterpieces of the genre.
» More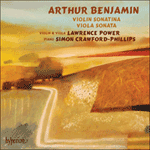 Benjamin: Violin Sonatina & Viola Sonata
Lawrence Power is Britain's greatest living viola player, the true successor to Lionel Tertis and William Primrose. Part of his mission is to perform and record music premiered by those masters of the previous century—among which are the works of ...
» More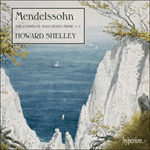 Mendelssohn: The Complete Solo Piano Music, Vol. 1
Pianist Howard Shelley, acclaimed as the master of the Early Romantic style, presents the first in a six-volume series of Mendelssohn's complete solo piano music. This is perhaps the least-known area of the composer's repertoire, and contains many ...
» More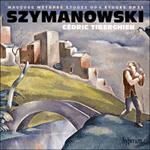 Szymanowski: Masques, Métopes & Études
In Cédric Tiberghien's first solo recording for Hyperion he embraces the sensual, crepuscular sound-world of Szymanowski's most celebrated piano works, Masques, Métopes and the complete Études. Tiberghien's expressive, quicksilver playing makes hi ...
» More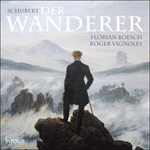 Schubert: Der Wanderer & other songs
Florian Boesch and Roger Vignoles were shortlisted for a BBC Music Magazine award for their first Hyperion album, 'Loewe Songs and Ballads'. Boesch's warm, sensuously attractive baritone voice, first-rate diction and remarkable acting ability were ...
» More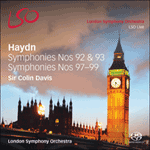 Haydn: Symphonies Nos 92-3 & 97-9
Sir Colin Davis was long recognized as a pre-eminent Haydn interpreter. During his Indian summer with the orchestra he recorded both 'The Creation' and 'The Seasons' for LSO Live. The symphonies presented here were recorded in 2011 during this sam ...
» More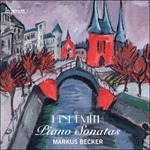 Hindemith: Piano Sonatas
In his three piano sonatas, Hindemith presents himself not as the rebel and revolutionary of the 1920s, but rather as an heir to the contrapuntal skill and keyboard dexterity of Johann Sebastian Bach. Markus Becker has been acclaimed for his autho ...
» More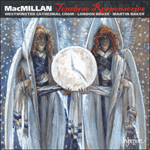 MacMillan: Tenebrae Responsories & other choral works
Westminster Cathedral Choir return to acclaimed Scottish composer James MacMillan, whose powerful, passionate and luminous music has made him one of the best-loved choral composers of today.
» More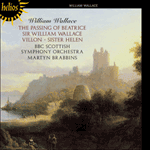 Wallace: Symphonic Poems
William Wallace's orchestral compositions rank amongst them the earliest attempts at the genre of the symphonic poem to be made in the British Isles.
» More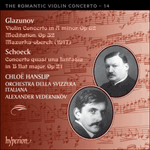 Glazunov & Schoeck: Works for violin and orchestra
The brilliant young violinist Chloë Hanslip features on a second volume of Hyperion's Romantic Violin Concerto series, here exploring works by Glazunov and Schoeck.
» More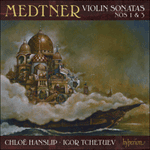 Medtner: Violin Sonatas Nos 1 & 3
Medtner's 'Sonata Epica' is one of the most ambitious and colossal works in the repertoire, and without doubt one of the most important violin sonatas of the 20th century. Chloë Hanslip has proved herself an eloquent performer of the lesser-known ...
» More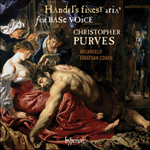 Handel: Handel's Finest Arias for Base Voice
This collection demonstrates the variety and brilliance of Handel's writing for the bass voice, with arias from Italian and English operas, English classical drama, Biblical oratorios, literary odes and a masque. Christopher Purves gives an extrao ...
» More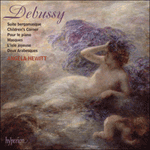 Debussy: Solo Piano Music
A new recording by Angela Hewitt finds her in Gallic mode with these performances of Debussy's most delightful and evocative works, including the dreamy Clair de lune and the enchanting Children's Corner.
» More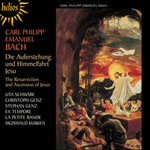 Bach (CPE): Die Auferstehung und Himmelfahrt Jesu
The oratorio 'The Resurrection and Ascension of Jesus' is among CPE Bach's greatest masterpieces, and inspired many later composers including Haydn and Beethoven.
» More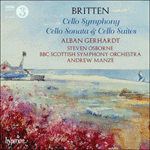 Britten: Cello Symphony, Cello Sonata & Cello Suites
Britten's music for cello is performed in its entirety by the brilliant Alban Gerhardt at the start of the composer's anniversary year. This substantial body of work includes the Suites for Solo Cello—the greatest works in this genre since Bach's. ...
» More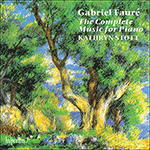 Fauré: The Complete Music for Piano
This welcome release presents Fauré's complete music for piano, in benchmark performances by Kathryn Stott, at budget price. 4 hours and 56 minutes of pure pleasure.
» More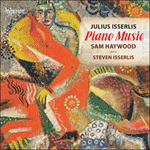 Isserlis: Piano Music
Music by Julius Isserlis (grandfather of cellist Steven Isserlis, who features on the album), discovered, edited and performed by pianist Sam Haywood. The influence of Chopin is clear, but this fascinating music retains its own very distinctive vo ...
» More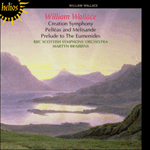 Wallace: Creation Symphony & other orchestral works
Prior to the making of this recording in 1997 it seems that no one had performed Wallace's Creation Symphony for nearly a hundred years and yet, in the history of the symphony in Britain, it is unprecedented in its scope and daring.
» More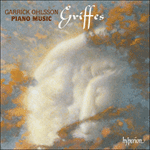 Griffes: Piano Music
American composer Charles Tomlinson Griffes produced a remarkable body of piano works in his short composing career. Almost all of them have been recorded here by his compatriot Garrick Ohlsson, who applies the full force of his interpretative and ...
» More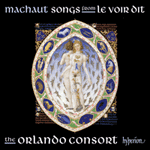 Machaut: Songs from Le Voir Dit
The Orlando Consort performs the music of Machaut, the most significant French poet and composer of the fourteenth century. Livre dou Voir Dit ('Book of the True Tale') is Machaut's masterpiece.
» More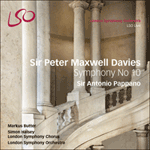 Maxwell Davies: Symphony No 10
The LSO and London Symphony Chorus premiere the Tenth Symphony from iconic British composer (and Master of the Queen's Music) Sir Peter Maxwell Davies.
» More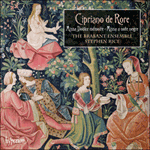 Rore: Missa Doulce mémoire & Missa a note negre
A new recording from The Brabant Ensemble and Stephen Rice features the sacred music of Cipriano de Rore, a Renaissance master principally known for his madrigals. The album contains two Mass settings based on French chansons and a selection of mo ...
» More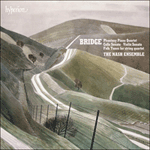 Bridge: Phantasy Piano Quartet & Sonatas
The Nash Ensemble, which has made a speciality of British twentieth-century music, presents a fascinating compendium of Frank Bridge's chamber works, demonstrating the composer's developing style.
» More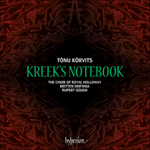 Kõrvits: Kreek's Notebook
The Choir of Royal Holloway have proved themselves as inspirational performers of contemporary Baltic music through their previous recordings. This latest album features a major contemporary work based on Estonian folk hymns, suffused with dreamy ...
» More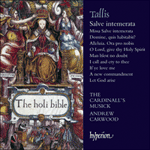 Tallis: Salve intemerata & other sacred music
The Cardinall's Musick and Andrew Carwood continue their exploration of the sacred music of the acknowledged master of the Tudor era, Thomas Tallis. This project follows the completion of their multi-award-winning Byrd series.
» More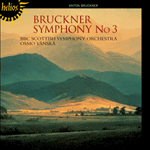 Bruckner: Symphony No 3
This recording is of the 1877 third (first published) version of Bruckner 3, with the inclusion of an 1876 version of its Adagio containing much new material, which was discovered pasted over in the orchestral parts used in the first performance. ...
» More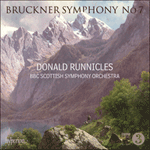 Bruckner: Symphony No 7
Donald Runnicles, chief conductor of the BBC Scottish Symphony Orchestra, makes his debut on Hyperion. Acknowledged worldwide as a master of the Romantic orchestral repertoire, here he presents Bruckner's most popular symphony in a monumental perf ...
» More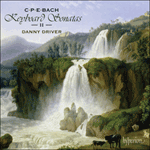 Bach (CPE): Keyboard Sonatas, Vol. 2
A welcome second volume of CPE Bach's startlingly original and inventive keyboard sonatas, performed with authority and style by pianist Danny Driver.
» More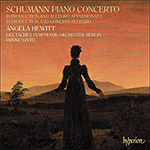 Schumann: Piano Concerto
Three works written for Clara Schumann by her husband (including of course the celebrated A minor concerto) make up this lovely new release from Angela Hewitt. There's so much to enjoy in Hewitt's limpid, crystalline performances and the dazzling ...
» More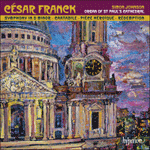 Franck: Symphonic organ works
The Grand Organ (and massive acoustic) of St Paul's Cathedral brings the symphonic organ works of César Franck to life, played by Simon Johnson, the current St Paul's Organist. He plays his own transcription of Franck's Symphony in D minor and oth ...
» More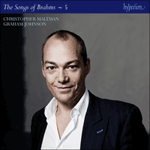 Brahms: The Complete Songs, Vol. 5 – Christopher Maltman
A new recording from renowned recitalist and winner of the Lieder Prize at the 1997 Cardiff Singer of the World Competition, Christopher Maltman. Graham Johnson is both accompanist and curator of this series that presents the entire piano-accompan ...
» More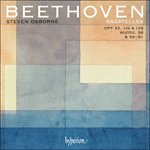 Beethoven: Bagatelles
Following his exceptional Beethoven 'Moonlight', 'Pathétique' and 'Waldstein' Sonatas release, Gramophone-award-winning pianist Steven Osborne lends his remarkable artistry to Beethoven's complete Bagatelles. These 30 short pieces span the compose ...
» More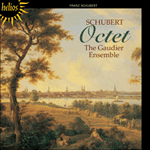 Schubert: Octet
An elegant, poetic performance of one of the most popular chamber works of the nineteenth century.
» More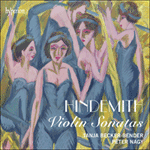 Hindemith: Violin Sonatas
Hindemith's Violin Sonatas fascinatingly mirror the various stages in the development of his musical language. They are performed here by virtuoso German violinist Tanja Becker-Bender who has made a speciality of the music of the early twentieth c ...
» More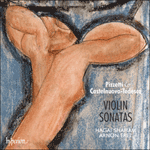 Pizzetti & Castelnuovo-Tedesco: Violin Sonatas
Hagai Shaham and Arnon Erez continue their exploration of the early twentieth-century violin repertoire, turning this time to Italy. These musicians are noted for their full-blooded performances: here they revel exuberantly in the music's operatic ...
» More