Instrumental hightlights, from a pantheon of solo pianists to works for one or two other instruments.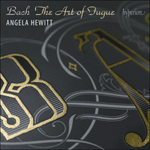 Bach: The Art of Fugue
Angela Hewitt's much-awaited recording of Bach's ultimate masterpiece, The Art of Fugue, is destined to be the crowning achievement of her Bach cycle for Hyperion—a revelatory recording and performing project which has taken her all over the world ...
» More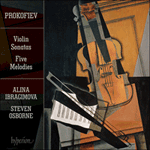 Prokofiev: Violin Sonatas
Hyperion is delighted to present a collaboration—an extraordinary force on the concert platform—in its first appearance on record. Alina Ibragimova and Steven Osborne are musicians of searing, uncompromising intelligence and intense feeling. In hi ...
» More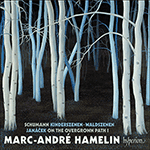 Schumann: Kinderszenen & Waldszenen; Janáček: On the overgrown path I
A new album from Marc-André Hamelin is always a cause for celebration. Here he presents three sets of miniatures (all masterpieces in which their emotional impact is quite out of proportion to their dimensions); a fascinating juxtaposition of two ...
» More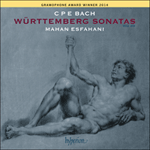 Bach (CPE): Württemberg Sonatas
Hyperion is delighted to present the debut recording of the wonderful young harpsichordist Mahan Esfahani. He has recorded CPE Bach's six 'Württemberg' sonatas, and makes the best possible case for this dramatic and endlessly imaginative music.
» More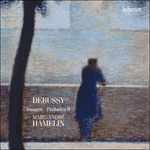 Debussy: Images & Préludes II
A new album from Marc-André Hamelin is always cause for celebration. Here in his first Debussy recording for Hyperion he presents the two books of Images: Debussy's colouristic masterpiece, a bewitching compendium of 'scents, colours and sounds'. ...
» More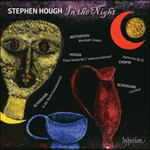 In the Night
This latest recital album by 'the thinking person's virtuoso: an extraordinary pianist' (The New York Times) takes the listener on a journey through that most intense and absorbing of nineteenth-century obsessions, the night. Stephen Hough's thoug ...
» More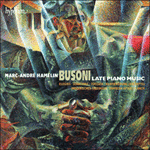 Busoni: Late Piano Music
Marc-André Hamelin is indisputably the king of Busoni pianists. This generously priced triple album offers most of Busoni's mature works and the widest selection of pieces from the Klavierübung so far recorded, many of them for the first time.
» More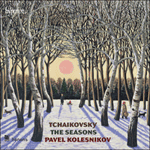 Tchaikovsky: The seasons
Russian pianist Pavel Kolesnikov became Laureate of the Honens Prize for Piano in 2012 and gave his Wigmore Hall debut at the beginning of 2013, where the critics delighted in his outstanding pianism and intelligent programming. Hyperion is deligh ...
» More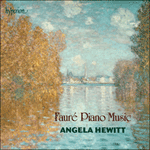 Fauré: Piano Music
Angela Hewitt's recordings of French piano music have received the highest critical acclaim, her 'tenderness, Gallic wit, verve, and—the most important ingredient of all—charm' proving perfect for this repertoire. This album includes the major wor ...
» More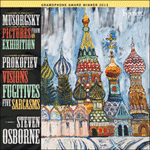 Musorgsky: Pictures from an Exhibition; Prokofiev: Visions fugitives & Sarcasms
Steven Osborne performs masterpieces of the Russian repertoire in this recording of Musorgsky's Pictures from an Exhibition, one of the most original and challenging works in the piano repertoire and one which has been in Osborne's concert reperto ...
» More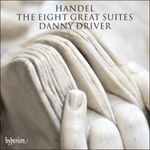 Handel: The Eight Great Suites
Danny Driver's recordings of CPE Bach's keyboard works have been much admired: praised by critics as deeply stylish and revelatory accounts of eighteenth-century works on a modern piano, with Driver's impeccable pianism constantly present. Now he ...
» More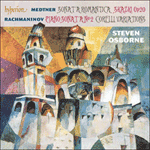 Medtner & Rachmaninov: Piano Sonatas
Steven Osborne has become increasingly admired for his performances and recordings of Russian Romantic piano music. Here he presents an impressive selection from two masters who lived and worked contemporaneously. Medtner's 'Sonata Romantica' is i ...
» More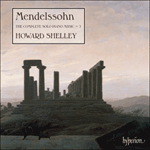 Mendelssohn: The Complete Solo Piano Music, Vol. 2
Howard Shelley is acclaimed as the living master of early Romantic piano music. Here he presents the second instalment of a six-volume set of Mendelssohn's solo piano music. This volume includes the Rondo capriccioso, a favourite virtuoso concert ...
» More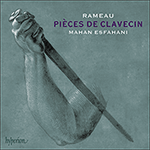 Rameau: Pièces de clavecin
Gramophone-Award-winning harpsichordist Mahan Esfahani has recorded Rameau's Pièces de clavecin in the historic setting of the Music Room at Hatchlands Park in Surrey. This double album comprises the whole of Rameau's output of keyboard suites, an ...
» More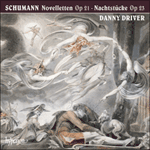 Schumann: Novelletten & Nachtstücke
In this new album Danny Driver brings his impeccable pianism, consummate style and imagination to Schumann's Novelletten and Nachtstücke, less well-known sets from his extraordinary output for the piano.
» More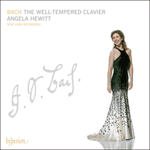 Bach: The Well-tempered Clavier
Ten years ago Angela Hewitt recorded a version of The Well-Tempered Clavier which dazzled the critical world and record-buying public. Now, fresh from her Bach World Tour— in which she performed the complete work in 58 cities in 21 countries on si ...
» More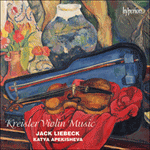 Kreisler: Violin Music
Hyperion is delighted to welcome award-winning violinist Jack Liebeck to the label, together with his frequent collaborator, Katya Apekisheva. Liebeck presents a selection of music by 'revolutionary player and the epitome of the Viennese violinist ...
» More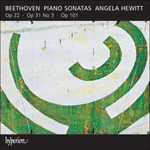 Beethoven: Piano Sonatas, Vol. 4
Angela Hewitt presents a fourth volume in her acclaimed series of Beethoven's piano sonatas, which has delighted her fans worldwide.
» More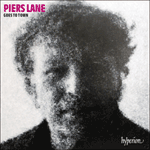 Piers Lane goes to town
Piers Lane gambols delightfully through the 20th century in this album of encores, party pieces and a few pianophile rarities, ranging from Dame Myra Hess's unforgettable arrangement of Bach's Jesu, joy of man's desiring to Dudley Moore's equally ...
» More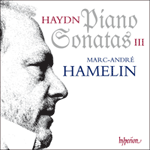 Haydn: Piano Sonatas, Vol. 3
This third double-selection of Haydn Sonatas gravitates around those written in the 1770s, including the great C minor Sonata from the composer's 'Sturm und Drang' period, plus three early works from the 1750s and the D major Sonata written during ...
» More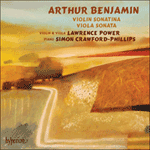 Benjamin: Violin Sonatina & Viola Sonata
Lawrence Power is Britain's greatest living viola player, the true successor to Lionel Tertis and William Primrose. Part of his mission is to perform and record music premiered by those masters of the previous century—among which are the works of ...
» More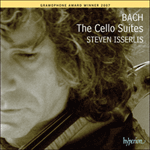 Bach: Cello Suites
'Thoughtful, respectful, inspirational playing, a perfectly-placed recording, stimulating notes … this is a fine achievement' (BBC Radio 3 CD Review)
'Some of the best Bach playing I've heard since Casals' (BBC Radio 3 CD Review)
» More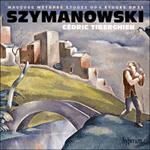 Szymanowski: Masques, Métopes & Études
In Cédric Tiberghien's first solo recording for Hyperion he embraces the sensual, crepuscular sound-world of Szymanowski's most celebrated piano works, Masques, Métopes and the complete Études. Tiberghien's expressive, quicksilver playing makes hi ...
» More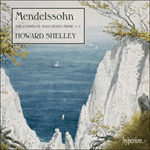 Mendelssohn: The Complete Solo Piano Music, Vol. 1
Pianist Howard Shelley, acclaimed as the master of the Early Romantic style, presents the first in a six-volume series of Mendelssohn's complete solo piano music. This is perhaps the least-known area of the composer's repertoire, and contains many ...
» More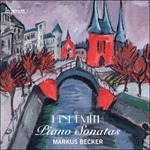 Hindemith: Piano Sonatas
In his three piano sonatas, Hindemith presents himself not as the rebel and revolutionary of the 1920s, but rather as an heir to the contrapuntal skill and keyboard dexterity of Johann Sebastian Bach. Markus Becker has been acclaimed for his autho ...
» More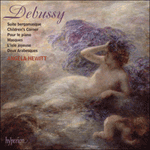 Debussy: Solo Piano Music
A new recording by Angela Hewitt finds her in Gallic mode with these performances of Debussy's most delightful and evocative works, including the dreamy Clair de lune and the enchanting Children's Corner.
» More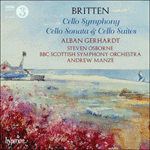 Britten: Cello Symphony, Cello Sonata & Cello Suites
Britten's music for cello is performed in its entirety by the brilliant Alban Gerhardt at the start of the composer's anniversary year. This substantial body of work includes the Suites for Solo Cello—the greatest works in this genre since Bach's. ...
» More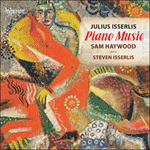 Isserlis: Piano Music
Music by Julius Isserlis (grandfather of cellist Steven Isserlis, who features on the album), discovered, edited and performed by pianist Sam Haywood. The influence of Chopin is clear, but this fascinating music retains its own very distinctive vo ...
» More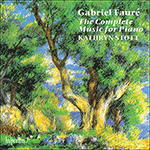 Fauré: The Complete Music for Piano
This welcome release presents Fauré's complete music for piano, in benchmark performances by Kathryn Stott, at budget price. 4 hours and 56 minutes of pure pleasure.
» More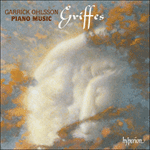 Griffes: Piano Music
American composer Charles Tomlinson Griffes produced a remarkable body of piano works in his short composing career. Almost all of them have been recorded here by his compatriot Garrick Ohlsson, who applies the full force of his interpretative and ...
» More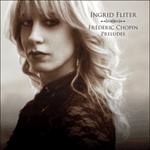 Chopin: Préludes
Award-winning pianist Ingrid Fliter performs Chopin's Op 28, a poetic collection of great emotional power and unrivalled artistic quality which demands high virtuosity.
» More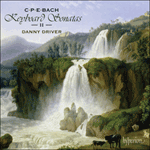 Bach (CPE): Keyboard Sonatas, Vol. 2
A welcome second volume of CPE Bach's startlingly original and inventive keyboard sonatas, performed with authority and style by pianist Danny Driver.
» More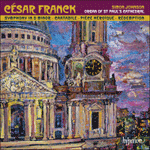 Franck: Symphonic organ works
The Grand Organ (and massive acoustic) of St Paul's Cathedral brings the symphonic organ works of César Franck to life, played by Simon Johnson, the current St Paul's Organist. He plays his own transcription of Franck's Symphony in D minor and oth ...
» More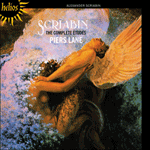 Scriabin: The Complete Études
Piers Lane brings his admired virtuosity and innate musicality to Scriabin's Études. To listen to them as presented on this album is to hear the gradual but total transformation of Scriabin's musical language from the earliest significant composit ...
» More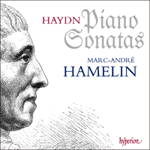 Haydn: Piano Sonatas, Vol. 1
'The ever-phenomenal Marc-André Hamelin breaks out into the light with a two-disc set of Haydn sonatas … these are astonishing performances ...
'Hamelin kicks off with the late C major Sonata, Hob XVI:50, nailing his virtuoso credentials firmly to the mast with a mercurial account of its openi ...
» More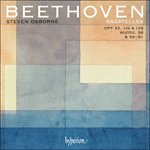 Beethoven: Bagatelles
Following his exceptional Beethoven 'Moonlight', 'Pathétique' and 'Waldstein' Sonatas release, Gramophone-award-winning pianist Steven Osborne lends his remarkable artistry to Beethoven's complete Bagatelles. These 30 short pieces span the compose ...
» More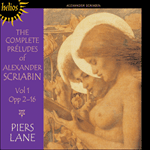 Scriabin: The Complete Préludes, Vol. 1
Piers Lane's performances of the complete Scriabin Préludes are bold and compelling, matching technical bravura with a rich vein of poetry and colour and communicating the composer's vivid and exceptional imagination. Beautifully recorded and supe ...
» More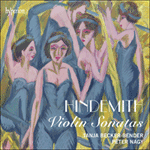 Hindemith: Violin Sonatas
Hindemith's Violin Sonatas fascinatingly mirror the various stages in the development of his musical language. They are performed here by virtuoso German violinist Tanja Becker-Bender who has made a speciality of the music of the early twentieth c ...
» More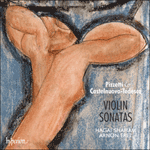 Pizzetti & Castelnuovo-Tedesco: Violin Sonatas
Hagai Shaham and Arnon Erez continue their exploration of the early twentieth-century violin repertoire, turning this time to Italy. These musicians are noted for their full-blooded performances: here they revel exuberantly in the music's operatic ...
» More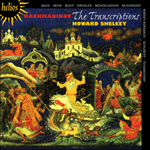 Rachmaninov: The Transcriptions
Rachmaninov's transcriptions for piano were among his earliest compositional endeavours, and he continued the practice throughout his life. A delightful selection is recorded here.
» More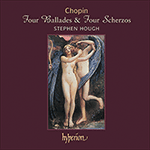 Chopin: Four Ballades & Four Scherzos
'This is astonishing piano playing and Chopin interpretation, at its very best, fully measuresup to the greatness of these pieces. And to their freshn ...
'In the use of words like sensational, extraordinary, phenomenal, etc., critics have to be sparing, at risk of their credibility. But these adjectives ...
» More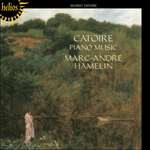 Catoire: Piano Music
Marc-André Hamelin adds another mystery name to his discography with this album of piano music of the almost unknown Russian Georgy Catoire: one of a large number of composers who flourished in pre-Revolutionary Russia at the turn of the twentieth ...
» More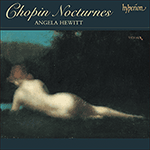 Chopin: Nocturnes & Impromptus
'In a catalogue boasting many distinguished Chopin Nocturne cycles, Angela Hewitt's commands attention' (BBC Music Magazine)
'One of the most elegant pianists around, the Canadian virtuoso Angela Hewitt interrupts her epic Bach and Couperin cycles for Hyperion to explore som ...
» More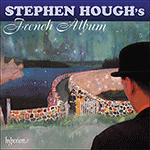 Stephen Hough's French Album
A master pianist demonstrates his manifold talents in this delicious selection of French music. Works by Poulenc, Fauré, Debussy and Ravel rub shoulders with lesser-known gems by their contemporaries.
» More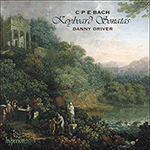 Bach (CPE): Keyboard Sonatas, Vol. 1
The pianist Danny Driver has garnered the highest possible praise for his two York Bowen albums on Hyperion. Now he turns to a composer from a very different age—yet one who has been similarly overlooked by the musical establishment, while always ...
» More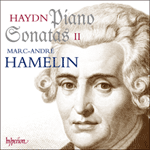 Haydn: Piano Sonatas, Vol. 2
Marc-André Hamelin's first set of Haydn Piano Sonatas was Hyperion's best-selling release of 2007, and had the critics jostling to acclaim his performances in the highest terms. His second volume, released in a year where new Haydn recordings are ...
» More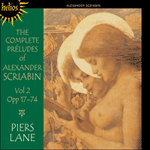 Scriabin: The Complete Préludes, Vol. 2
Piers Lane's performances of the complete Scriabin Préludes are bold and compelling, matching technical bravura with a rich vein of poetry and colour and communicating the composer's vivid and exceptional imagination. Beautifully recorded and supe ...
» More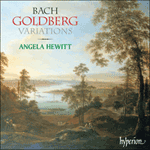 Bach: Goldberg Variations
'Beautifully co-ordinated Bach playing, with all voices colourfully defined and spontaneity as a constant virtue. In my view, she has never made a be ...
'Outstanding…Hewitt's disc, exquisite artistry commingling with infectious exhilaration gives me the most pleasure' (BBC Music Magazine)
» More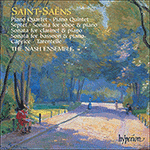 Saint-Saëns: Chamber Music
'This is a set of sheer delight: let's hear it for imaginative conservatism' (Gramophone)
'These are full-blooded performances, packed with energy and colour, and every corner is turned under complete control' (BBC Music Magazine)
» More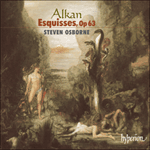 Alkan: Esquisses Op 63
'A sensitivity, radiance and finesse rarely encountered from even the finest pianists … An invaluable disc' (Gramophone)
'These miniatures call for a pianist of great sensitivity, character and receptiveness to the music's diverse, perfectly crystallised moods … Osb ...
» More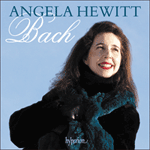 Bach: Angela Hewitt plays Bach
Angela Hewitt's acclaimed recordings of Bach on the piano have received the highest critical acclaim and found their way into thousands of homes, selling nearly 400,000 copies since her recording of the Inventions burst onto the scene in 1994. Now ...
» More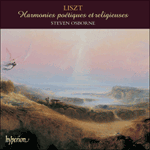 Liszt: Harmonies poétiques et religieuses
'This is a fine recital, with a recording to match' (BBC Music Magazine)
» More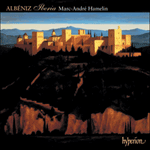 Albéniz: Iberia & other late piano music
'Here is the most immaculate, effortless and refined of all Iberias. Where others fight to stay afloat, Marc-André Hamelin rides the crest of e ...
'Hamelin again achieves the almost physically impossible with seeming ease. Albéniz's multiple layers are finely balanced, and apparently awkward text ...
» More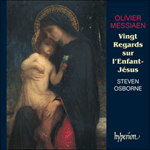 Messiaen: Vingt Regards sur l'Enfant-Jésus
'An ideal combination of spirituality and transcendent virtuosity. This is an outstanding achievement. If you enjoy Messiaen's music, you need to hear ...
'There are two reasons for saluting this new set: because it is an extremely fine performance of the Vingt Regards and because it reveals a pia ...
» More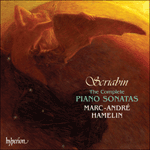 Scriabin: Complete Piano Sonatas
'He commands the four qualities that a Scriabin interpreter must have: a feverish intensity, a manic vision, a sovereign and fastidious command of the ...
'Hamelin rises to the challenges of this music with complete mastery. But his is more than a purely technical triumph (though the effortless of his pl ...
» More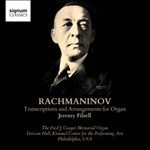 Rachmaninov: Transcriptions and arrangements for organ
Jeremy Filsell is a world-renowned authority and performer on both the organ and piano. This new album vividly illustrates his lifelong love of the music of Rachmaninov and features fresh transcriptions and arrangements for the organ. At the progr ...
» More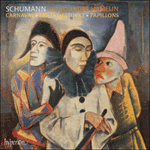 Schumann: Carnaval, Fantasiestücke, Papillons
'This is Hamelin's second Schumann recital for Hyperion. Once again, for the most part, there is a reassuring sense of a pianist expanding his poetic ...
'Hamelin's combination of fleet-fingered delicacy and compelling drive suit Schumann's aesthetic ideally; but best of all is his gleeful sense of stor ...
» More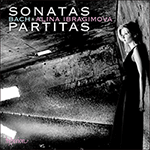 Bach: Sonatas and Partitas for solo violin
The dazzling young virtuoso Alina Ibragimova has enthralled audiences with her live Bach performances. Critics have acclaimed her beautiful tone, superlative technique and a musical wisdom far beyond her years. Now, in this new recording of Bach's ...
» More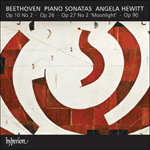 Beethoven: Piano Sonatas, Vol. 3
Angela Hewitt's legion of fans will be delighted at this eagerly awaited third volume of Beethoven sonatas. Her first two releases in this series were praised for their 'clarity, intelligence and elegance' … 'fusing poetry and passion', and all th ...
» More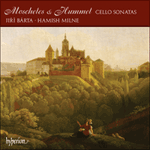 Moscheles & Hummel: Cello Sonatas
'With such strong, sympathetic playing and clear, carefully-balanced recordings this Hyperion disc is a must for adventurous cellists and listeners al ...
'Following its delightful versions of his piano concerti, led from the keyboard by Howard Shelley, Hyperion continues its championship of Moscheles's ...
» More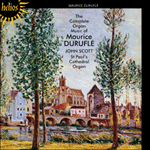 Duruflé: The Complete Organ Music
Erstwhile organist of St Paul's Cathedral, John Scott, puts the cathedral's wonderful instrument to the best possible use in this album of Maurice Duruflé's complete works for organ.
» More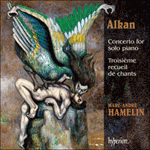 Alkan: Concerto for solo piano
'A performance of the Concerto of such brilliance and lucidity that one can only listen in awe and amazement. Scaling even the most ferocious hurdles ...
'This intelligent and magnificently-played programme, displaying contrasting sides of the composer's personality … The Concerto is an engrossing ...
» More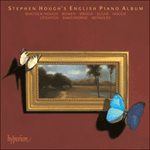 Stephen Hough's English Piano Album
'Another winner from the ever-imaginative Stephen Hough. In all these pieces Hough's magic is presented in full, clear Hyperion sound' (Gramophone)
'Powerful, sympathetic and beautifully recorded, and his fans everywhere will be thrilled' (BBC Music Magazine)
» More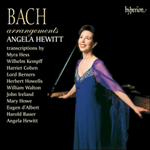 Bach Arrangements
'A magnificent addition to both the Bach repertoire and Angela Hewitt's artistically unparallelled survey of Bach's keyboard compositions' (Fanfare, USA)
'A collection of rarities and oddities that makes for enjoyable listening. The quality of the Hyperion recording is excellent, with the right balance ...
» More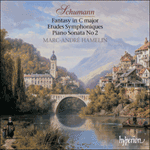 Schumann: Piano Music
'A dazzling technician fuses technical dexterity and poetry to compelling effect … for me the outstanding performance is the great C major Fantas ...
'Genuinely outstanding disc' (The Guardian)
» More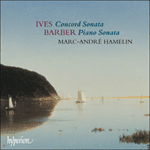 Ives & Barber: Piano Sonatas
'Hamelin's performance of the Concord Sonata is in the truest sense transcendental, his facility allowing him a cool poetry and lyricism inacce ...
'Reviewing the Mayer, I described Aimard's recording as 'of unmatchable vividness and panache'; but I must now transfer both the description and the r ...
» More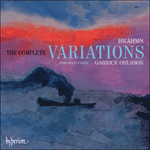 Brahms: The Complete Variations
American pianist Garrick Ohlsson, whose Complete Chopin set was acclaimed as one of the most important anniversary releases, now turns to another significant, though often overlooked, body of Romantic piano music—Brahms' complete variations.
» More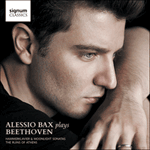 Beethoven: Alessio Bax plays Beethoven
Pianist Alessio Bax returns to Signum with two masterworks of Beethoven's piano repertoire, as well as two new arrangements from 'The Ruins of Athens'.
» More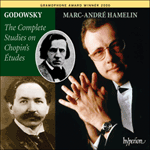 Godowsky: The Complete Studies on Chopin's Études
'Rarely can such a gargantuan task—truly a labour of Hercules—have been accomplished with such strength, grace and agility, with an ease bordering on ...
'This is probably the most breathtaking piano recording I've ever heard. It's exceptional, not only for Hamelin's pianistic perfection—staggering in i ...
» More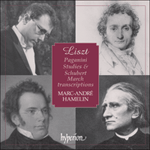 Liszt: Paganini Studies & Schubert Marches
'Dexterity here to make ears flap; but then, we are used to this from Hamelin' (Gramophone)
'A brilliantly successful recital' (BBC Music Magazine)
» More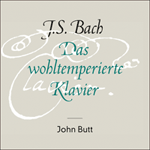 Bach: The Well-tempered Clavier
Prize-winning Bach specialist John Butt performs 'Das wohltemperierte Klavier', his first solo recording for Linn.
» More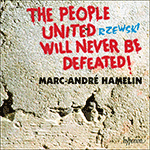 Rzewski: The People United Will Never Be Defeated!
'Never likely to be equalled, let alone surpassed … I would urge all readers to hear this extraordinary recording' (Gramophone)
'My new piano CD of the week—possibly of the year—has to be Marc-André Hamelin's extraordinary traversal of the 36 variations on a Chilean song' (The ...
» More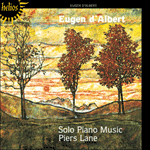 Albert: Solo Piano Music
Piers Lane was highly acclaimed for his recordings of d'Albert's piano concertos and he turns to the solo works with relish. This composer was known as one of the world's greatest pianists in his lifetime, and his music can be seen as a fusion of ...
» More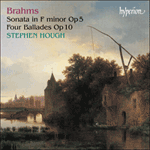 Brahms: Piano Sonata No. 3 & Four Ballades
'Thoughtful, poetic and rich-toned readings of youthful Brahms. These pieces [Four Ballades] emerge as little gems, the songful Second as ear-catching ...
'[Hough's] new disc must be one of the current prime choices in these pieces' (International Record Review)
» More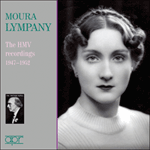 Moura Lympany – The HMV Recordings, 1947-1952
Moura Lympany (1916-2005) was the last of the major Matthay pupils and she started working with him in 1937 when he was already 79. In 1938 she shot to international fame when she came second to Emil Gilels in the Queen Elisabeth competition. A br ...
» More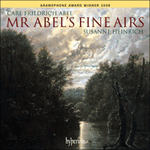 Abel: Mr Abel's Fine Airs
'This delightful release … Abel was one of the last masters of the viola da gamba, and in these unaccompanied pieces he reveals an intimate art ...
'Heinrich plays them rather as Abel himself might have, with a sort of quiet affection as if she were playing for a small group in a room … I wis ...
» More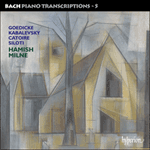 Bach: Piano Transcriptions, Vol. 5 – Goedicke, Kabalevsky, Catoire & Siloti
'Milne plays the more outgoing works with the sharp articulation and gestural clarity that makes his Medtner so refreshing (his left-hand profile is e ...
'This is a welcome return to the recording studio for a British pianist who has maintained a consistently high standard for many years. Hamish Milne i ...
» More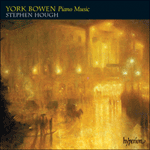 Bowen: Piano Music
'This disc came as quite a revelation … this eloquent new collection suggests that a radical reappraisal of Bowen's compositional achievement is ...
'Few new discs of piano music match this for sheer magic: magnetic performances that come as a revelation. Vivid piano sound' (The Penguin Guide to Co ...
» More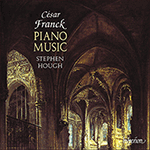 Franck: Piano Music
'Wonderfully played … marvellous sound. This is a first-rate issue in every respect … only the most exalted comparisons will do for Stephen ...
'It is hard to imagine better performances' (BBC Music Magazine)
» More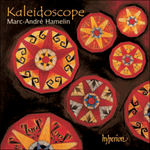 Kaleidoscope
'Hamelin's performances are a wonder of brilliance and refinement. The recordings are superb, Jeremy Nicholas's notes a mine of informative titbits. I ...
'This collection of virtuoso encores by mostly forgotten pianist-composers is simply sensational' (The Sunday Times)
» More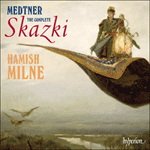 Medtner: Skazki
'They're among [Medtner's] characteristic utterances and include many of his finest inspirations. Some are simply masterpieces … it's excellent t ...
'From the very first of these skazki ('tales'), I was hooked. Much of this is to do with the advocacy of Hamish Milne, who has already recorded some o ...
» More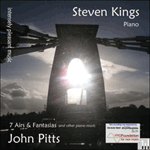 Pitts: Airs & Fantasias
This is 'modern' piano music at its best: occasionally challenging to the listener (to say nothing of the performer), but always engaging—an infectiously melodious fusion of influences at once reminiscent of Bach and Einaudi. With more than an occ ...
» More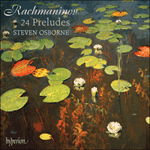 Rachmaninov: 24 Preludes
Steven Osborne's live performances of Rachmaninov's preludes were greeted ecstatically by critics and audience alike: a new benchmark for performances of these works, and a new departure for this most subtle and sensitive of pianists. Now Steven h ...
» More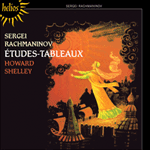 Rachmaninov: Études-tableaux
'In Shelley's Rachmaninov series, I think this the finest achievement among them' (Gramophone)
'Peerless command and inimitable insights' (Hi-Fi News)
» More