Orchestral highlights available from Hyperion—ranging from Romantic Piano Concerto blockbusters to intriguing re-discoveries. Included here are a selection of popular orchestral albums albums ranging from the Baroque to the Grand Romantic, or with orchestral accompaniment. Our 'advanced search' option also supports 'adjective-based' searching, so you could for example search for 'british romantic concertos' to get a list more to your liking.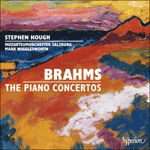 Brahms: The Piano Concertos
This attractively priced double set is one of Stephen Hough's most important recordings. Brahms's two piano concertos are monumental in scale, impassioned and truly romantic. They require and receive here both great virtuosity and intimacy from th ...
» More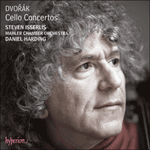 Dvořák: Cello Concertos
Hyperion is delighted to present the world's best-loved cello concerto performed by one of the world's best-loved cellists. Steven Isserlis has waited forty years to record this pinnacle of the repertoire. Also included is a version of the first c ...
» More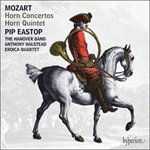 Mozart: Horn Concertos
Mozart's Horn Concertos are perhaps the most popular works ever written for the instrument. This new album is a collection of all the works Mozart wrote for Joseph Leutgeb, one of the foremost players of his day. His modern successor is natural ho ...
» More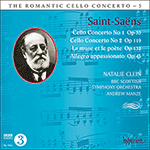 Saint-Saëns: Cello Concertos
Natalie Clein adds a remarkable collection of Saint-Saëns' music for cello and orchestra to her impressive discography. Clein first came to prominence when she won the BBC Young Musician of the Year award in 1994; it is appropriate that she perfor ...
» More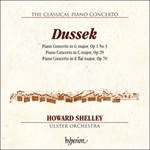 Dussek: Piano Concertos
Following on from Hyperion's popular Romantic Piano Concerto series, The Classical Piano Concerto focuses on the lesser-known concertos from the dawn of the genre. Between about 1770 and 1820—the period dominated by Mozart, Haydn and Beethoven—mus ...
» More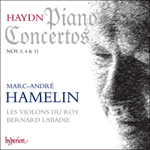 Haydn: Piano Concertos Nos 3, 4 & 11
Marc-André Hamelin is acclaimed as one of today's greatest Haydn pianists thanks to his three dazzling albums of the Sonatas. Now he has recorded the composer's three most popular concertos. This release is the fruit of a partnership with the awar ...
» More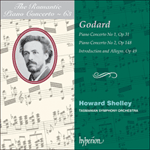 Godard: Piano Concertos
Howard Shelley directs the Tasmanian Symphony Orchestra from the piano in this latest volume of The Romantic Piano Concerto series. As ever, they perform unknown music with consummate style and deep understanding, making the best possible case for ...
» More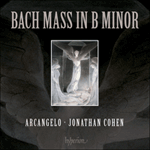 Bach: Mass in B minor
Gramophone-Award-winning ensemble Arcangelo and their inspirational director Jonathan Cohen, one of the brightest stars in the early music galaxy, present Bach's great masterpiece in a glorious new recording made following a thrilling performance ...
» More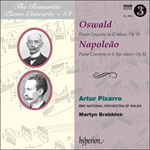 Oswald & Napoleão dos Santos: Piano Concertos
Portuguese virtuoso Artur Pizarro makes a welcome return to the Romantic Piano Concerto series with the outpourings of two brilliant yet sadly forgotten pianist-composers: contemporaries Brazilian Henrique Oswald and Portuguese Alfredo Napoleão.
» More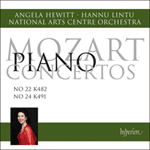 Mozart: Piano Concertos Nos 22 & 24
Writing in The Observer, Stephen Pritchard wrote of the first volume in this series: 'Judging from this first example, it's going to be a journey as revelatory as her exploration of all the major keyboard works of Bach.' Here Angela Hewitt is join ...
» More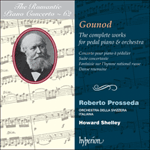 Gounod: The complete works for pedal piano & orchestra
The Romantic Piano Concerto series reaches 62 and makes an interesting (although temporary) departure: these four works are for pedal piano. Italian pianist Roberto Prosseda, who gave the first modern performance of Gounod's Concerto for pedal pia ...
» More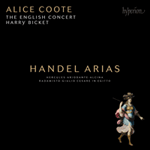 Handel: Arias
Hyperion is delighted to present a tour de force from the supreme mezzo-soprano of today, Alice Coote, accompanied by The English Concert and Harry Bicket, making their Hyperion debut. Coote performs a selection of Handel's greatest arias from ope ...
» More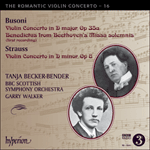 Busoni & Strauss: Violin Concertos
German violinist Tanja Becker-Bender returns to the Romantic Violin Concerto series having dazzled the critics with her 'great lyrical force and tremendous sense of drama' in her recording of the Reger concerto. Here she appears with Hyperion hous ...
» More
Mozart: Piano Concertos Nos 17 & 27
Angela Hewitt turns to two of Mozart's greatest and most popular concertos for her latest album. These captivating performances, notable for impeccably stylish and heartfelt playing, are enhanced by the brilliant partnership with conductor Hannu L ...
» More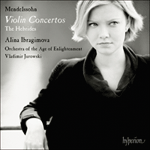 Mendelssohn: Violin Concertos
Mendelssohn's Violin Concerto in E minor is one of the best-loved works of the genre. It's played here with brilliance and charm by a dazzling young violinist whose versions of the classics of the repertoire have garnered great critical acclaim. A ...
» More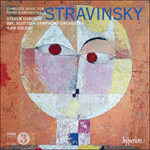 Stravinsky: Complete music for piano & orchestra
A new album from the Gramophone Award-winning team of Steven Osborne, the BBC Scottish Symphony Orchestra and Ilan Volkov. Here they present Stravinsky's music for piano & orchestra as a rare complete set, plus the Concerto in D for string orchest ...
» More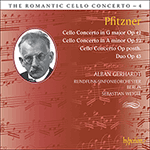 Pfitzner: Cello Concertos
Hyperion's Romantic Cello Concerto series continues to bring new works into a repertoire currently dominated by Dvořák and Elgar. Alban Gerhardt performs the three concertos by Hans Pfitzner, a composer remembered most for his opera Palestrina.
» More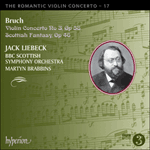 Bruch: Violin Concerto No 3 & Scottish Fantasy
Award-winning violinist Jack Liebeck brings his impassioned tones, fulsome emotional display and formidable technique to the first of three albums of music by Max Bruch. This programme presents one of Bruch's most popular pieces for violin and orc ...
» More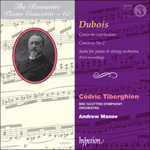 Dubois: Piano Concertos
The wonderful French pianist Cédric Tiberghien has made several admired recital and chamber recordings. Now he joins the impressive roster of pianists who have contributed to Hyperion's Romantic Piano Concerto series with Volume 60: Théodore Duboi ...
» More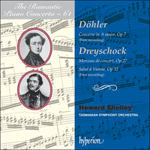 Döhler & Dreyschock: Piano Concertos
The Romantic Piano Concerto series reaches Volume 61, and continues to probe into the obscurest depths of the 19th-century piano world. Döhler's Piano Concerto in A major and Dreyschock's Salut à Vienne are both first recordings.
» More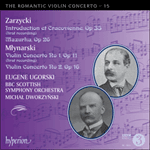 Młynarski & Zarzycki: Violin Concertos
In this latest volume of Hyperion's Romantic Violin Concerto series, we journey to Poland for two concertos by Młynarski and two works for violin and orchestra by Zarzycki (who will be familiar to Romantic Piano Concerto collectors).
» More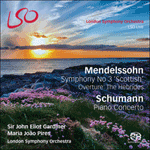 Mendelssohn: Symphony No 3 'Scottish'; Schumann: Piano Concerto
Sir John Eliot Gardiner conducts the London Symphony Orchestra in vibrant performances of Mendelssohn's Symphony No 3 (the 'Scottish') and Schumann's Piano Concerto. Maria João Pires is the piano soloist.
» More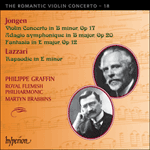 Jongen: Violin Concerto; Lazzari: Rapsodie
The Romantic Violin Concerto series reaches Belgium and the music of Joseph Jongen. Philippe Graffin (a familiar presence in this series) collaborates with the Royal Flemish Philharmonic and Martyn Brabbins in Jongen's Violin Concerto, one of his ...
» More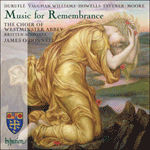 Music for Remembrance
Throughout the past century Westminster Abbey has been a focus of national remembrance on Armistice Day. This latest album from its Choir is a programme of memorial music composed in England and France in the shadow of two World Wars. The main fea ...
» More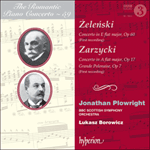 Zarzycki & Żeleński: Piano Concertos
This 59th volume of the Romantic Piano Concerto series features Jonathan Plowright, whose brilliant and utterly idiomatic performances of Romantic Polish piano music have confirmed him as a master of this repertoire. Here he collaborates with the ...
» More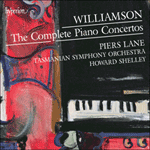 Williamson: The Complete Piano Concertos
This double-album set of Malcolm Williamson's complete Piano Concertos is an important document—containing the world premiere performance of Concerto No 4—as well as a compendium of deeply appealing music. Williamson wrote with a generosity of emo ...
» More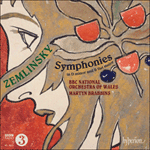 Zemlinsky: Symphonies
The BBC National Orchestra of Wales and Martyn Brabbins perform two works from the crucible of the Viennese fin de siècle. Zemlinsky wrote his two completed symphonies while studying at the Conservatory and they show the influence of his conservat ...
» More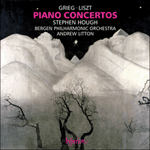 Liszt & Grieg: Piano Concertos
A concerto album from Stephen Hough is always a significant event and for this new recording Stephen travelled to Norway to join forces with Andrew Litton and the Bergen Philharmonic. Performances are exciting and magisterial, Stephen's breathtaki ...
» More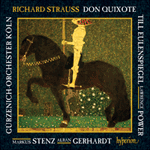 Strauss: Don Quixote & Till Eulenspiegel
A new recording of two of Strauss's most popular tone poems, by the very orchestra which gave their premieres in the 1890s, under their principal conductor Markus Stenz. Don Quixote features Hyperion artists Alban Gerhardt and Lawrence Power, admi ...
» More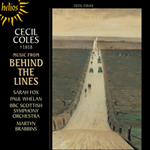 Coles: Music from Behind the lines
Cecil Coles was killed near the Somme on 26 April 1918 during a heroic attempt to rescue some wounded comrades. He was one of the most talented of the composers who lost their lives in the First World War, yet few remember him now. Travelling on a ...
» More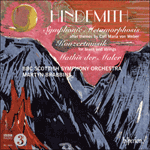 Hindemith: Symphonic Metamorphosis & other orchestral works
This album contains Hindemith's most popular orchestral works, including the Balanchine-choreographed Symphonic Metamorphosis, performed with precision and empathy by Hyperion regulars the BBC Scottish Symphony Orchestra and Martyn Brabbins.
» More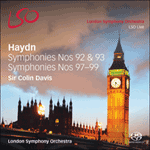 Haydn: Symphonies Nos 92-3 & 97-9
Sir Colin Davis was long recognized as a pre-eminent Haydn interpreter. During his Indian summer with the orchestra he recorded both 'The Creation' and 'The Seasons' for LSO Live. The symphonies presented here were recorded in 2011 during this sam ...
» More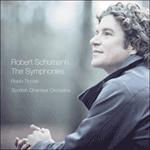 Schumann: Symphonies
Robin Ticciati and the Scottish Chamber Orchestra embark upon their first symphonic cycle together in a programme of the Schumann Symphonies that they have performed in concerts across Scotland.
» More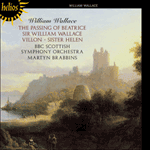 Wallace: Symphonic Poems
William Wallace's orchestral compositions rank amongst them the earliest attempts at the genre of the symphonic poem to be made in the British Isles.
» More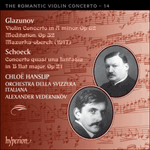 Glazunov & Schoeck: Works for violin and orchestra
The brilliant young violinist Chloë Hanslip features on a second volume of Hyperion's Romantic Violin Concerto series, here exploring works by Glazunov and Schoeck.
» More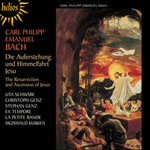 Bach (CPE): Die Auferstehung und Himmelfahrt Jesu
The oratorio 'The Resurrection and Ascension of Jesus' is among CPE Bach's greatest masterpieces, and inspired many later composers including Haydn and Beethoven.
» More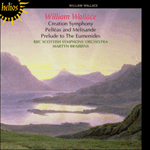 Wallace: Creation Symphony & other orchestral works
Prior to the making of this recording in 1997 it seems that no one had performed Wallace's Creation Symphony for nearly a hundred years and yet, in the history of the symphony in Britain, it is unprecedented in its scope and daring.
» More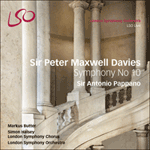 Maxwell Davies: Symphony No 10
The LSO and London Symphony Chorus premiere the Tenth Symphony from iconic British composer (and Master of the Queen's Music) Sir Peter Maxwell Davies.
» More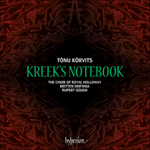 Kõrvits: Kreek's Notebook
The Choir of Royal Holloway have proved themselves as inspirational performers of contemporary Baltic music through their previous recordings. This latest album features a major contemporary work based on Estonian folk hymns, suffused with dreamy ...
» More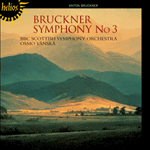 Bruckner: Symphony No 3
This recording is of the 1877 third (first published) version of Bruckner 3, with the inclusion of an 1876 version of its Adagio containing much new material, which was discovered pasted over in the orchestral parts used in the first performance. ...
» More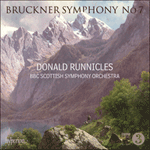 Bruckner: Symphony No 7
Donald Runnicles, chief conductor of the BBC Scottish Symphony Orchestra, makes his debut on Hyperion. Acknowledged worldwide as a master of the Romantic orchestral repertoire, here he presents Bruckner's most popular symphony in a monumental perf ...
» More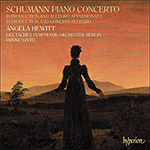 Schumann: Piano Concerto
Three works written for Clara Schumann by her husband (including of course the celebrated A minor concerto) make up this lovely new release from Angela Hewitt. There's so much to enjoy in Hewitt's limpid, crystalline performances and the dazzling ...
» More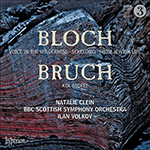 Bloch: Schelomo & Voice in the Wilderness; Bruch: Kol Nidrei
Bruch's Kol Nidrei is one of the most beloved works for cello in the repertoire. It is recorded here with music of extraordinary symphonic sweep by Ernest Bloch, and performed by one of the most brilliant young cellists of today, splendidly accomp ...
» More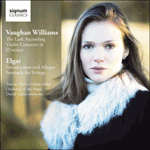 Vaughan Williams: The lark ascending; Elgar: Serenade for strings
Tamsin Waley-Cohen adds to her already prodigious reputation with a new disc of timeless works for strings by Ralph Vaughan Williams and Edward Elgar. Joined by the Orchestra of the Swan under David Curtis, the culmination of the programme is an e ...
» More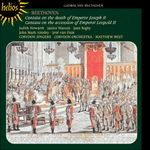 Beethoven: Early Cantatas
This album of Beethoven choral works presents two fascinating early works, the Cantatas written to mark the death of Joseph II and the accession of his brother Leopold II. Also included are the composer's homage to Goethe, 'Meeresstille und Glückl ...
» More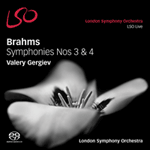 Brahms: Symphonies Nos 3 & 4
Valery Gergiev concludes his Brahms symphony cycle with recordings of the Symphonies Nos 3 & 4. The recording and performances of Brahms' symphonies were a new departure for Gergiev, an opportunity he relished with energy and enthusiasm, and his i ...
» More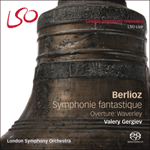 Berlioz: Symphonie fantastique
There are few orchestras with the music of Berlioz more thoroughly in their blood than the LSO, and here Valery Gergiev brings to bear his opulent interpretation of the landmark piece that is the Symphonie fantastique.
» More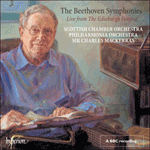 Beethoven: Symphonies
'Hyperion's set is that early evening Beethoven cycle caught in recordings of remarkable intimacy and focus … it is a set I would happily put int ...
'So magnificently exhilharating an account' (BBC Music Magazine)
» More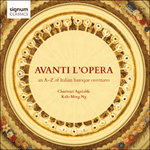 Avanti l'Opera – An A-Z of Italian baroque overtures
Early-music pioneers Charivari Agréable perform an engaging collection of overtures from the Italian Baroque Opera, best described by Kah-Ming Ng as being 'lucidly crafted for the purpose of turning heads'. These works were composed with the expre ...
» More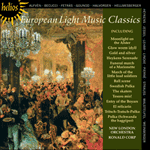 European Light Music Classics
One of Ronald Corp and the New London Orchestra's most beloved albums: fifteen gems of the light music repertoire from across Europe.
» More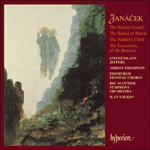 Janáček: Orchestral Music
'The gifted young Israeli conductor Ilan Volkov masterminds a laudably disciplined and full-throated account of this bracing rarity … Hyperion's ...
'Elizabeth Layton contributes silvery violin solos, and under its young Chief Conductor Ilan Volkov, the BBC Scottish Symphony Orchestra is idiomatic ...
» More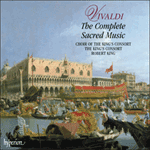 Vivaldi: The Complete Sacred Music
'For King's sterling service to the Vivaldian cause, one of his most important recording and satisfying projects to date, I am thankful' (Gramophone)
'If you're waiting for the perfect collection of Vivaldi's sacred music, this is it. It was a happy day when this beautiful boxed set arrived in my m ...
» More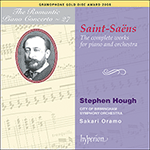 Saint-Saëns: The complete works for piano and orchestra
'Marvellous performances, full of joy, vigour and sparkle. The recording is in the demonstration bracket and this Hyperion set includes no fewer than ...
'Superlative' (The Independent)
» More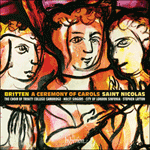 Britten: A Ceremony of Carols & Saint Nicolas
Two of Benjamin Britten's greatest Christmas choral works are performed by the choir of Trinity College Cambridge and Stephen Layton. The cantata Saint Nicolas tells the story of the saint and his exploits, and features one of the composer's celeb ...
» More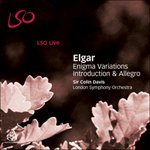 Elgar: Enigma Variations and Introduction & Allegro
The 'Variations on an original theme', or 'Enigma' as they are commonly known, brought Elgar overnight fame when they appeared in 1899. The music is glorious from start to finish, especially in the serene 'Nimrod'. Each variation is given a crypti ...
» More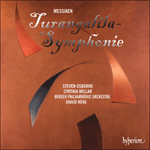 Messiaen: Turangalîla-Symphonie
One of the most important orchestral works of the twentieth century, and featuring a virtuosic piano part, Messiaen's Turangalîla-Symphonie explodes with joyous abandon and spiritual ardour. It is a perfect vehicle for the talents of the acknowled ...
» More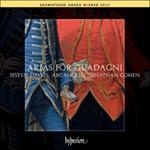 Arias for Guadagni
British countertenor Iestyn Davies is one of the fastest rising stars on the concert and opera circuit. For this selection of arias written for Gaetano Guadagni, the first 'modern' castrato and famed all over Europe for his lyric voice, he is imma ...
» More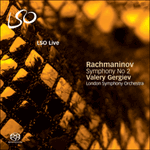 Rachmaninov: Symphony No 2
Rachmaninov's vast Symphony No 2 was composed when he was at the pinnacle of his career as a composer, pianist and conductor. Filled with emotion and brimming with beautiful melodies, it is a masterpiece and the epitome of the Romantic symphony. I ...
» More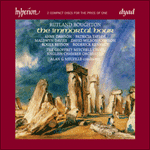 Boughton: The Immortal Hour
'This superb complete recording was a salutary shock: the opera is a kind of masterpiece, bleak, passionate and inspired … Enthusiastically recom ...
'Vividly atmospheric. Quite exceptional on all counts … I was quite bowled over [by] this delightful opera' (Gramophone)
» More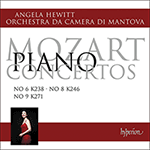 Mozart: Piano Concertos Nos 6, 8 & 9
The phenomenal Angela Hewitt embarks upon another Hyperion journey, this time through the piano concertos of Mozart. The twenty-seven concertos for piano and orchestra are some of the composer's greatest achievements. In these interpretations Ange ...
» More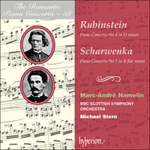 Rubinstein & Scharwenka: Piano Concertos
'Described by one respected critic as the greatest living pianist, Marc-André Hamelin soars to ever new heights of virtuosity … Hamelin is superb ...
'Marc-André Hamelin gives a dazzling account' (BBC Music Magazine)
» More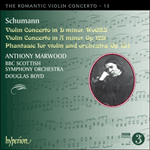 Schumann: Violin Concertos
Hyperion's Romantic Violin Concerto series continues its examination of the hidden gems of the nineteenth century. Schumann's late works for violin and orchestra had a difficult genesis but are shown as entirely worthy of repertoire status in thes ...
» More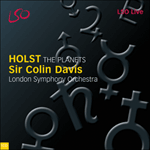 Holst: The Planets
The Planets became one of the most popular and widely recognized musical works of the twentieth century. Holst himself conducted the LSO in two early recordings of his masterpiece. Sir Colin Davis's blazing performance, recorded over three evening ...
» More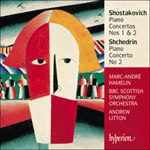 Shostakovich & Shchedrin: Piano Concertos
'Marc-André Hamelin is a superb advocate for all three pieces—the zip and zest of much of the writing presenting no difficulty to this extraordinary v ...
'It's on the basis of interpretation that Hamelin earns a top recommendation here, and he's sympathetically supported by Litton and the excellent Scot ...
» More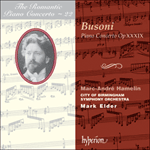 Busoni: Piano Concerto
'Another awe-inspiring feat from this prodigiously virtuosic Canadian … like no other performance that I've heard it proves what a richly enjoyab ...
'Busoni makes ridiculous demands on pianists, but in Marc-André Hamelin's hands, it all sounds perfectly reasonable. It isn't: it's noble, hilarious, ...
» More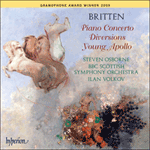 Britten: Piano Concerto
The three compositions which comprise Britten's music for solo piano and orchestra constitute a unique, yet still little explored, part of his output. Here they are brought together in a stunning disc that pays tribute to the great artistry of all in ...
» More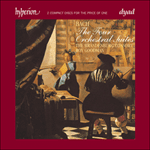 Bach: The Four Orchestral Suites
'This new Dyad set now takes pride of place among currently available period performances of these works' (Gramophone)
'Captivating performances, stylistically informed, affectionate and spirited. Wholeheartedly recommended' (Gramophone)
» More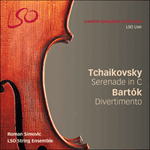 Tchaikovsky: Serenade; Bartók: Divertimento
Led from the violin by brilliant virtuoso and LSO leader Roman Simović, the LSO String Ensemble offers its first recording of Tchaikovsky's graceful Serenade and the lively Bartók Divertimento.
» More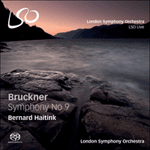 Bruckner: Symphony No 9
Bruckner's symphonies are often described as 'Gothic cathedrals in sound,' an apt description considering the composer's devout faith and early vocation as an organist. He died before he could finish his Symphony No 9 but within its three movement ...
» More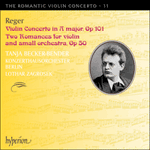 Reger: Violin Concertos
The 11th volume in Hyperion's groundbreaking Romantic Violin Concerto series features Reger in lushly lyrical mode for the two Romances while his unashamedly symphonic Violin Concerto continues in the lofty tradition of Beethoven and Brahms. The s ...
» More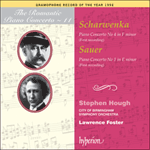 Sauer & Scharwenka: Piano Concertos
'Here, surely, is the jewel in the crown of Hyperion's absorbing series … A flawless marriage of composer, performance, recording and presentatio ...
'Virtuosity as impish as it is magisterial … [he] wings his way through every good-humoured page with a poetic and technical zest that takes us b ...
» More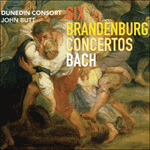 Bach: Brandenburg Concertos
Dunedin Consort, the team that brought you the St John Passion, is back with its first instrumental release: Bach's Six Brandenburg Concertos. Under the direction of Bach specialist John Butt, the Dunedin Consort demonstrates its collective experi ...
» More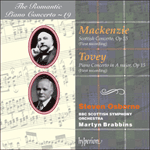 Mackenzie & Tovey: Piano Concertos
'A super disc' (Gramophone)
'What a bonanza this Hyperion offering is! If you fancy piano concertos you'll find plenty in these two neglected specimens to challenge and enchant y ...
» More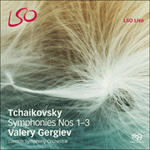 Tchaikovsky: Symphonies Nos 1-3
Tchaikovsky's early symphonies are full of rich expressive melodies—something for which he had a natural talent. They contain influences of Russian nationalism and folk tunes, particularly in Symphony No 2 ('Little Russian') and No 1, which hints ...
» More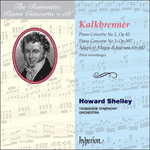 Kalkbrenner: Piano Concertos Nos 2 & 3
Volume 56 of Hyperion's ground-breaking Romantic Piano Concerto series presents the final instalment of the concertos of Friedrich Kalkbrenner, one of the most jaw-dropping pianists of the 19th century, played with enormous panache by Howard Shell ...
» More
Astorga & Boccherini: Stabat mater
A recording of two extremely beautiful settings of the Stabat mater—the Astorga is better-known than the Boccherini, but if any recording proves that a piece should be neglected no longer, this must surely be it.
» More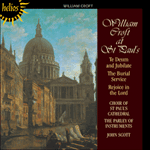 Croft: Te Deum & Burial Service
'This is choral singing of the highest quality' (Choir & Organ)
'The Pauline acoustics are captured to great effect. The notes are helpful and texts are printed. With little competition this will fill a Croft slot ...
» More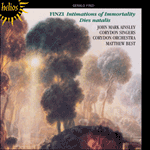 Finzi: Intimations of Immortality & Dies natalis
Finzi's 'Dies natalis' and 'Intimations of Immortality' make the perfect showcase for John Mark Ainsley and the Corydon Singers in this celebrated recording from 1996.
» More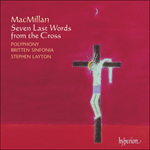 MacMillan: Seven Last Words from the Cross
'An intense, deeply felt interpretation, full of beautiful and affecting singing, with all the elements—string orchestra, featured violin, choir and s ...
'This splendid new performance from Polyphony also conveys dignity, and a sense (hard to explain) that the suffering is, in some mysterious way, redem ...
» More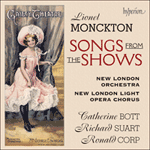 Monckton: Songs from the shows
Lionel Monckton was among the finest British melodists, ranking as such with the likes of Arthur Sullivan and Ivor Novello. This new recording is the perfect introduction to his charming songs and features soloists Catherine Bott and Richard Suart—th ...
» More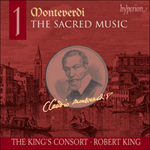 Monteverdi: The Sacred Music, Vol. 1
'This is life-enhancing stuff, breathtakingly exciting at times, exquisitely beautiful at others. If King and his forces maintain the standard they se ...
'The King's Consort shows complete affinity with both the dramatic and the lyrical aspects of Monteverdi's style. No ensemble could be better suited t ...
» More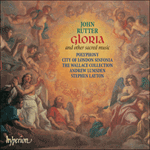 Rutter: Gloria & other sacred music
'Delicious performances of Rutter's wonderfully approachable and finely crafted vocal writing. The sound, too, is outstanding … roof-raising perf ...
'These vibrant performances amply demonstrate the qualities that give the repertoire its lasting and popular appeal … a concert that will bring w ...
» More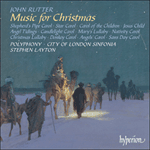 Rutter: Music for Christmas
'It's hard to imagine them better performed than by the award-winning British choir Polyphony' (The Mail on Sunday)
'The performances by both choir and orchestra are ideal in tone, style and accomplishment … A Christmas treat' (Gramophone)
» More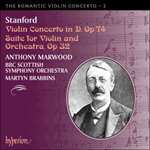 Stanford: Violin Concertos
'A discovery of major importance. First class … this masterful work speaks with a distinctly beautiful voice and has a perfect advocate in Marwo ...
'Here's a real find: a major Romantic violin concerto by a British composer. Anthony Marwood is an inspired choice of soloist, with a silvery tone and ...
» More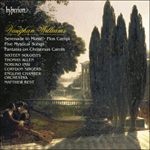 Vaughan Williams: Serenade to Music, Flos Campi, Mystical Songs
'Profoundly moving' (Gramophone)
'Strongly recommended!' (Fanfare, USA)
» More