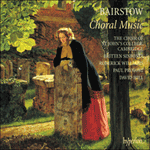 Bairstow: Choral Music
'An excellent disc in regard both to the standard of performance and to the selection of Bairstow's music. And to that should be added straight away t ...
'His anthems and services … are treasured within the church. Their touch is sure, and their word-setting is impeccable … Bairstow could hard ...
» More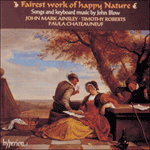 Blow: Fairest Work of happy Nature
'Full of interest, rich in its varied pleasures and in the high standard of recording and performance' (Gramophone)
» More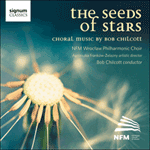 Chilcott: The seeds of stars & other choral works

BBC Music Magazine
'Britain's Bob Chilcott has become a truly international figure in choral music in recent years, as this disc richly testifies, with 18 typically grac ...
» More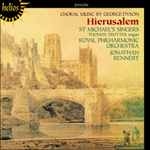 Dyson: Hierusalem & other choral works
'Hierusalem is a wonderful piece which I would bracket with Finzi's Dies Natalis and Howells's Hymnus Paradisi as one of the best examples of mystical ...
'The very beautiful, gently ecstatic Hierusalem … is such a wonderful score that … this recording should be on every shelf that cares about ...
» More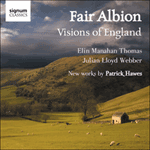 Hawes: Fair Albion - Visions of England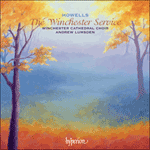 Howells: The Winchester Service & other late works
Hyperion's previous recordings with Winchester Cathedral Choir are among the jewels in its choral collection. Now the label begins a new relationship with this ancient foundation and its latest director of music, Andrew Lumsden. Their new disc fea ...
» More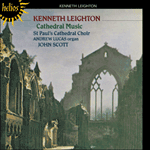 Leighton: Cathedral Music
'Leighton at his most moving. St Paul's choir brings glowingly alive both the strength and the tenderness of this music. I can enthusiastically recomm ...
» More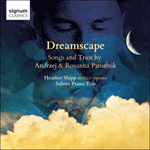 Panufnik & Panufnik: Dreamscape – Songs and Trios
Sir Andrzej Panufnik was a leading Polish composer of the 20th century, and his daughter Roxanna has made a name for herself in her own right as a contemporary composer in the 21st. This album explores the parallels between their two musical langu ...
» More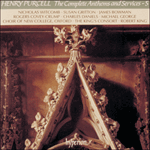 Purcell: The Complete Anthems and Services, Vol. 5
'I continue to be grateful for King's recordings of these works, recordings which those readers interested in Purcell will cherish' (Fanfare, USA)
» More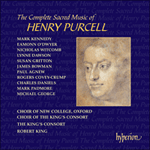 Purcell: The Complete Sacred Music
'It is hard to speak too highly of this enterprise … much enjoyment to be had' (Gramophone)
'the performances from The King's Consort and its Choir, the Choir of New College and a starry line-up of soloists have such qualities of concentratio ...
» More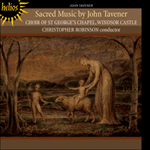 Tavener: Sacred Music
Arguably Britain's greatest living choral composer, Sir John Tavener's music is performed in churches and cathedrals throughout the land and at the most important state occasions. This recording includes The Lamb, perhaps one of the best-known cho ...
» More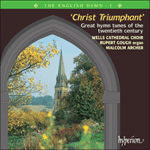 The English Hymn, Vol. 1 – Christ Triumphant
'The time spent listening to it has been delightful. Tone, enunciation, resourcefulness of arrangement and accompaniment, all are exemplary' (Gramophone)
» More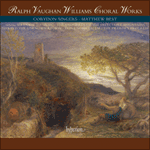 Vaughan Williams: Choral Works
Issued to mark the fiftieth anniversary of Vaughan Williams's death, this collection is tantalizing: it starts with one of the best-selling discs in the catalogue, the Serenade to Music, and includes such favourites as the Five Mystical Songs and The ...
» More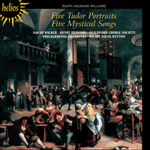 Vaughan Williams: Five Tudor Portraits & Five Mystical Songs
'An incredible bargain. Altogether, this sumptuously remastered issue is definitely one of the highlights of the first batch of Helios reissues that ...
» More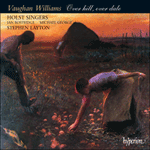 Vaughan Williams: Over hill, over dale
'This new Vaughan Williams collection complements the Holst Singers' critically acclaimed 1993 CD of Holst partsongs (CDH55171) and is equally impress ...
'A most worthwhile enterprise, strongly recommended' (Fanfare, USA)
» More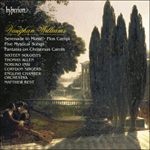 Vaughan Williams: Serenade to Music, Flos Campi, Mystical Songs
'Profoundly moving' (Gramophone)
'Strongly recommended!' (Fanfare, USA)
» More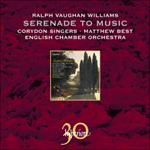 Vaughan Williams: Serenade to Music, Flos Campi, Mystical Songs
'Profoundly moving' (Gramophone)
'Strongly recommended!' (Fanfare, USA)
» More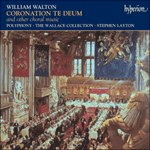 Walton: Coronation Te Deum & other choral works
'An outstanding collection' (Gramophone)
'What a splendid work it is, especially when sung with the verve brought to it by Stephen Layton's choir Polyphony' (The Sunday Telegraph)
» More