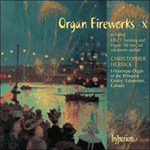 Organ Fireworks, Vol. 10
'Herrick portrays it as a persuasive, powerful and utterly compelling entity in which every note holds the listener in thrall, while this huge 96-stop ...
'He brings enthusiasm and boundless energy to whatever repertoire he tackles. Apt registrations, dexterous clarity, and phrase-making metrical verve i ...
» More