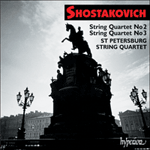 Shostakovich: String Quartets Nos 2 & 3
'An edge-of-the-seat experience as this Russian quartet hurls itself headlong into the scores … deserves an emphatic recommendation and makes one ...
'One of the finest chamber recordings of any genre I've heard all year and one that catches the idiom of the music in near-definitive terms. Superbly ...
» More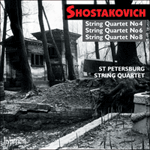 Shostakovich: String Quartets Nos 4, 6 & 8
'The St Petersburg turns in a performance of winning directness full of colour and contrast' (Gramophone)
'The virtues in the St Petersburg Quartet's Shostakovich are as evident here as in the first volume of their complete cycle. Once again it's not so mu ...
» More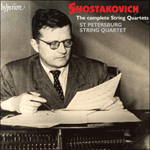 Shostakovich: The Complete String Quartets
'These players approach Shostakovich's mighty cycle with a natural authority that's unanswerable, along with tireless precision and virtuosity, plus a ...
'the St Petersburg musicians play with tremendous control of technique and expression; the effect is one of huge emotional strength' (Birmingham Post)
» More