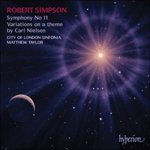 Simpson: Symphony No. 11 & Nielsen Variations
'Matthew Taylor secures magnificent playing from the City of London Sinfonia, especially in the symphony where his pacing is ideal, due to his knowled ...
'The recordings are entirely worthy of the playing, and of the music. It's hard to imagine a more fitting memorial tribute to Hyperion's Ted Perry, wh ...
» More