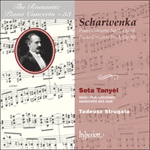 Scharwenka: Piano Concertos Nos 2 & 3
'an admirable addition to an admirable series. The recordings retain their original excellence and Tadeusz Strugula and the German orchestra back the ...
'there is a meaty flamboyance to both these concertos, giving them a personality of their own. Seta Tanyel brings to them an impressive strength of p ...
» More