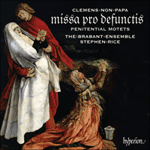 Clemens non Papa: Requiem & Penitential Motets
The Brabant Ensemble and Stephen Rice present music for the dark time of the year. Their latest disc features the extraordinary music of Clemens non Papa, represented by the Requiem Mass and a selection of motets. Despite the popularity of the com ...
» More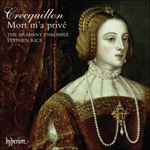 Crecquillon: Missa Mort m'a privé & other sacred music
'A gem of a CD' (Gramophone)
'A superbly balanced and expressive performance by the Brabant Ensemble shows the work to great advantage' (Early Music Review)
» More
Gombert: Tribulatio et angustia
'It's one of very few discs of this repertoire I've been happy to play in its entirety, and then several times since. This is in part a tribute to Gom ...
'The Brabant Ensemble's exploration of the 'forgotten generation' of composers between Josquin and Palestrina is reviving an abundance of unwarrantedl ...
» More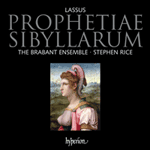 Lassus: Prophetiae Sibyllarum & Missa Amor ecco colei
Orlande de Lassus was an undisputed master of all the vocal genres of the late Renaissance. This recording features the glorious polyphony of the Missa Amor ecco colei and Prophetiae Sibyllarum, one of his most celebrated works. With their immacul ...
» More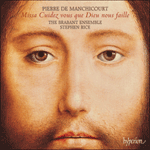 Manchicourt: Missa Cuidez vous que Dieu & other sacred music
'A must-have disc from the Brabant Ensemble … first-rate music stirs this young ensemble to their finest disc yet' (Gramophone)
'This well-selected collection places Manchicourt firmly on the musical map. The centrepiece of the recording, the Cuidez vous mass, is an insp ...
» More
Maw: One foot in Eden still, I stand & other choral works
'Nicholas Maw comes out of that excellent group of British composers born in the 30s. Congratulations to Hyperion for producing this CD, which is not ...
'Schola Cantorum, Oxford's premier mixed choir, connects deeply with Maw's Romanticism, and gives a rich, sound-driven account … more Maw, say I' ...
» More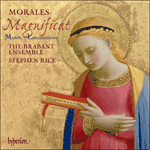 Morales: Magnificat, Motets & Lamentations
Morales was the first Spanish composer to achieve true international fame, and was described by contemporaries as 'the light of Spain in music'. The longest work on this disc is the Magnificat primi toni. This is the first recording of any of Morales ...
» More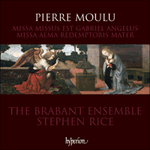 Moulu: Missa Alma redemptoris & Missus est Gabriel
Little is known about the life of the composer Pierre Moulu—he joins the long lists of Renaissance musicians whose lives are all but entirely masked in shadow. Fortunately a number of his works appear in numerous early manuscripts and prints. Like ...
» More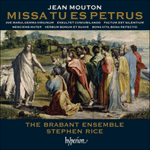 Mouton: Missa Tu es Petrus & other works
The Brabant Ensemble and Stephen Rice are renowned exponents of the sixteenth-century Franco-Flemish repertoire, and here they bring their artistry and expertise to Jean Mouton, long recognized as 'important' while being barely performed. The prog ...
» More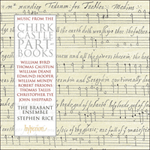 Music from the Chirk Castle Part-Books
This disc presents a selection of works from the Chirk Castle part-books, a fascinating collection of devotional music from the Tudor period that remained hidden in the castle library for three hundred years. This recording focuses on the unaccomp ...
» More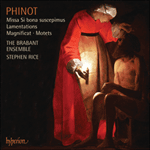 Phinot: Missa Si bona suscepimus & other sacred music
The young Oxford choir turns its immaculate ensemble, lucid diction and faultless tuning to an exciting find: a hugely neglected composer from the 16th century. Phinot's output consists of over a hundred motets, two Masses, and settings of Vesper ...
» More