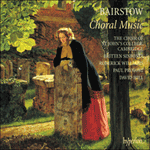 Bairstow: Choral Music
'An excellent disc in regard both to the standard of performance and to the selection of Bairstow's music. And to that should be added straight away t ...
'His anthems and services … are treasured within the church. Their touch is sure, and their word-setting is impeccable … Bairstow could hard ...
» More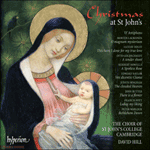 Christmas at St John's Cambridge
'David Hill's Advent programme imaginatively mingles antiphons, carols, hymns and motets. Favourites alternate with relative rarities such as Edward N ...
'This recording holds some of the most exquisite choral singing I have ever heard. They must be one of the finest choirs in England. Not only is the t ...
» More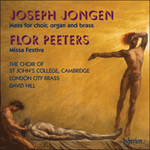 Jongen & Peeters: Choral Music
'Effective and forceful performances … I particularly enjoyed the more intimate textures at the end of the Peeters' Agnus Dei. The few extra solo ...
'David Hill is to be congratulated for exploring this unfamiliar repertoire and then presenting it in such confident performances' (International Reco ...
» More