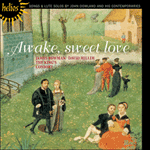 Dowland: Awake, sweet love
'Restores a dimension of beauty that is often sacrificed in present day performances … happy the family that spent its leisure hours with this mu ...
'James Bowman's usual ease of tone is in full evidence here. He gives us meltingly sweet, gorgeous, resonant high notes, and fluidity of vocal line. M ...
» More