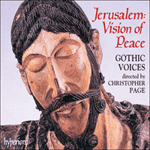 Jerusalem, Vision of Peace
'A truly fascinating compilation' (Gramophone)
'If you value excellence wherever it is to be found, then this disc, in its quiet way, is a piece of perfection' (Classic CD)
» More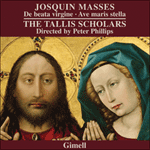 Josquin: De beata virgine & Ave maris stella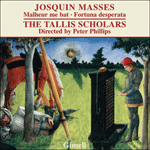 Josquin: Malheur me bat & Fortuna desperata
This album, the fourth in our planned cycle of complete Josquin Masses, was nominated for a Grammy Award in 2010.
» More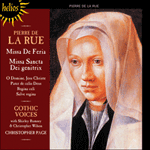 La Rue: Missa De Feria & Missa Sancta Dei genitrix
'The beauty and integrity of La Rue's music warrant a strong recommendation' (Gramophone)
'Gothic Voices have once again opened a window on a forgotten world' (BBC Music Magazine)
» More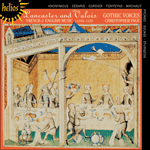 Lancaster and Valois
'We are exceptionally lucky to have such brilliantly persuasive advocates of such wonderful music' (Gramophone)
'The clarity of intonation and line has the freshness of an illuminated page of manuscript revealed for the first time for two thirds of a millenium' ...
» More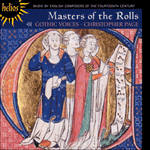 Masters of the Rolls
This is one of the finest recordings of medieval music of the last twenty years. Consummately beautiful music, performed by the leading artists in the field.
» More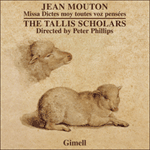 Mouton: Missa Dictes moy toutes voz pensées
"With a musical language quite distinct from everyone else, Jean Mouton is nonetheless often compared with Josquin on account of his astonishing technique. His music is able to convey such a spirit of calm and poise that in the whole gamut of rena ...
» More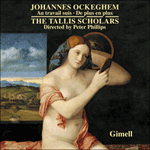 Ockeghem: Missa Au travail suis & Missa De plus en plus
Specially recorded by The Tallis Scholars to celebrate the music of Johannes Ockeghem in the year of his 500th Anniversary. Ockeghem died on 6 February 1497.
» More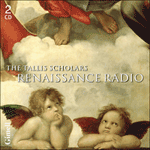 Renaissance Radio
Sacred Music from the Renaissance Era for Celestial and Secular Radio. When Peter Phillips founded The Tallis Scholars in 1973 sacred vocal music from the Renaissance Era was seldom heard on radio. Now it is firmly established as one of the great ...
» More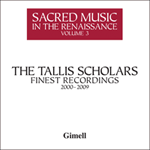 Sacred Music in the Renaissance, Vol. 3
The third of three volumes featuring The Tallis Scholars' finest recordings, one for each decade, and each offering over five hours of the award-winning performances that helped establish Renaissance Polyphony as one of the great repertoires of we ...
» More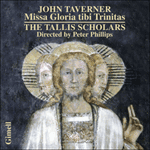 Taverner: Missa Gloria tibi Trinitas
"I chose to celebrate our 40th anniversary with Taverner's because I believe it to be one of the greatest compositions ever to have been written in England—a perfect ambassador for the repertoire we have made our own. It is also spectacularly diff ...
» More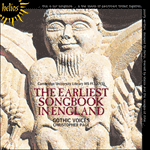 The Earliest Songbook in England
Twenty-three pieces, a good number associated with the period between Christmas and New Year: celebration in the darkest, coldest and deadest time of the year. These have been lovingly restored by Gothic Voices from a few leaves of parchment proba ...
» More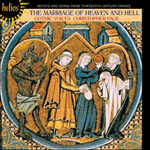 The Marriage of Heaven and Hell
'A wonderful collection. Lusciously sung sensuous music … a remarkable addition to the distinguished series of records from Gothic Voices' (Gramo ...
'Gothic Voices at its most imaginative. The group's choice of repertory is sublime and the freedom of its interpretation is bracing. Recommended' (BBC ...
» More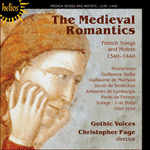 The Medieval Romantics
'These performances reach an unrivalled level of excellence … and show just how marvellous medieval music can be' (BBC Record Review)
'The beauty of this once-so-remote music is all immaculately tuned and articulated: what else do you expect from Gothic Voices? … I hope those wh ...
» More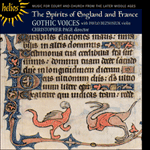 The Spirits of England & France, Vol. 1
'Unalloyed pleasure … once again a superb recording that stimulates, that charms' (Gramophone)
'Entente cordiale at its best. Glorious music' (BBC Music Magazine)
» More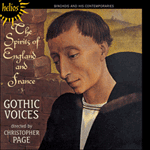 The Spirits of England & France, Vol. 3
'Deeply moving and magical' (Gramophone)
'Another compelling release in this series—up to Gothic Voices' usual standard' (BBC Music Magazine)
» More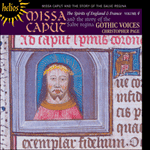 The Spirits of England & France, Vol. 4
The English anonymous fifteenth-century
Missa Caput
at the centre of this disc is probably the most significant work from the period. It is a work of great stature and beauty. Also represented here are six fifteenth-century carols, and an e ...
» More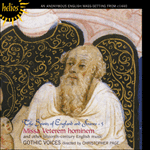 The Spirits of England & France, Vol. 5
'A surpassingly lovely collection of music to be heard and marveled at. The singing is incredibly moving. Buy it, and get 'Caput' too if you didn't he ...
'La transparence des timbres alliée à l'intériorité de l'interprétation fait merveille' (Répertoire, France)
» More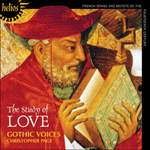 The Study of Love
'Subtle, intelligent performances reflecting the refined art of 14th-century French music' (BBC Music Magazine Top 1000 CDs Guide)
'A wonderful addition to the catalogue, and the recorded sound … is superlative' (Gramophone)
» More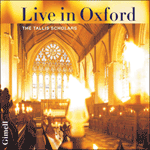 The Tallis Scholars Live in Oxford
Recorded in the Chapel of Merton College in Oxford to celebrate the Silver Anniversary of The Tallis Scholars.
» More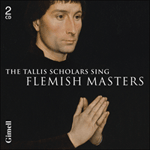 The Tallis Scholars sing Flemish Masters
"The Flemish masters have been at the heart of our work from the beginning, just as they were at the heart of the whole Renaissance musical scene—and their Masses were the showcase in which they displayed their most sophisticated achievements. Thi ...
» More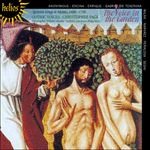 The Voice in the Garden
'An enthralling disc, a wholly persuasive introduction both to this little-known repertoire and to how it should be performed' (BBC Music Magazine)
'Whatever else you may have, don't miss this' (Fanfare, USA)
» More