Here are our "top 10" albums which no one—at all, worldwide—has bought from us for the longest period of time.
This list will be refreshed at least once a week. By buying any of these albums you will automatically remove it from the list when it is next calculated; so be quick while the massive discount is available.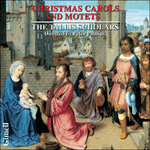 Christmas Carols and Motets
This recording presents three traditional ways of celebrating Christmas in music: medieval carols, renaissance motets praising the Virgin Mary, and German chorales.
» More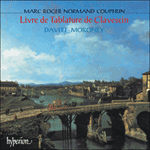 Couperin: Livre de Tablature de Clavescin
'Fine playing and crystal-clear recording throughout' (Gramophone)
'Committed, highly intelligent and impeccably controlled performances which breathe the rarefied air of French Baroque style' (BBC Music Magazine)
» More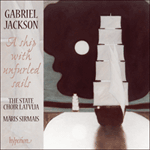 Jackson: A ship with unfurled sails & other choral works
Gabriel Jackson's ravishing sacred choral works are performed by the world-famous Latvian State Choir. The programme includes no fewer than six première recordings and ends with a remarkable setting of Ave regina caelorum for choir and electric gu ...
» More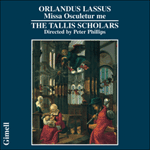 Lassus: Missa Osculetur me
The first recording of the magnificent motet and Mass Osculetur me by Lassus, both scored for double choir, together with a selection of his sacred motets.
» More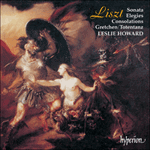 Liszt: The complete music for solo piano, Vol. 9 – Sonata, Elegies & Consolations
'Enthusiastically recommended' (Fanfare, USA)
» More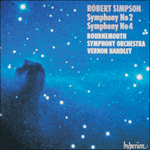 Simpson: Symphonies Nos 2 & 4
'Exemplary performances in superb sound' (BBC Music Magazine Top 1000 CDs Guide)
'Full of wonderful orchestral effects which this purist, beautifully laid back and believable recording seems merely to mirror without any signs of co ...
» More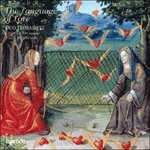 The Language of Love
'Most of these songs from medieval France explore the infinite emotional complexities of hopeless love. Soprano Faye Newton characterises their wide-r ...
'This is among the best recordings of this repertoire … I will always enjoy being challenged to listen to these works in such fresh and sensitive ...
» More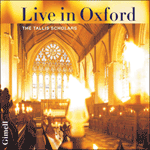 The Tallis Scholars Live in Oxford
Recorded in the Chapel of Merton College in Oxford to celebrate the Silver Anniversary of The Tallis Scholars.
» More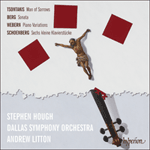 Tsontakis: Man of Sorrows; Berg: Piano Sonata; Webern: Variations
'A five-star performance and recording' (Gramophone)
Man of Sorrows Brilliantly written for the keyboard and scintillatingly orchestrated … The piece is superly played and recorded, patently ...
» More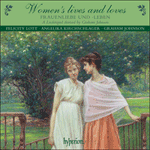 Women's lives and loves
'The performances give unalloyed pleasure. Lott's still-radiant soprano combines beautifully with the vibrant, musky mezzo of Kirchschlanger, while Jo ...
'I'll leave you to experience the conjuring for yourself. For conjuring it is: any element of the didactic is totally absent in this seamless garment ...
» More