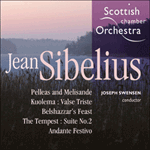 Sibelius: Pelleas and Melisande & other works
Sibelius' description of his Six humoresques for violin and orchestra—'the anguish of existence … fitfully lit up by the sun'—could apply equally to any of the miniature masterpieces recorded here. And what a marvellous miniaturist he was. The first movement of Pelleas and Melisande—'At the castle gate'—is, of course, long familiar to British audiences as the theme tune of The Sky at Night, but the rest of the suite is equally fine: sample the 'Pastorale' or the heart-rending 'Death of Melisande'. There are, of course, famous recordings of much of this music by the great Sibelians of the past—most notably Karajan and Beecham—but this perfectly-programmed album benefits from incomparably better sound, and the performances are scarcely less distinguished.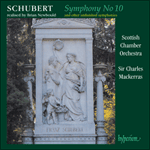 Schubert: Symphony No 10 & other unfinished symphonies
Schubert's '10th' may never become a repertoire work—it's too fragmentary, although Brian Newbould's performing version makes the best possible case for it—but what survives forcibly reminds us of what was lost when Schubert died not yet 32 (just think how much mature Mozart would be missing if he'd died at the same age). This would have been the 'Great' D major, fully on a par with D944—the first movement's second subject is unmistakable, vintage Schubert and alone worth the price of this album.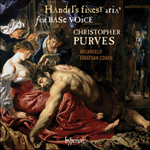 Handel: Handel's Finest Arias for Base Voice
If the prospect of a 70-minute solo bass recital doesn't set your pulse racing, trust me—this is an electrifying recording and one of the best baroque vocal recitals ever made. (It's tempting to say one of the best vocal recitals, full stop.) The vigour and excitement of Arcangelo's playing invites comparison with the great European period-instrument ensembles such as Concentus Musicus Wien or the Freiburg Baroque Orchestra, but what really sets the album apart is the staggering range, colour, characterisation and jaw-dropping technique of Christopher Purves's voice. Listen and marvel!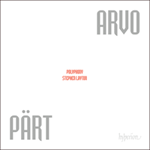 Pärt: Choral Music
There was a definite sense of unease about Arvo Pärt as he arrived at All Hallows' Church just prior to this recording. I've never discovered why, but he didn't seem happy at all. Twenty minutes later, in the vestry that acts as control room, just as Polyphony uttered the first cadences of Tribute to Caesar, Arvo glanced at me with a broad grin and a sparkle in his eye. He was happy. Frankly I'm not surprised. The calibre of singing on this album is probably the best I've heard in many years and one of my favourites of 2014.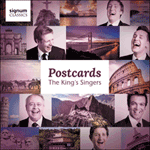 Postcards
Alarmingly addictive. You've been warned.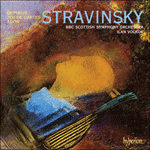 Stravinsky: Jeu de cartes, Agon & Orpheus
Another fantastic album featuring my favourite instrument the mandolin. Jeu de cartes is one of my favourite puzzles, which might be one of the most functional of 'diskeepers' for my brain. Agon sounds like sonic architecture, cool and tidy, much thanks to the attentive performances. And Orpheus … Stravinsky flies across time and space easily. Beautiful cover art: Orpheus by Odilon Redon.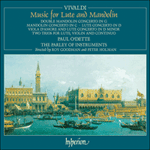 Vivaldi: Lute and Mandolin Concertos
Let me introduce one of my old pals please - the mandolin. Yes, a good fellow. I played the mandolin during my school days, and this is the very first CD which I bought for myself. Sparkling in tones, natural in tempi, comfortable and pleasant, always evoking my good memories.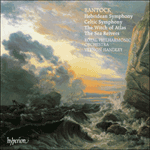 Bantock: Hebridean & Celtic Symphonies
This is the epic and romantic score, always inflaming my imagination. Bantock had a close relationship with two of my favourite composers; Sibelius (who dedicated his third symphony to Bantock), and Elgar (Bantock's predecessor at the University of Birmingham). Bantock was influential on the foundation of my favourite orchestra, the City of Birmingham Orchestra (later the CBSO), as well. I was happy when Sakari Oramo directed the BBC SO in the Celtic Symphony at the Proms last year (21st August 2013).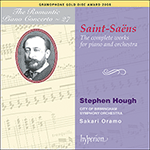 Saint-Saëns: The complete works for piano and orchestra
Of course Saint-Saëns is one of the very well known composers, but do we really know his opus besides his famous third symphony or Le carnaval des animaux? This set is one of the popular Romantic Piano Concerto series but sometimes the composer easily jumps beyond the category. Another great journey, full of astonishing ideas, all played handsomely.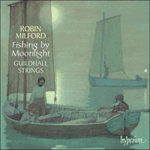 Milford: Fishing by Moonlight
Why Milford isn't better known I'll never know. The Guildhall Strings (and the remarkable Julian Sperry) perform this music with perfectly-mingled detachment and heart-throbbing. It's like Finzi without the occasional histrionics; an Arcadia lost and remembered without regret; Binyon's pearlescent Dante.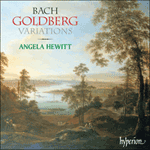 Bach: Goldberg Variations
A friend and I endangered our lives on a roadtrip while listening to this recording; we were simply incapable of driving. "Oh my God!" we'd shout, "did you CATCH that?!" We had to repeat each track over and over again, marvelling at the wonder that is Ms. Hewitt's divine phrasing.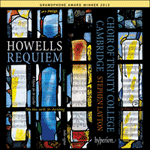 Howells: Requiem & other choral works
The Requiem reaches the sublime, of course, but the reason this record goes into my CD player again and again is that the St Paul's Service has rarely sounded so of-the-earth-earthy; there's an almost Lawrentian splendor in the roar of the Lincoln Willis under all the famously gilded fire of Trinity College Choir.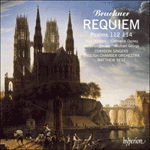 Bruckner: Requiem & other sacred music
The claim that Bruckner wrote little of value before middle age is rebutted by this austerely beautiful setting of the Requiem, written when he was in his mid twenties. (He had, in fact, been composing since he was 12.) The orchestral scoring—three trombones, organ and strings—is even starker than that employed in Mozart's Requiem in the same key (surely its inspiration); anyone who knows and loves the later Bruckner will not be disappointed.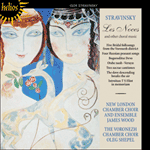 Stravinsky: Les Noces & other choral works
According to Stravinsky, Diaghilev thought Les noces 'the most beautiful and most purely Russian creation of our Ballet'. Listening to this recording, which usefully couples not only other folk- and Slavonic-inspired choral works by Stravinsky but genuine Russian folksong of the type which gives Les noces its unique pungency and vitality, it's impossible to disagree. At least as exciting a version as the starrier one on Deutsche Grammophon conducted by Bernstein (and which boasts Argerich and Zimerman among the roster of pianists), and indisputably more idiomatic.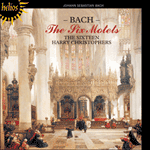 Bach: The Six Motets
The Bach motets are utterly sublime, even by JSB's impossibly exalted standards, and contain some of the greatest music ever written. Although they've fared well on disc, this recording by The Sixteen conveys better than most a proper sense of dignity and devotion rather than mere scholarly rectitude.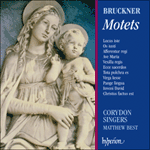 Bruckner: Motets
Bruckner's motets are miniature masterpieces. Each is entirely and unmistakably typical of its composer, and each conveys the essence—distilled into a few minutes—of the same musical impulse which animates the symphonies. I've known these recordings for the best part of thirty years, and can now scarcely imagine life without them.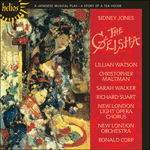 Jones: The Geisha
This is just plain silly. A glorious cast takes on the paranormal delights of such lyrics as 'He call'd her the Jewel of Asia, / But she was the Queen of the Geisha' and 'Of course there is a moral, and of course it's at the end' (coming towards the conclusion of an extended interlude, the relevance of which escapes me). Glorious tunes abound—as you'd expect from an era when theatre impresarios thought nothing of adapting a show to keep it fresh. Here the 'core' music of Sidney Jones finds itself alongside a couple of numbers by the immortal Lionel Monckton. First performed in 1896, The Geisha ran for an unprecedented 760 performances. If you like your light operas politically correct, this is definitely not for you …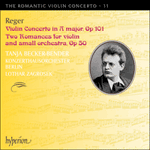 Reger: Violin Concertos
Poor Reger. Driven to alcoholism and an early death by the critical mauling doled out to his Piano Concerto, his posthumous reputation has not fared well outside Germany. But Tanja Becker-Bender and the Konzerthaus Orchester Berlin's wonderful, luminous recording of the Violin Concerto gives the lie to the usual charge of turgid orchestration and an unhealthy obsession with fugue. Longer even than Elgar's near-contemporaneous concerto (with which it shares much else, not least a sense of loss and palpable regret at a changing cultural climate), it may never become a repertoire work, but you're unlikely to hear a finer version than this.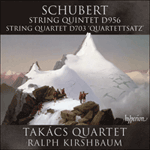 Schubert: String Quintet & String Quartet D956 & 703
We're fortunate to live in a golden age of string quartets (and, incidentally, of Lieder singing). Furtwängler's Brahms and Wagner may yet to be equalled, but comparisons between the Takács Quartet and their illustrious forebears are invariably to the great American quartet's advantage. Any of their Hyperion recordings—Brahms, Britten, Haydn, Schubert, Schumann—would make a distinguished library choice, but hardly a week seems to have gone by since its release that I haven't listened to their recording of the Schubert Quintet, with no less a second cellist than Ralph Kirshbaum.