This is our "New Releases Chart"—the thirty albums our customers have bought most frequently. These recordings have all been released in the last few months, and they are listed with the most popular first.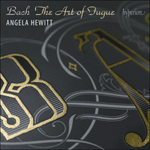 Bach: The Art of Fugue
Angela Hewitt's much-awaited recording of Bach's ultimate masterpiece, The Art of Fugue, is destined to be the crowning achievement of her Bach cycle for Hyperion—a revelatory recording and performing project which has taken her all over the world ...
» More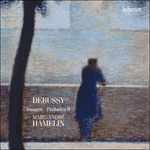 Debussy: Images & Préludes II
A new album from Marc-André Hamelin is always cause for celebration. Here in his first Debussy recording for Hyperion he presents the two books of Images: Debussy's colouristic masterpiece, a bewitching compendium of 'scents, colours and sounds'. ...
» More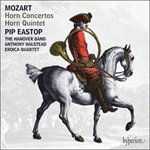 Mozart: Horn Concertos
Mozart's Horn Concertos are perhaps the most popular works ever written for the instrument. This new album is a collection of all the works Mozart wrote for Joseph Leutgeb, one of the foremost players of his day. His modern successor is natural ho ...
» More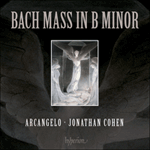 Bach: Mass in B minor
Gramophone-Award-winning ensemble Arcangelo and their inspirational director Jonathan Cohen, one of the brightest stars in the early music galaxy, present Bach's great masterpiece in a glorious new recording made following a thrilling performance ...
» More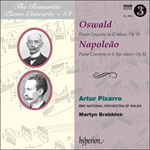 Oswald & Napoleão dos Santos: Piano Concertos
Portuguese virtuoso Artur Pizarro makes a welcome return to the Romantic Piano Concerto series with the outpourings of two brilliant yet sadly forgotten pianist-composers: contemporaries Brazilian Henrique Oswald and Portuguese Alfredo Napoleão.
» More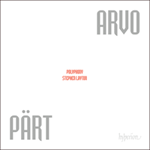 Pärt: Choral Music
Stephen Layton and Polyphony have a long and fruitful relationship with the music of Arvo Pärt. Their recording of Triodion and other choral works won a Gramophone Award and became a cult classic. The extraordinary purity of Polyphony's singing is ...
» More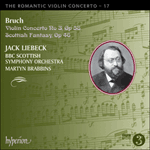 Bruch: Violin Concerto No 3 & Scottish Fantasy
Award-winning violinist Jack Liebeck brings his impassioned tones, fulsome emotional display and formidable technique to the first of three albums of music by Max Bruch. This programme presents one of Bruch's most popular pieces for violin and orc ...
» More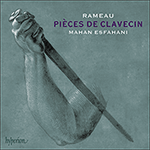 Rameau: Pièces de clavecin
Gramophone-Award-winning harpsichordist Mahan Esfahani has recorded Rameau's Pièces de clavecin in the historic setting of the Music Room at Hatchlands Park in Surrey. This double album comprises the whole of Rameau's output of keyboard suites, an ...
» More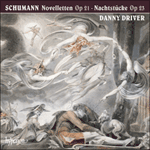 Schumann: Novelletten & Nachtstücke
In this new album Danny Driver brings his impeccable pianism, consummate style and imagination to Schumann's Novelletten and Nachtstücke, less well-known sets from his extraordinary output for the piano.
» More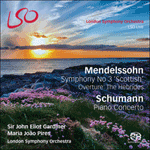 Mendelssohn: Symphony No 3 'Scottish'; Schumann: Piano Concerto
Sir John Eliot Gardiner conducts the London Symphony Orchestra in vibrant performances of Mendelssohn's Symphony No 3 (the 'Scottish') and Schumann's Piano Concerto. Maria João Pires is the piano soloist.
» More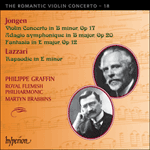 Jongen: Violin Concerto; Lazzari: Rapsodie
The Romantic Violin Concerto series reaches Belgium and the music of Joseph Jongen. Philippe Graffin (a familiar presence in this series) collaborates with the Royal Flemish Philharmonic and Martyn Brabbins in Jongen's Violin Concerto, one of his ...
» More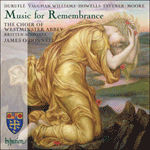 Music for Remembrance
Throughout the past century Westminster Abbey has been a focus of national remembrance on Armistice Day. This latest album from its Choir is a programme of memorial music composed in England and France in the shadow of two World Wars. The main fea ...
» More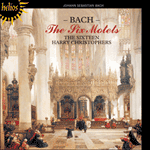 Bach: The Six Motets
Bach's six motets are among the greatest achievements of choral polyphony in the baroque period. This early recording by The Sixteen and Harry Christophers is a jewel in Hyperion's catalogue, containing performances of utter joy, rendered in sonic ...
» More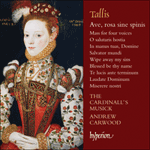 Tallis: Ave, rosa sine spinis & other sacred music
The Cardinall's Musick and their inspirational director Andrew Carwood present a further volume of their Gramophone-Award-winning series of Tallis's sacred music.
» More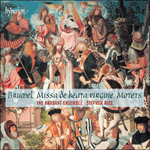 Brumel: Missa de beata virgine & Motets
The Brabant Ensemble continues its exploration of hidden gems of the Renaissance with an album of music by Antoine Brumel, famous for his 'Earthquake' Mass but otherwise barely known today.
» More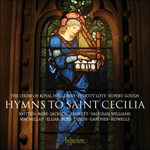 Hymns to Saint Cecilia
A new choral compendium from the highly regarded Choir of Royal Holloway, comprising twentieth- and twenty-first-century works written in honour of Saint Cecilia, the patron saint of music.
» More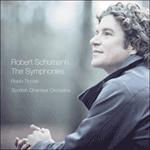 Schumann: Symphonies
Robin Ticciati and the Scottish Chamber Orchestra embark upon their first symphonic cycle together in a programme of the Schumann Symphonies that they have performed in concerts across Scotland.
» More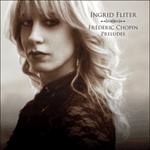 Chopin: Préludes
Award-winning pianist Ingrid Fliter performs Chopin's Op 28, a poetic collection of great emotional power and unrivalled artistic quality which demands high virtuosity.
» More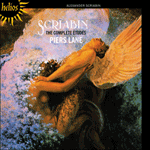 Scriabin: The Complete Études
Piers Lane brings his admired virtuosity and innate musicality to Scriabin's Études. To listen to them as presented on this album is to hear the gradual but total transformation of Scriabin's musical language from the earliest significant composit ...
» More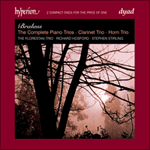 Brahms: The Complete Piano Trios, Clarinet Trio & Horn Trio
Here are all of Brahms's Trios assembled on one album. The five works are presented chronologically and all are immaculately played by the acclaimed Florestan Trio.
» More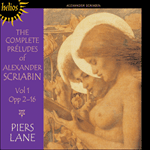 Scriabin: The Complete Préludes, Vol. 1
Piers Lane's performances of the complete Scriabin Préludes are bold and compelling, matching technical bravura with a rich vein of poetry and colour and communicating the composer's vivid and exceptional imagination. Beautifully recorded and supe ...
» More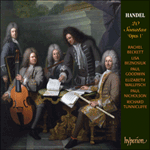 Handel: 20 Sonatas Op 1
The twenty sonatas on this recording show Handel writing for the professional musicians of his London opera orchestra; they demand considerable skill and stamina both from the soloist and the continuo. These are among the most attractive Baroque ...
» More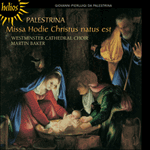 Palestrina: Missa Hodie Christus natus est & other sacred music
A sumptuous Palestrina recording from Westminster Cathedral dedicated to the festival of Christmas, the main work being the stunning 'Missa Hodie Christus natus est'—one of Palestrina's most popular works.
» More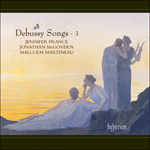 Debussy: Songs, Vol. 3
Hyperion presents a third volume in its acclaimed Debussy songs series, accompanied and curated by Malcolm Martineau, with booklet notes by French music expert Roger Nichols. Young soprano Jennifer France, winner of the Song Prize at the 2014 Kath ...
» More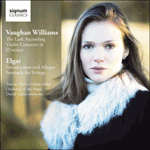 Vaughan Williams: The lark ascending; Elgar: Serenade for strings
Tamsin Waley-Cohen adds to her already prodigious reputation with a new disc of timeless works for strings by Ralph Vaughan Williams and Edward Elgar. Joined by the Orchestra of the Swan under David Curtis, the culmination of the programme is an e ...
» More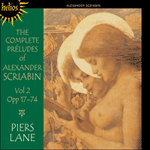 Scriabin: The Complete Préludes, Vol. 2
Piers Lane's performances of the complete Scriabin Préludes are bold and compelling, matching technical bravura with a rich vein of poetry and colour and communicating the composer's vivid and exceptional imagination. Beautifully recorded and supe ...
» More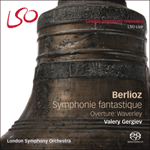 Berlioz: Symphonie fantastique
There are few orchestras with the music of Berlioz more thoroughly in their blood than the LSO, and here Valery Gergiev brings to bear his opulent interpretation of the landmark piece that is the Symphonie fantastique.
» More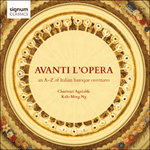 Avanti l'Opera – An A-Z of Italian baroque overtures
Early-music pioneers Charivari Agréable perform an engaging collection of overtures from the Italian Baroque Opera, best described by Kah-Ming Ng as being 'lucidly crafted for the purpose of turning heads'. These works were composed with the expre ...
» More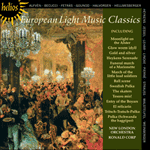 European Light Music Classics
One of Ronald Corp and the New London Orchestra's most beloved albums: fifteen gems of the light music repertoire from across Europe.
» More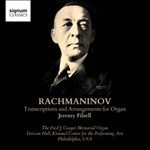 Rachmaninov: Transcriptions and arrangements for organ
Jeremy Filsell is a world-renowned authority and performer on both the organ and piano. This new album vividly illustrates his lifelong love of the music of Rachmaninov and features fresh transcriptions and arrangements for the organ. At the progr ...
» More