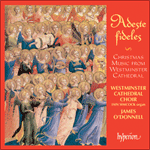 Adeste fideles
'An extremely well-sung traditional carol collection. The concert makes a great appeal by the quality of the singing and the beautiful digital recordi ...
'A model of its kind' (The Times)
» More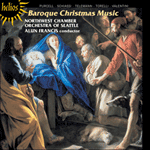 Baroque Christmas Music
'Charming programme … very beautiful. A highly commendable issue' (Hi-Fi News)
'A delightful evocation of that momentous Christmas night' (The Tablet)
» More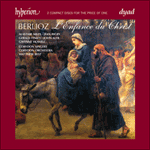 Berlioz: L'Enfance du Christ
'This new recording of Berlioz's appealing work well stands comparison with its much-praised predecessors … a new wonder of a score on each heari ...
'The choir's contribution is a tour de force of expressiveness, discipline and meticulous attention to detail … An engagingly winsome interpretat ...
» More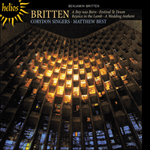 Britten: A Boy was Born & other choral works
'Excellent in every aspect. The presence is breathtaking, the singing of both soloists and choir are quite superb, and the accompaniment by the organi ...
'This beautifully made record deserves the widest circulation. The sound these choirs make is of great beauty, and is captured in a flawless recording ...
» More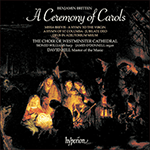 Britten: A Ceremony of Carols
'Not to be missed' (Gramophone)
'The ensemble is superb, the solo work amazingly mature, and the range of tonal coloring a delight. This is an outstanding collection, beautifully and ...
» More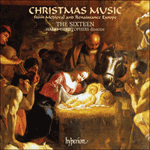 Christmas Music from Medieval and Renaissance Europe
'A most unusual and attractive record' (The Guardian)
» More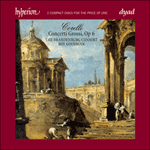 Corelli: Concerti Grossi Op 6
'Corelli's affective language thrives on a tingling lightness of touch and this is just what Goodman has' (Gramophone)
'Elegant playing—energetic allegros, spacious solo/tutti contrasts, finely poised in the endlessly-spun slow harmonies. Archlute continuo colours deli ...
» More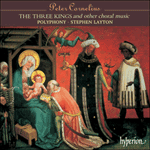 Cornelius: The Three Kings & other choral works
'An appealing collection of choral works from the composer of the celebrated carol, Three Kings from Persian lands afar. Polyphony are perfect advocat ...
'These are superior performances, Layton's group Polyphony offering refined tone and exceptional precision, together with a careful observation of Cor ...
» More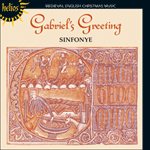 Gabriel's Greeting – Medieval English Christmas Music
'The performances have great panache and virtuosity … sung simply and gently with understated eloquence' (American Record Guide)
'exemplary' (Laudate)
» More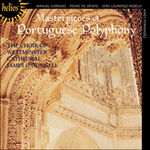 Masterpieces of Portuguese Polyphony
'Delectable though this music is, it needs performers who can do it justice, and James O'Donnell and his choir do that and then some. Whether depictin ...
'Although this music is likely to be unknown to most collectors it will prove, as it has to me, a welcome and important discovery' (The Tablet)
» More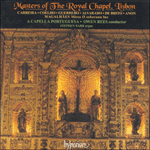 Masters of The Royal Chapel, Lisbon
'Wonderful repertoire almost totally unrepresented before on record' (BBC Music Magazine)
'A first-class production' (Hi Fi World)
» More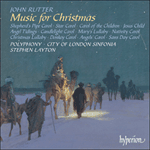 Rutter: Music for Christmas
'It's hard to imagine them better performed than by the award-winning British choir Polyphony' (The Mail on Sunday)
'The performances by both choir and orchestra are ideal in tone, style and accomplishment … A Christmas treat' (Gramophone)
» More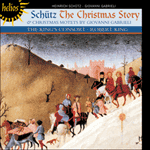 Schütz: The Christmas Story; Gabrieli: Christmas Motets
'Ravishing… the sheer beauty of the sound, immeasurably enhanced by a warm, sonorous recording, sweeps us into the narration of the familiar story' (B ...
» More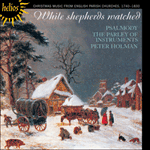 While shepherds watched
A Christmas record with a difference! This jolly disc revives the little-known tradition of 'gallery music', suppressed by the Oxford Movement in early Victorian times because it was too cheerful. All fifteen works vitally capture the enthusiasm of a ...
» More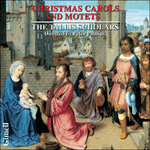 Christmas Carols and Motets
This recording presents three traditional ways of celebrating Christmas in music: medieval carols, renaissance motets praising the Virgin Mary, and German chorales.
» More