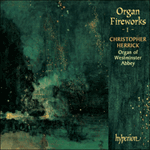 Organ Fireworks, Vol. 1
'If you want only one CD of a grand organ this has to be it' (Gramophone)
'A tour de force' (The Penguin Guide to Compact Discs)
» More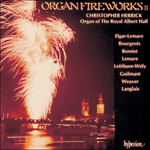 Organ Fireworks, Vol. 2
'The most stunning recording of this organ ever made. Buy it!' (Organists' Review)
'What a joy for organ fanciers' (Which CD)
» More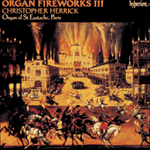 Organ Fireworks, Vol. 3
'My vote for the best organ record of 1991 … another Herrick/Hyperion marvel' (Gramophone)
'Here is something truly spectacular. Hyperion's vivid recording of this magnificent instrument stands out as one of the best recordings of an organ c ...
» More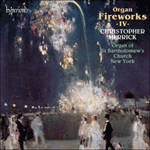 Organ Fireworks, Vol. 4
'Hyperion's organ recordings are in a class of their own, and this wonderfully mixed bag of goodies … represents unparalleled value for money. I ...
'Herrick's performances need no recommendation to those already acquainted with his dazzling skills' (The Good CD Guide)
» More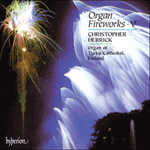 Organ Fireworks, Vol. 5
'An organ, the mere sound of which can send shivers down the spine … breathtaking … another splendid disc as thrilling and truly spectacular ...
» More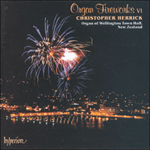 Organ Fireworks, Vol. 6
'Christopher Herrick's runaway success as a recording artist can be explained not simply by his technical brilliance but also by his sympathetic and i ...
'Though this is a disc absolutely not to be missed by all lovers of the Edwardian organ and its music, I would say that it rises above this narrow mus ...
» More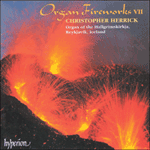 Organ Fireworks, Vol. 7
'This performance [Reubke] surpasses any version yet to appear on CD. I can't think of any other organ record which I've found so unfailingly magnific ...
» More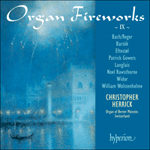 Organ Fireworks, Vol. 9
'Another feast of organ music played on a fine instrument. Herrick's playing … can only be described as unfailingly brilliant … Hyperion has ...
'A definite recommendation for this latest Fireworks CD is in order' (International Record Review)
» More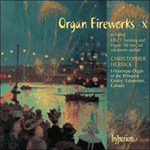 Organ Fireworks, Vol. 10
'Herrick portrays it as a persuasive, powerful and utterly compelling entity in which every note holds the listener in thrall, while this huge 96-stop ...
'He brings enthusiasm and boundless energy to whatever repertoire he tackles. Apt registrations, dexterous clarity, and phrase-making metrical verve i ...
» More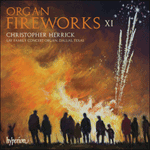 Organ Fireworks, Vol. 11
'As we have come to expect from Christopher Herrick and Hyperion everything is done to the highest standard. The varied and exciting programme is conv ...
'Christopher Herrick is his usual inimitable self, combing a sense of fun with a spontaneous grandeur which is at times, totally arresting. The listen ...
» More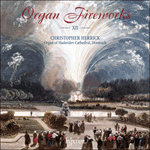 Organ Fireworks, Vol. 12
Christopher Herrick's enduring Organ Fireworks series on Hyperion is one of the most comprehensive and popular collections of repertoire in existence. For this twelfth volume he turns to the great organ of Haderslev Cathedral in Denmark, and performs ...
» More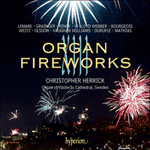 Organ Fireworks, Vol. 13
Christopher Herrick continues the Scandinavian leg of his endlessly popular Organ Fireworks series with a disc of music performed on the great organ of Västerås Cathedral in Sweden. The programme is, as ever, a tempting potpourri of pieces from ar ...
» More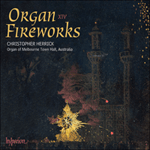 Organ Fireworks, Vol. 14
Herrick presents a cornucopia of virtuoso delights, opening with a bang with Lemare's transcription of the Grand March from Aida, given a new sheen by Herrick himself. Other works include pieces by living composers Iain Farrington and Paul Spicer, ...
» More