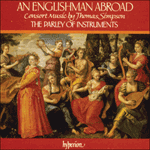 An Englishman Abroad
'Bursting with irresistable charm and refinement this is a warm and finely blended disc that soothes as well as charms … the sort of recording up ...
» More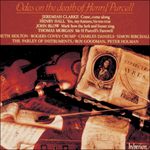 Odes on the death of Henry Purcell
'This disc of inventive and moving music, performed with great affection, demonstrates very clearly what this English Orpheus Series is designed to sh ...
'Recording and presentation are exemplary' (Gramophone)
» More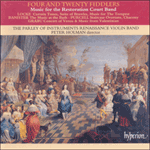 Four and Twenty Fiddlers
'It is fascinating to hear for the first time music by Banister and Grabu and Purcell's recently-discovered Staircase Overture' (Gramophone)
'A marvellous introduction to the instrumental world in which Purcell grew up' (Early Music Review)
» More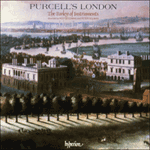 Purcell's London
'The fascinating titles do not disappoint. A diverse and entertaining mix, very well presented' (The Penguin Guide to Compact Discs)
» More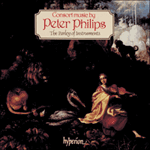 Philips: Consort Music
'This was a record we needed' (Gramophone)
'An important record both musically and historically' (American Record Guide)
» More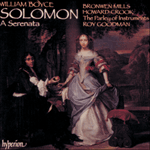 Boyce: Solomon
'The 76 minutes pass all too quickly for this enthralled listener' (American Record Guide)
'A delightful disc' (The Guardian)
» More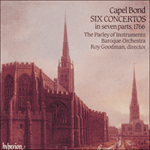 Bond: Six Concertos in seven parts
'Wonderfully attractive' (American Record Guide)
'It is difficult to conceive of more stylish playing or more sympathetic recording… This perfect disc offers frequent unexpected delights' (Hi-Fi News)
» More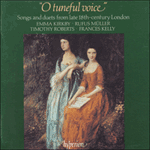 O tuneful voice
'This is a record for every library, and for lovers of song. Recommended' (Fanfare, USA)
» More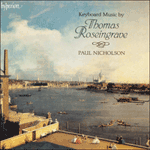 Roseingrave: Keyboard Music
'Excellent and comprehensive introduction to Roseingrave's keyboard [works]… plays all with sure technique, musicianship and evident relish' (Organist ...
'C'est donc un vrai plaisir que découvir de si belles oeuvres' (Répertoire, France)
» More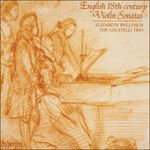 English 18th-century Violin Sonatas
'This attractive disc includes two examples by Italians and one Dutch piece … but the natives do pretty well, and the best and most individual wo ...
'An attractive collection of English violin music of the period … recording and presentation are first-rate' (British Music Society Journal)
» More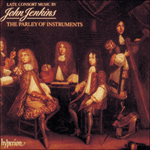 Jenkins: Late Consort Music
'The Parley … play superbly well, their sprung, alert performances bringing the music sparklingly alive. This really is life-enhancing stuff whic ...
» More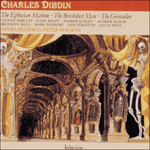 Dibdin: Ephesian Matron, Brickdust Man & Grenadier
'Three delightful pocket operas' (The Penguin Guide to Compact Discs)
'An hour of unmitigated pleasure. Another splendid addition to Hyperion's English Orpheus series' (Classic CD)
» More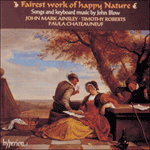 Blow: Fairest Work of happy Nature
'Full of interest, rich in its varied pleasures and in the high standard of recording and performance' (Gramophone)
» More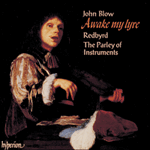 Blow: Awake my lyre
'Delightful' (Gramophone)
'Red Byrd's recordings have been consistently superb … and this recording is no exception' (Fanfare, USA)
» More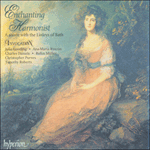 Enchanting Harmonist
'Stylish, elegant performances … Harington's deliciously beautiful Damon and Clora and Linley's deeply affecting 'Alas' … confirm this encha ...
» More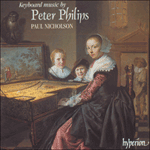 Philips: Keyboard Music
'Strongly recommended as a step on the path to discovering one of the outstanding musicians of the late 16th/early 17th century' x (Fanfare, USA)
'The complete restoration of a great composer's name may be beyond the capacity of a single CD, but if anything can do the trick, this one ought to. A ...
» More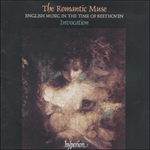 The Romantic Music
'This CD is a revelation. Do explore this well recorded, well presented disc' (British Music Society Journal)
» More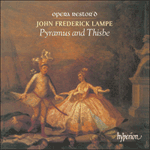 Lampe: Pyramus and Thisbe
'Congratulations to Peter Holman, Jack Edwards and their helpers for a wonderful entertainment and to Hyperion for recording it' (Early Music Review)
'Another rewarding first recording in a valuable series' (Classic CD)
» More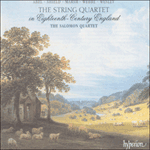 The String Quartet in Eighteenth-Century England
'This CD is something of a revelation' (Gramophone)
'Fresh and entertaining' (BBC Music Magazine)
» More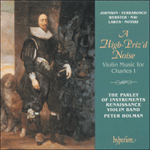 A High-Priz'd Noise
'A high-priz'd noise indeed, with further insights into our rich heritage, performed with fragrance and deep affection. A fine and distinctive release ...
'This admirable disc could hardly have been made, at any rate to this high standard, even twenty years ago. Many of the exquisite pieces on this CD wi ...
» More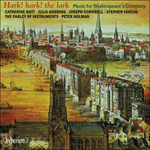 Hark! hark! the lark
'Performances are uniformly superb and often enhanced by imaginative or comic touches. Full marks to Peter Holman and his team for this delightful ent ...
'The best and most painstaking reconstruction of music from Shakespeare's theatres available on disc' (Sydney Morning Herald)
» More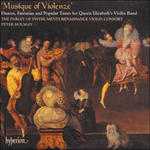 Musique of Violenze
'Remarquable élaboré, ce récital convainc surtout par la subtilité dynamique de 'interprétation, par la précision de certains jeux rhythmiques et la v ...
» More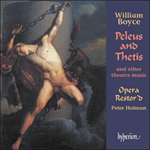 Boyce: Peleus and Thetis & other theatre music
'A very agreeable disc' (Gramophone)
'Another decisive blow to the old chestnut that only Handel wrote anything worth the candle in 18th-century England' (Classic CD)
» More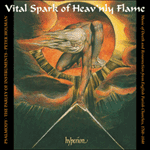 Vital Spark of Heav'nly Flame
'Once again Peter Holman's scholarship offers a fascinating glimpse of a neglected repertoire' (BBC Music Magazine)
'An infectious CD bringing to life a neglected period and its forgotten music. What fun parish music must have been for the likes of Jane Austen, Will ...
» More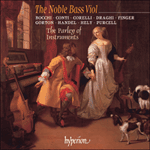 The Noble Bass Viol
'Thoroughly recommended' (Early Music Review)
'What the whole disc profitably explores is the sensuousness and versatilty of a unique instrumental voice. Modern composers ought to start exploiting ...
» More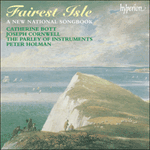 Fairest Isle
'Delightfully sung by Bott and Cornwell to a joyful accompaniment' (Gramophone)
'Stylish interpretations … elegantly shaped wind playing by The Parley of Instruments … the disc provides valuable insight into early 18th c ...
» More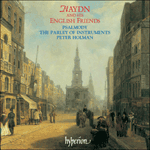 Haydn and his English Friends
'A fascinating collection … wonderfully atmospheric' (Gramophone)
'Music both major and relatively elementary, but all of it has charm' (Fanfare, USA)
» More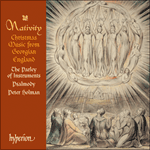 Nativity
'Rasping, rousing and riveting…the freshness and immediacy of the music and musicians are irresistible' (International Record Review)
'It is beautifully played and superbly recorded. A CD to gladden the heart with none of the usual clichés.' (Classic FM Magazine)
» More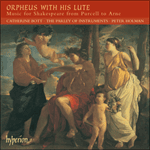 Orpheus with his lute
'The Parley of Instruments, Rachel Brown, director Peter Holman and the Hyperion recording team all deserve applause' (Gramophone)
'With the programme arranged by play rather than chronology, creating an alluring stylistic variety within its 100-or-so-year span, and excellent soun ...
» More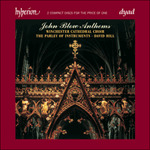 Blow: Anthems
'Winchester Cathedral Choir is singing wonderfully well these days … one of the richest of all contributions to the excellent English Orpheus Ser ...
'Well worth exploring' (BBC Music Magazine)
» More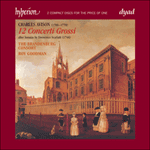 Avison: Concerti Grossi
'A delightful set … Roy Goodman seems to have made an affectionate study of these works and the results are enchanting. If you are a lover of bar ...
'The music is delightful, the performances scintillating, and the sound excellent. Warmly recommended' (Fanfare, USA)
» More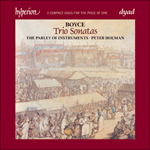 Boyce: Trio Sonatas
'Yet another treasurable document of England's musical heritage' (Gramophone)
'The works, large and small, have an air of sweet reasonableness. The fugues are warmly greeted but never aggressively attacked; the string tone in th ...
» More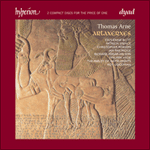 Arne: Artaxerxes
In the three years from 1759 Arne had three smash hits, each an original masterpiece that effectively created a new genre.
Artaxerxes
, the second of these, was the first attempt to set a full-blown opera seria libretto in English. When Hayd ...
» More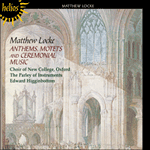 Locke: Anthems, Motets and Ceremonial Music
'Stylishly performed and intelligently directed' (Early Music)
'La interpretación es excelente' (Scherzo, Spain)
» More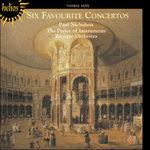 Arne: Six Favourite Concertos
'Should afford plenty of enjoyment. Recommended … buy it!' (Gramophone)
'Delightful music in delightful performances with outstanding sound. Highly recommended' (Fanfare, USA)
» More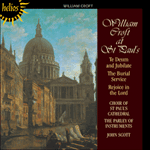 Croft: Te Deum & Burial Service
'This is choral singing of the highest quality' (Choir & Organ)
'The Pauline acoustics are captured to great effect. The notes are helpful and texts are printed. With little competition this will fill a Croft slot ...
» More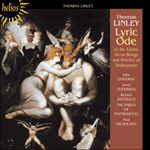 Linley: A Lyric Ode on the Fairies, Aerial Beings and Witches of Shakespeare
'This charming ode shows [Linley] sharing with Mozart something of that barely definable but unmistakable gift of melodic genius. The music is as beau ...
'There are few discs I expect to enjoy half as much in this year's listening. Very enjoyable, unpretentious music; a disc very well worth trying' (Gra ...
» More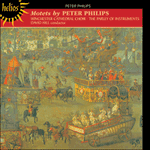 Philips: motets
'14 instances of the most sheerly glorious sound you are likely to come across in years' (Fanfare, USA)
'This is a revelation! This wonderful programme helps to draw him from the limbo of nearly 400 years of near-oblivion… a programme of astonishingly ri ...
» More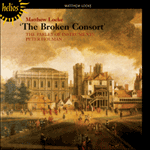 Locke: The Broken Consort
'Authoritative performances of some very important chamber music for strings … there is no doubting [Locke's] mastery and his greatness. This rec ...
'This disc is delicious' (American Record Guide)
» More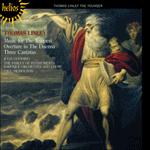 Linley: Cantatas & Theatre Music
'An outstanding disc in a trail-blazing series: highly recommended' (BBC Music Magazine)
'The irresistible music will compel you to acquire this recording' (Early Music Review)
» More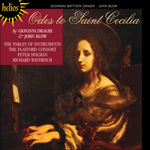 Blow & Draghi: Odes for St Cecilia
'Peter Holman's flair for drama illuminates the evocative settings of these lesser-known composers. Both conducting and sound quality capture the nuan ...
'As ever, the disc is a revelation … once heard this infectious music is not easily forgotten, which is a tribute to the enthusiasm and convictio ...
» More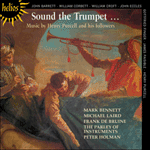 Sound the Trumpet
'Universally full of spirit and charm … both trumpeters are on fine form, sounding effortlessly relaxed and beautifully matched, with an enticing ...
'A thoughtfully planned disc with plenty of variety … expertly directed and stylishly played, this well-filled disc is highly recommended' (BBC M ...
» More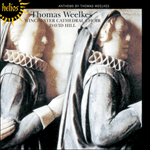 Weelkes: Anthems
'Hyperion's recording is excellent and the booklet, with all texts and good notes, is a model' (Classic CD)
'What a feast is here! Superb, radiant, colourful singing of a perfect selection of Weelkes' music. A finer selection more persuasively sung would be ...
» More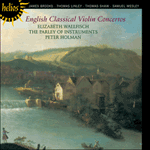 English Classical Violin Concertos
'Playing of touching beauty in the slow movements and infectious energy elsewhere, supported by a robust and fragrant orchestral accompaniment. Bravo ...
'This disc proves as delightful as it is surprising … a disc of rarities that will give much unexpected pleasure … I heard this CD on its fi ...
» More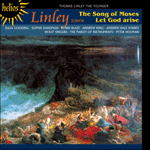 Linley: The Song of Moses & Let God arise
'One of the best finds yet in Hyperion's English Orpheus series' (Gramophone)
'Another indispensable release in the English Orpheus series. The adventurous will find their curiosity amply rewarded' (Classic CD)
» More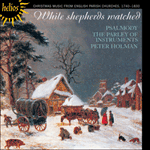 While shepherds watched
A Christmas record with a difference! This jolly disc revives the little-known tradition of 'gallery music', suppressed by the Oxford Movement in early Victorian times because it was too cheerful. All fifteen works vitally capture the enthusiasm of a ...
» More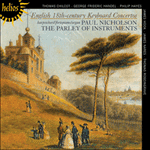 English 18th-century Keyboard Concertos
'A delightful project' (The Times)
'Los amantes de le buena música encontraran en él elementos de indudable atractivo que sería una lástima dejar escapar' (CD Compact, Spain)
» More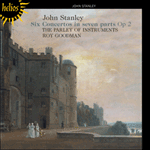 Stanley: Six Concertos in seven parts
'The players are technically superb, but also play with a grace and lightness which are wholly uplifting' (BBC Music Magazine Top 1000 CDs Guide)
'An attractive record' (Gramophone)
» More