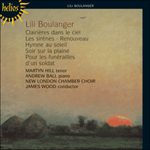 Boulanger: Clairières dans le ciel & other works
'Utterly seductive music with depth, sensitively performed. Highly recommended' (Classic CD)
'Truly one of the great French song cycles of the first quarter of this century' (Fanfare, USA)
» More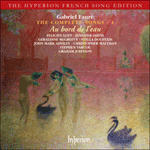 Fauré: The Complete Songs, Vol. 1 – Au bord de l'eau
'Hyperion's sound is impeccable and in both his playing and accompanying essay, Graham Johnson penetrates to the heart of one of music's most subtle a ...
'There can be nothing but praise for Johnson's pianism and his selection and arrangement of the songs. Volumes 3 and 4 are eagerly awaited' (The Sunda ...
» More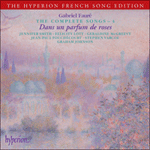 Fauré: The Complete Songs, Vol. 4 – Dans un parfum de roses
'There are songs of a fragrance, ambiguity and vision unique to Fauré and all the singers involved in this glorious project, while not always in their ...
'This completes Hyperion's recording of all Fauré's songs master-minded by Graham Johnson with a quintet of specialist singers: Jennifer Smith, Felici ...
» More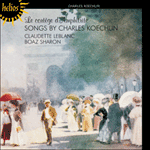 Koechlin: Le cortège d'Amphitrite & other songs
'Claudette Leblanc is a major recording discovery. A model presentation—landmark, classic, and indispensable' (Fanfare, USA)
'This really must be a find for those who wish to be captivated by some relatively unknown turn-of-the-century French songs' (Hi-Fi News)
» More