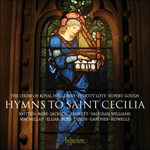 Hymns to Saint Cecilia
A new choral compendium from the highly regarded Choir of Royal Holloway, comprising twentieth- and twenty-first-century works written in honour of Saint Cecilia, the patron saint of music.
» More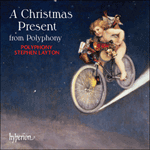 A Christmas Present from Polyphony
'Stephen Layton directs the performances and deserves major credit for the very high standards evident on this compilation' (BBC Music Magazine)
'This is a disc for listening to in peace, after the Christmas Day festivites are over and the visitors have gone' (The Daily Telegraph)
» More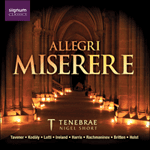 Allegri: Miserere
Allegri's haunting Miserere is the central point in a journey through music of longing and entreaty, hope and faith. These works spanning the centuries are chosen from the heart of Tenebrae's concert repertoire. The present album contains works by ...
» More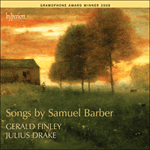 Barber: Songs
'Performances of this calibre emphasise Barber's stature in the mainstream of 20th-century song composers … Finley and Drake are impeccable (as a ...


BBC Music Magazine
» More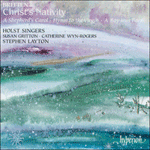 Britten: Christ's Nativity & other choral works
'Their commitment to what they are singing rings out with every note. A Boy was Born is imbued with more ravishing feeling than I would have thought p ...
'Remarquable! Les Holst Singers se révèlent être de remarquables interprètes de leur cher répertoire national. Cette anthologie atteste du niveau voca ...
» More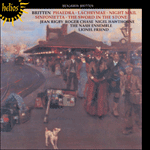 Britten: Phaedra & other works
'A chronologically wide-ranging Britten programme performed with unerring sensitivity and much quiet insight. With first-rate sound and balance throug ...
'A fascinating collection of neglected Britten, excellent playing from the Nash Ensemble and first-rate recording' (The Penguin Guide to Compact Discs)
» More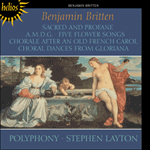 Britten: Sacred and Profane & other choral works
'The programme is delightful and the choir excellent … this has to be one of the strongest winners of the choral award in recent years' (Gramophone)
'Polyphony's brand of singing, clean as a whistle, rhythmically wonderfully alive, impeccably tuned and voiced, polished yet always fervent, is justly ...
» More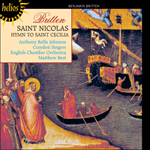 Britten: Saint Nicolas & Hymn to Saint Cecilia
'A very fine recording' (Gramophone)
'A fresh and atmospheric account of Britten's colourful cantata' (The Penguin Guide to Compact Discs)
» More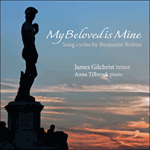 Britten: Song Cycles
The charismatic duo of James Gilchrist and Anna Tilbrook continue their exploration of English Song in 'My Beloved is Mine'. This new recording explores the song cycles of Benjamin Britten 'On this island', 'The Holy Sonnets of John Donne' and 'Se ...
» More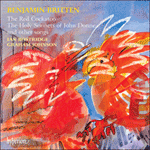 Britten: The Red Cockatoo & other songs
'Bostridge is in the royal line of Britten's tenor interpreters … heard here in a veritable cornucopia of, by and large, unfamiliar, and even unk ...
'The advent of Ian Bostridge has been one of the most heartening occurrences in British musical life in recent years. Here is a tenor with a wonderful ...
» More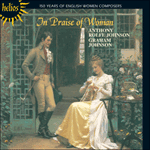 In praise of Woman
'Another delightful disc. They couldn't have more perceptive or loving or enthusiastic interpreters … unreservedly recommended' (Gramophone)
'An impressive and delightful disc … his unusual and appealing repertoire makes an exceptionally appealing recital' (BBC Music Magazine)
» More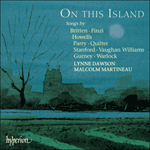 On this Island
'A top British soprano shines in a recital that should appeal well beyond her shores. The programme is delightful, and so are the performances' (Gramo ...
'The programme is well chosen, with familiar songs alongside some that have been unjustly neglected. Dawson's performances are wholly intelligent, ni ...
» More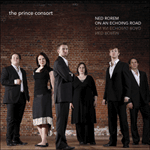 Rorem: On an echoing road
Ned Rorem is one of the most widely-recorded living American composers, who Time magazine called 'the world's best composer of art songs', with over 500 songs to his name.
» More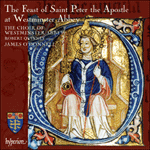 The Feast of Saint Peter the Apostle at Westminster Abbey
Another fascinating collection from Westminster Abbey, recreating a particular liturgical event. This disc contains music one might hear if visiting the Abbey on its patronal feast, that of St Peter the Apostle. The programme broadly follows the s ...
» More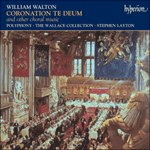 Walton: Coronation Te Deum & other choral works
'An outstanding collection' (Gramophone)
'What a splendid work it is, especially when sung with the verve brought to it by Stephen Layton's choir Polyphony' (The Sunday Telegraph)
» More
A Treasury of English Song