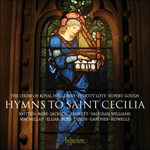 Hymns to Saint Cecilia
A new choral compendium from the highly regarded Choir of Royal Holloway, comprising twentieth- and twenty-first-century works written in honour of Saint Cecilia, the patron saint of music.
» More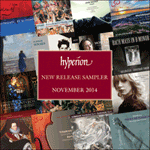 Hyperion monthly sampler – November 2014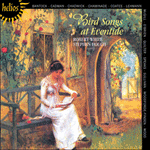 Bird Songs at Eventide
'If these ardent renderings … do not find a place in your heart then you should wonder what your heart's made of' (Classic FM Magazine)
'Hyperion are to be congratulated on their courage in issuing this charming collection of songs which might be classified as an endangered species. Wa ...
» More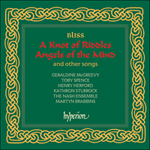 Bliss: A Knot of Riddles & other songs
'Kathleen Raine's poems drew the best from Bliss: simple eloquence, bold, shining gestures and memorable images including a fine nocturne: they are ma ...
'This double album is a revelatory document and a source of ever unpredictable delight … These songs beg to be performed more often.' (BBC Music ...
» More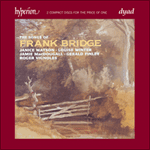 Bridge: Songs
This important release brings together all forty-five of the songs composed by Frank Bridge, performed by a fine group of singers under the impeccable direction of Roger Vignoles, and represents a further revelation of the wealth of 'English Renai ...
» More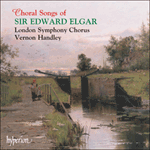 Elgar: Choral Songs
'Marvellous songs … most beautifully sung' (BBC Music Magazine)
'Deserves to remain the authoritative recording for many years to come' (Choir & Organ)
» More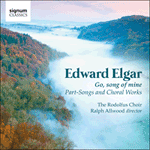 Elgar: Go, song of mine & other choral works
'Many an aspiring composer today would relish the lucrative market for sheet music afforded by the late nineteenth and early twentieth centuries' pass ...


BBC Music Magazine
» More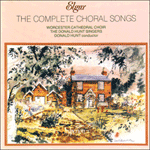 Elgar: The complete choral songs
'Another invaluable issue from Hyperion' (Music and Musicians)
» More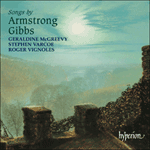 Gibbs: Songs
'Songs which gain in stature through being presented in sequence and superbly done' (Gramophone)
'two superb voices alive to Gibbs's many moods, while Roger Vignoles accompaniments are a model of sensitivity and understanding' (BBC Music Magazine)
» More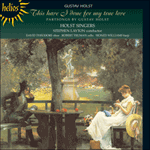 Holst: This have I done for my true love & other choral works
'A real joy to listen through without interruption' (Gramophone)
'Fascinating… The Holst Singers cover themselves in distinction. A gem' (CDReview)
» More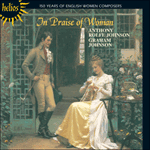 In praise of Woman
'Another delightful disc. They couldn't have more perceptive or loving or enthusiastic interpreters … unreservedly recommended' (Gramophone)
'An impressive and delightful disc … his unusual and appealing repertoire makes an exceptionally appealing recital' (BBC Music Magazine)
» More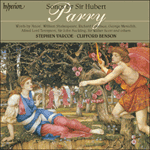 Parry: Songs
'Une heure d'absolu ravissement' (Diapason, France)
» More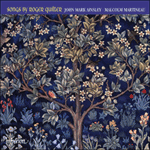 Quilter: Songs
'An exceptionally good tenor and an equally distinguished accompanist … a fine recital, admirably recorded and presented with excellent notes' (G ...
'Musiques élégantes, interprètes distingués: John Mark Ainsley a un timbre séduisant' (Diapason, France)
» More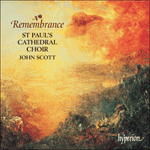 Remembrance
'A lasting souvenir of a moving occasion, a fitting tribute to a great man, but above all, fine listening' (Gramophone)
» More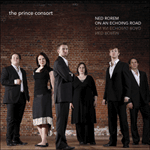 Rorem: On an echoing road
Ned Rorem is one of the most widely-recorded living American composers, who Time magazine called 'the world's best composer of art songs', with over 500 songs to his name.
» More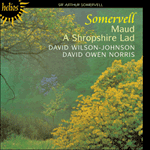 Somervell: Maud & A Shropshire Lad
'I cannot recommend this disc highly enough. To list the outstanding moments would take too long. Very highly recommended' (Classic CD)
'A very fine recital indeed' (CDReview)
» More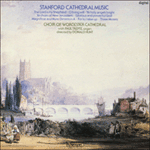 Stanford: Cathedral Music
'A prestigious disc' (The Monthly Guide to Recorded Music)
» More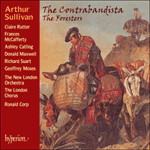 Sullivan: The Contrabandista & The Foresters
'The choir and orchestra with Ronald Corp seem to be having a good time, enthusiastic in their task. The clear recording is helped by the fine acousti ...
» More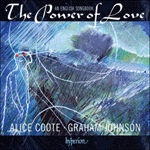 The Power of Love
The eagerly awaited Hyperion debut of Alice Coote, one of the most distinctive mezzos of her generation, who together with the indefatigable Graham Johnson explores love in its many manifestations in a pageant of English song and poetry that inclu ...
» More
A Treasury of English Song