Maw: One foot in Eden still, I stand & other choral works
'Nicholas Maw comes out of that excellent group of British composers born in the 30s. Congratulations to Hyperion for producing this CD, which is not ...
'Schola Cantorum, Oxford's premier mixed choir, connects deeply with Maw's Romanticism, and gives a rich, sound-driven account … more Maw, say I' ...
» More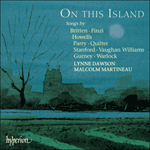 On this Island
'A top British soprano shines in a recital that should appeal well beyond her shores. The programme is delightful, and so are the performances' (Gramo ...
'The programme is well chosen, with familiar songs alongside some that have been unjustly neglected. Dawson's performances are wholly intelligent, ni ...
» More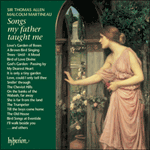 Songs my father taught me
'A persuasive case for the often sublime artistry of the humble parlour song … I found no trouble at all in listening to in continuously from sta ...
'Thomas Allen recalls happy evenings round the family piano and offers this well sung collection, which will strike a lost chord with many' (BBC Music ...
» More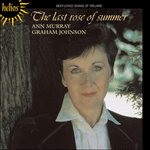 The last rose of summer
'Not in the profoundest Schubert, the most exquisite Fauré, has either of them performed with more delicacy and refinement, more tenderness, humour, a ...
'A delightful and diverse selection … strangely haunting' (BBC Music Magazine)
» More