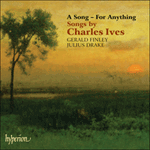 Ives: A Song - For Anything
'Finley is always essentially a singer—his tone and command of the singing line are a pleasure in themselves. But he also has the absolute mastery of ...
'I cannot praise Gerald Finley's performance too highly. It takes a very special artist to bring such unembarrassed fervour to General Booth Enters ...
» More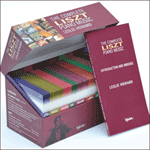 Liszt: Complete Piano Music
Leslie Howard's recordings of Liszt's complete piano music, on 99 CDs, is one of the monumental achievements in the history of recorded music. Remarkable as much for its musicological research and scholarly rigour as for Howard's Herculean piano p ...
» More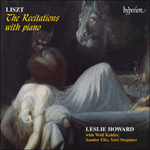 Liszt: The complete music for solo piano, Vol. 41 – The Recitations with piano
'A real curiosity and a valuable one' (Gramophone)
» More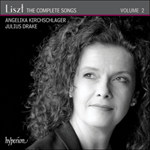 Liszt: The Complete Songs, Vol. 2 – Angelika Kirchschlager
Hyperion adds another star to its galaxy of Lieder recordings with this second volume of Liszt's songs—perhaps the most under-recorded part of the composer's repertoire—performed with extraordinary dramatic and musical insight by one of the great ...
» More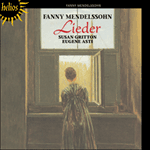 Mendelssohn: Lieder
'Pleasant, delightful … an excellent record: enterprising programmes, fresh young artists, fine presentation, typical Hyperion' (Gramophone)
'[Fanny Mendelssohn's] reputation deserves the kind of boost this excellent disc offers. Both Eugene Asti and Susan Gritton get to the heart of these ...
» More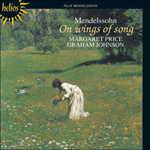 Mendelssohn: On wings of song
'A sure candidate for my vocal recital of the year' (Gramophone)
'Mesmerising… as is usual, the Hyperion recording is perfectly balanced' (Classic CD)
» More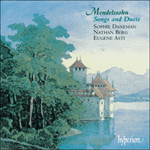 Mendelssohn: Songs and Duets, Vol. 1
'An exceptionally engaging disc' (Classic CD)
'The most attractive programming of the Mendelssohn duets yet devised' (Fanfare, USA)
» More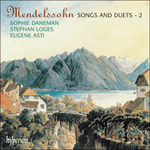 Mendelssohn: Songs and Duets, Vol. 2
'Attractively and intelligently presented by Sophie Daneman and Stephan Loges … the warm baritone of Loges making a particularly strong impressio ...
» More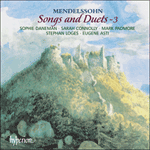 Mendelssohn: Songs and Duets, Vol. 3
'There is much to recommend in this collection. First of all, the songs themselves, some deeper than others, are sweet and forthright, and shown to th ...
» More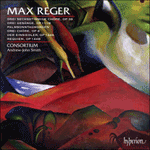 Reger: Choral Music
A second disc from new chamber choir Consortium, who were acclaimed for their disc of Brahms's secular partsongs. Although Reger's music has partly recovered from its deeply unfashionable reputation, much of this prolific composer's work still rem ...
» More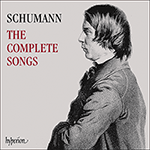 Schumann: The Complete Songs
Schumann's songs are among the greatest musical achievements of the nineteeth century, and this is the perfect release with which to mark the composer's 200th birthday. This marvellous collection comprises Schumann's complete songs, presented for ...
» More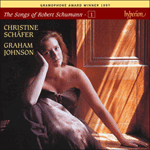 Schumann: The Complete Songs, Vol. 1 – Christine Schäfer
'Schäfer evokes comparison with Elisabeth Schumann and with the young Elly Ameling, whom in tone and freshness of response she often resembles. In sum ...
'Her voice combines ethereal radiance and clarity with resolute, unwavering focus. Johnson's account of the piano parts is superlative [and] his bookl ...
» More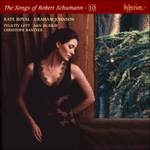 Schumann: The Complete Songs, Vol. 10 – Kate Royal
'Royal's pure, pellucid tone, free-soaring top notes and refined musicianship give constant pleasure … abetted by Johnson's ever-sentient keyboar ...
'In the Liederkries, Kate Royal, discerningly partnered by Johnson, sings with pure, luminous tone and eloquent phrasing … there are many memorab ...
» More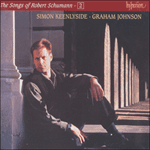 Schumann: The Complete Songs, Vol. 2 – Simon Keenlyside
'The collaboration of Keenlyside and Johnson is so potent that after an hour one is still ready for more' (Gramophone)
'No singer has sung them so beautifully or so naturally as Simon Keenlyside' (BBC Music Magazine)
» More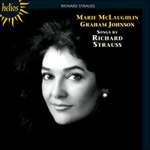 Strauss: Songs
'A musical treat' (BBC Music Magazine)
'Gorgeous singing' (The Sunday Telegraph)
» More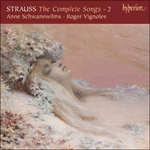 Strauss: The Complete Songs, Vol. 2 – Anne Schwanewilms
'This remarkable German soprano takes us on some giddy flights with superb breath control and a quite amazing concentration of vocal energy. But she n ...
'It's hard to dispute Roger Vignoles's claim that Anne Schwanewilms is 'a great singing actress'. That's clear in every song, where both the overall t ...
» More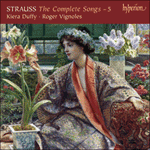 Strauss: The Complete Songs, Vol. 5 – Kiera Duffy
A further instalment in Hyperion's major series, skilfully masterminded by accompanist Roger Vignoles, introduces the American soprano Kiera Duffy. The highlight of this balanced recital is the coloratura Op 68 Brentano-Lieder, which owes its rich ...
» More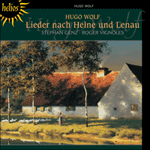 Wolf: Lieder nach Heine und Lenau
Award-winning practitioners of Lieder present Wolf's magical early songs. These are bewitching performances of little-known repertoire.
» More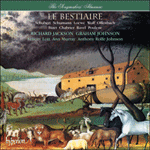 Le Bestiaire