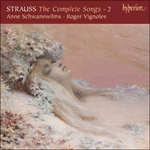 Strauss: The Complete Songs, Vol. 2 – Anne Schwanewilms
'This remarkable German soprano takes us on some giddy flights with superb breath control and a quite amazing concentration of vocal energy. But she n ...
'It's hard to dispute Roger Vignoles's claim that Anne Schwanewilms is 'a great singing actress'. That's clear in every song, where both the overall t ...
» More