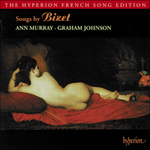 Bizet: Songs
'A most attractive addition to the song library, finely recorded and invaluably well documented' (Gramophone)
'I could rhapsodize about every one of these songs; they all enchant. Immensely enjoyable—a CD that will make repeated visits to my player' (Fanfare, USA)
» More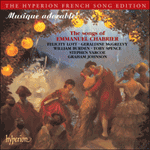 Chabrier: Songs
'[A] real treasure of a treasury' (BBC Music Magazine)
'I cannot begin to tell you what delights await you on these discs … irresistible gems of melody, wit and tenderness. The enterprise has clearly ...
» More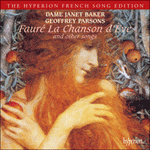 Fauré: La chanson d'Ève & other songs
'This varied and generous selection of 28 songs is perhaps the best general introduction to this important side of Fauré's output and is also one of G ...
'Deeply considered and deeply moving performances' (BBC Record Review)
» More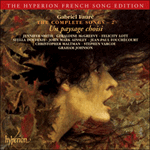 Fauré: The Complete Songs, Vol. 2 – Un paysage choisi
'All the singers involved in this ideally presented and recorded offering perform with a special ardour and commitment and Graham Johnson is, as alway ...
'There can be nothing but praise for Johnson's pianism and his selection and arrangement of the songs. Volumes 3 and 4 are eagerly awaited' (The Sunda ...
» More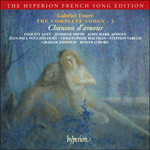 Fauré: The Complete Songs, Vol. 3 – Chanson d'amour
'Recording and presentation are the stuff of dreams. Hyperion has done Fauré proud' (Gramophone)
'The songs certainly show Fauré to possess a far wider expressive range than an acquaintance with just a handful of his best-known examples would sugg ...
» More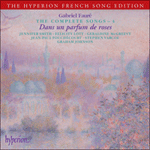 Fauré: The Complete Songs, Vol. 4 – Dans un parfum de roses
'There are songs of a fragrance, ambiguity and vision unique to Fauré and all the singers involved in this glorious project, while not always in their ...
'This completes Hyperion's recording of all Fauré's songs master-minded by Graham Johnson with a quintet of specialist singers: Jennifer Smith, Felici ...
» More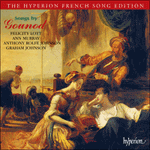 Gounod: Songs
'Exemplary … enchanting … ravishingly sung' (The Daily Telegraph)
'Superb … perfection … Best of the year' (The Sunday Times)
» More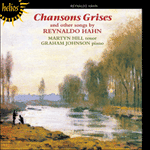 Hahn: Chansons grises & other songs
'Beautifully performed' (Gramophone)
'Martyn Hill's tenor is perfectly suited to Hahn's deliciously sentimental idiom…Most of the settings on the disc are to texts by his favourite Verlai ...
» More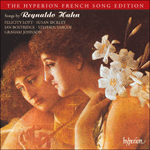 Hahn: Songs
'What treasures are here … the two discs provide an unmissable opportunity to explore a composer who is underrated and overlooked perhaps because ...
'Some fascinating rarities' (Gramophone)

'To wonderful songs … [the artists] bring delicacy, grace, an emotion the more poignant for being und ...
» More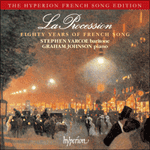 La Procession
'This generously-filled disc will afford many, many quarts d'heure of pleasure' (Gramophone)
» More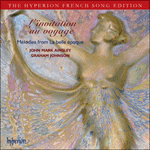 L'invitation au voyage – Mélodies from La belle époque
'A disc to treasure' (BBC Music Magazine)
'John Mark Ainsley understands the idiom of these beguiling songs and delivers them with grace, fluency and clear diction … Graham Johnson's play ...
» More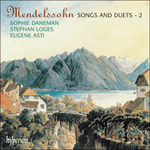 Mendelssohn: Songs and Duets, Vol. 2
'Attractively and intelligently presented by Sophie Daneman and Stephan Loges … the warm baritone of Loges making a particularly strong impressio ...
» More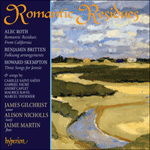 Romantic Residues
James Gilchrist is one of the greatest British tenors of today, acclaimed as a concert soloist, a recitalist and a recording artist. In his first solo disc for Hyperion, he features in a fascinating recital of English, French and American music fo ...
» More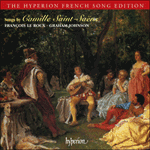 Saint-Saëns: Songs
'This is the most resounding blow yet to be struck for the mélodies of Saint-Saëns … Le Roux is one of the most charismatic performers of our tim ...
'Musical jewels surface with delightful consistency in this 27-song recital. An absorbing and revelatory disc' (BBC Music Magazine)
» More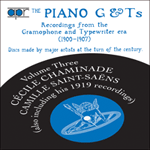 The Piano G & Ts, Vol. 3 – Chaminade & Saint-Saëns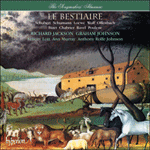 Le Bestiaire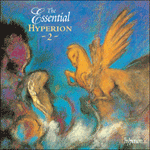 The Essential Hyperion, Vol. 2
'More than just a highlight sampler. This is a classy collection, brought together with a great deal of care and attention to musical programming seldom found in this kind of CD … A stocking-filler any music lover would appreciate' (Scotland ...
» More