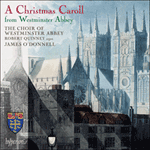 A Christmas Caroll from Westminster Abbey
Hyperion presents a delightful and unusual selection of music for Christmas from the Abbey Choir. It encompasses all the diverse themes of Christmas which have inspired composers across the ages: light shining in darkness; the tenderness of mother an ...
» More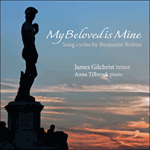 Britten: Song Cycles
The charismatic duo of James Gilchrist and Anna Tilbrook continue their exploration of English Song in 'My Beloved is Mine'. This new recording explores the song cycles of Benjamin Britten 'On this island', 'The Holy Sonnets of John Donne' and 'Se ...
» More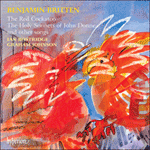 Britten: The Red Cockatoo & other songs
'Bostridge is in the royal line of Britten's tenor interpreters … heard here in a veritable cornucopia of, by and large, unfamiliar, and even unk ...
'The advent of Ian Bostridge has been one of the most heartening occurrences in British musical life in recent years. Here is a tenor with a wonderful ...
» More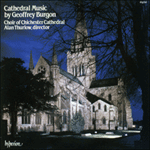 Burgon: Cathedral Music
'No composer would ever find a more responsive team' (Gramophone)
» More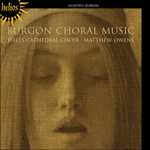 Burgon: Choral Music
'The national soundtrack for the past three decades … [Burgon] shows what can be done with some simple ideas and a top-flight cathedral choir' (T ...
'Geoffrey Burgon … has found a niche in contemporary English choral music because he wants to communicate, to write music that people want to hea ...
» More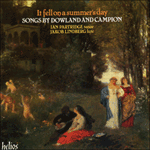 Campion & Dowland: It fell on a summer's day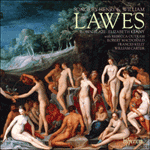 Lawes & Lawes: Songs
'This is a valuable anthology, carefully conceived and lovingly executed … Robin Blaze is heard mostly at his considerable best … the true f ...
'The Lawes brothers tend to be thought of mainly as composers of instrumental consort music, but this outstanding disc reveals them in a fascinating n ...
» More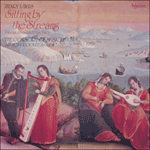 Lawes: Sitting by the streams
'This music has infinite charm… and I can only beg you not to deprive yourself of it. The recording is well made too—exceptionally so' (Hi-Fi News)
» More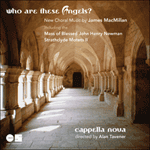 MacMillan: Who are these angels? & other sacred music
Cappella Nova release their second album of premiere recordings of new works by Scottish composer James MacMillan. A partner to their 2007 album 'Tenebrae' named Gramophone Editor's Choice, this is another wonderful choral performance by the group ...
» More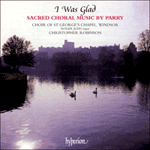 Parry: Sacred Choral Music
'A fine recital' (Gramophone)
» More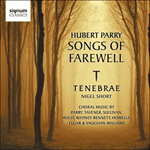 Parry: Songs of Farewell
'Parry's choral masterpieces, the six Songs of Farewell, composed between 1913 and 1915, represent a magnificent summation of his work as an English c ...
'The Music Nigel Short's vocal ensemble Tenebrae continues its candlelit journey, after discs of Victoria's Requiem and Allegri's Miserere, with a pro ...
» More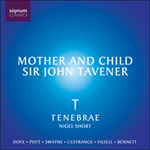 Tavener: Mother and child
Signum Records is delighted to announce the release of Tenebrae's second album,
Mother and Child
. Tenebrae has, in its short existence, made a considerable impact with fresh and vital re-interpretations of classic works in the choral repert ...
» More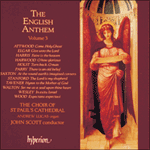 The English Anthem, Vol. 3
'A rich feast indeed' (Gramophone)
'This is a lovely programme' (Organists' Review)
» More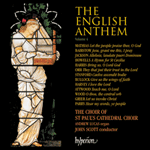 The English Anthem, Vol. 4
'The choir sing with their customary splendour and assurance' (Gramophone)
» More