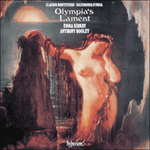 Monteverdi & India: Olympia's Lament
'Enchantingly beautiful' (Hi-Fi News)
» More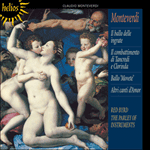 Monteverdi: Il ballo delle ingrate & other works
'At the pinnacle of current Monteverdi singing on records' (Fanfare, USA)
'One of the most perfect CDs ever made. Unsurpassable: glorious music, superb performances and hair-raising sound. The performers, engineers, and Hype ...
» More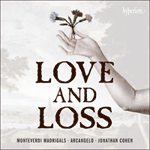 Monteverdi: Madrigals of Love and Loss
Gramophone Award-winning ensemble Arcangelo (in their first recording as a vocal and instrumental group) presents a selection from Monteverdi's last three books of madrigals. These ardent and passionate works are microcosms of Monteverdi's great o ...
» More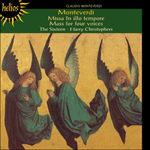 Monteverdi: Masses
'It is doubtful whether [Missa in illo tempore] could ever be given a more persuasive reading' (Gramophone)
'Marvellous … The Sixteen sing with superb rhythmic vitality and great power' (The Sunday Times)
» More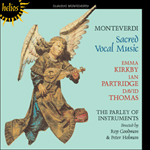 Monteverdi: Sacred vocal music
'There are few records of Monteverdi's solo vocal music as persuasive as this … superb' (The Penguin Guide to Compact Discs)
'Wonderful. Performed with the vigour, intelligence and sense of sheer enjoyment of the music that one would expect from this group of artists' (Inter ...
» More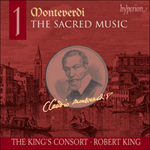 Monteverdi: The Sacred Music, Vol. 1
'This is life-enhancing stuff, breathtakingly exciting at times, exquisitely beautiful at others. If King and his forces maintain the standard they se ...
'The King's Consort shows complete affinity with both the dramatic and the lyrical aspects of Monteverdi's style. No ensemble could be better suited t ...
» More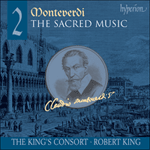 Monteverdi: The Sacred Music, Vol. 2
'Monteverdi is one of those composers who really does merit a complete recording of his output. The sacred works have been a little neglected, and thi ...
'… there are joys here to melt icebergs … I want Volume 3 immediately' (The Times)
» More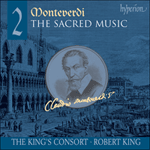 Monteverdi: The Sacred Music, Vol. 2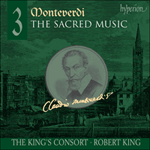 Monteverdi: The Sacred Music, Vol. 3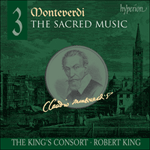 Monteverdi: The Sacred Music, Vol. 3
'It would be difficult to praise these performances to highly … the clarity and sheer élan here defeat close rival performances by William Christ ...
'No Monteverdi enthusiast will want to be without this superb selection … Robert King's light-footed approach to the big pieces, with brisk speed ...
» More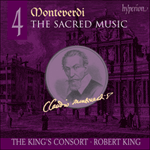 Monteverdi: The Sacred Music, Vol. 4
'Robert King never rushes the music but cannily treads the fine line between dizzying excitement and authoritative splendour. Even if you already adm ...
'This series of recordings is proving to be the definitive account of the neglected side of Monteverdi's genius, and one that's unlikely to be surpass ...
» More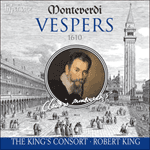 Monteverdi: Vespers
'Despite having heard four wonderful volumes of Monteverdi's sacred music from The King's Consort, and its 2004 Proms performance of the 1610 Vespers, ...
'The majesty and contrapuntal wizardy of this fabulous work never fail to astonish and this is a very fine performance, making effective use of the sp ...
» More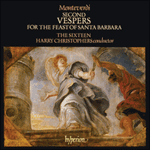 Monteverdi: Vespers for the Feast of Santa Barbara
'Unique and valuable. This will rank as one of Harry Christophers' proudest moments on disc and I urge you to put it next to any other recording you h ...
» More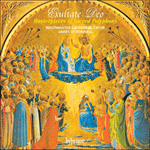 Exultate Deo
'The answer to many prayers; a blockbusting survey of choral masterpieces performed by a choir of exceptional calibre' (Classic FM Magazine)
'For anyone eager to sample varied music from the Golden Age of polyphony this is a perfect disc' (Classic CD)
» More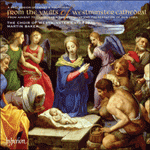 From the vaults of Westminster Cathedral
A century ago, Richard Runciman Terry re-introduced the wonders of the Renaissance into liturgical polyphony and placed Westminster Cathedral Choir at the pinnacle of the art. This disc is a homage to Terry's work: a procession through a particula ...
» More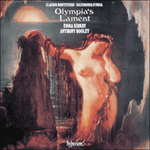 India & Monteverdi: Olympia's Lament
'Enchantingly beautiful' (Hi-Fi News)
» More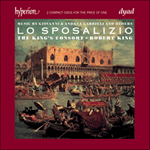 Lo Sposalizio – The wedding of Venice to the sea
The King's Consort celebrates Ascension Day in Venice during the 16th century, when the city was symbolically wedded to the sea, with a glorious musical feast on an epic scale, featuring works by Giovanni and Andrea Gabrieli, peals of Venetian chu ...
» More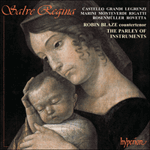 Salve Regina
'An excellent release … Robin Blaze's clear, pure countertenor is the ideal voice for these pieces, and he sings them with impressive authority. ...
'The intrinsic qualities of this little-explored repertoire and Blaze's musicianship mark this as an important release' (American Record Guide)
» More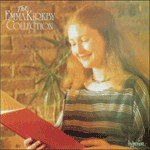 The Emma Kirkby Collection
'Recommended with enthusiasm' (Fanfare, USA)

'An attractive release, not only for the almost unfailing charm with which Kirkby imbues the music but also as a record of how her voice has blossomed over a period of some two decades' (BBC Music Mag ...
» More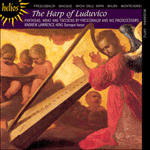 The Harp of Luduvico
'This is a quite stunning record. Treat yourself to it, even if it means pawning something you can live without' (Gramophone)
'This is a stunning record' (Fanfare, USA)
» More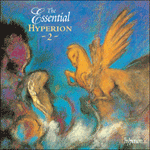 The Essential Hyperion, Vol. 2
'More than just a highlight sampler. This is a classy collection, brought together with a great deal of care and attention to musical programming seldom found in this kind of CD … A stocking-filler any music lover would appreciate' (Scotland ...
» More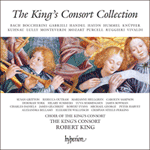 The King's Consort Collection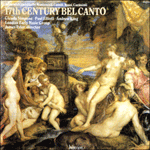 17th-Century Bel Canto