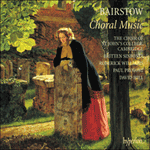 Bairstow: Choral Music
'An excellent disc in regard both to the standard of performance and to the selection of Bairstow's music. And to that should be added straight away t ...
'His anthems and services … are treasured within the church. Their touch is sure, and their word-setting is impeccable … Bairstow could hard ...
» More