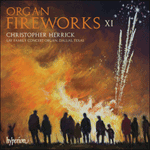 Organ Fireworks, Vol. 11
'As we have come to expect from Christopher Herrick and Hyperion everything is done to the highest standard. The varied and exciting programme is conv ...
'Christopher Herrick is his usual inimitable self, combing a sense of fun with a spontaneous grandeur which is at times, totally arresting. The listen ...
» More