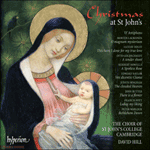 Christmas at St John's Cambridge
'David Hill's Advent programme imaginatively mingles antiphons, carols, hymns and motets. Favourites alternate with relative rarities such as Edward N ...
'This recording holds some of the most exquisite choral singing I have ever heard. They must be one of the finest choirs in England. Not only is the t ...
» More