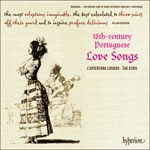 18th-century Portuguese Love Songs
A seductive album of Portuguese love songs from the eighteenth century in spirited recordings by L'Avventura London and their director Zak Ozmo, making their Hyperion debut.
» More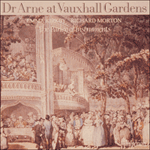 Arne: Dr Arne at Vauxhall Gardens
'A most entertaining concert' (Gramophone)
'Absolutely charming' (Hi-Fi News)
» More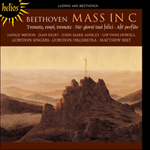 Beethoven: Mass in C major
'Two budget recordings of this underrated mass stand out … My own favourite, the more dramatic 1995 version conducted by Matthew Best. He conjure ...
'A fascinating CD' (The Recorder, USA)
» More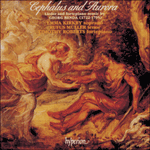 Benda: Cephalus and Aurora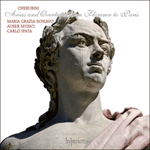 Cherubini: Arias and Overtures from Florence to Paris
Character, drama and virtuoso vocalizing combine in this thrilling disc of theatre music by the man Beethoven regarded as the finest of his contemporaries, Luigi Cherubini. The period-instrument Auser Musici together with director Carlo Ipata are ...
» More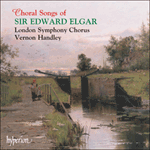 Elgar: Choral Songs
'Marvellous songs … most beautifully sung' (BBC Music Magazine)
'Deserves to remain the authoritative recording for many years to come' (Choir & Organ)
» More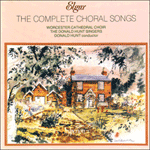 Elgar: The complete choral songs
'Another invaluable issue from Hyperion' (Music and Musicians)
» More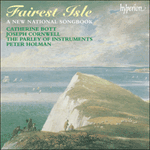 Fairest Isle
'Delightfully sung by Bott and Cornwell to a joyful accompaniment' (Gramophone)
'Stylish interpretations … elegantly shaped wind playing by The Parley of Instruments … the disc provides valuable insight into early 18th c ...
» More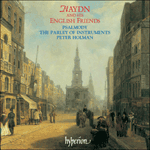 Haydn and his English Friends
'A fascinating collection … wonderfully atmospheric' (Gramophone)
'Music both major and relatively elementary, but all of it has charm' (Fanfare, USA)
» More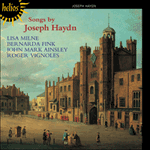 Haydn: Songs
'Much subtle musicianship in fine and neglected repertory and I am sure that no one who buys it will be disappointed' (Gramophone)
'There can't be many more delightful ways of spending an hour than in the company of these songs' (International Record Review)
» More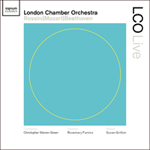 LCO Live - Mozart, Beethoven & Rossini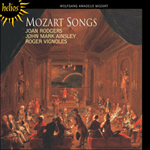 Mozart: Songs
'This marvellous compilation offers no fewer than 25 Mozart songs which genuinely redress this grossly neglected part of his output. A disc which offe ...
'[An] irresistible disc' (The Times)
» More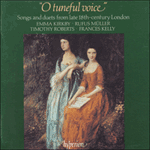 O tuneful voice
'This is a record for every library, and for lovers of song. Recommended' (Fanfare, USA)
» More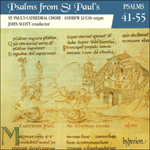 Psalms from St Paul's, Vol. 4 41-55
'St Paul's is the king of cathedral choirs, and the sound of their singing, with the majesty of the organ in the awesome reverberance of the great bui ...
» More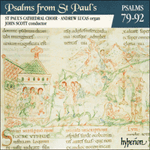 Psalms from St Paul's, Vol. 7 79-92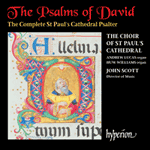 The Psalms of David
'Will surely remain unique for many decades' (Gramophone)
'All Old Testament life is here … how useful to be able to hold such a big chunk of English culture in a box five inches square' (The Times)
» More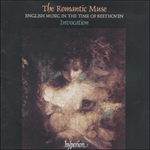 The Romantic Music
'This CD is a revelation. Do explore this well recorded, well presented disc' (British Music Society Journal)
» More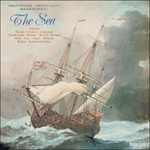 The Sea
'A delight from beginning to end' (The Penguin Guide to Compact Discs)
'Guaranteed to move, charm, and generally fascinate' (The Guardian)
» More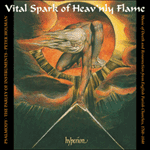 Vital Spark of Heav'nly Flame
'Once again Peter Holman's scholarship offers a fascinating glimpse of a neglected repertoire' (BBC Music Magazine)
'An infectious CD bringing to life a neglected period and its forgotten music. What fun parish music must have been for the likes of Jane Austen, Will ...
» More