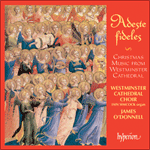 Adeste fideles
'An extremely well-sung traditional carol collection. The concert makes a great appeal by the quality of the singing and the beautiful digital recordi ...
'A model of its kind' (The Times)
» More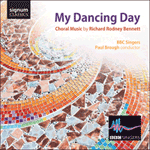 Bennett: My dancing day & other choral works
Sir Richard Rodney Bennett's compositions and arrangements performed by the BBC Singers are featured in the present album, which showcases some of his most popular and beguiling works for choir and voice, drawn from classical and jazz music
» More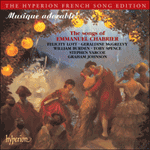 Chabrier: Songs
'[A] real treasure of a treasury' (BBC Music Magazine)
'I cannot begin to tell you what delights await you on these discs … irresistible gems of melody, wit and tenderness. The enterprise has clearly ...
» More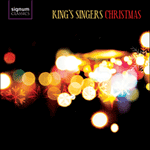 Christmas with The King's Singers
A King's Singers Christmas album comprising 24 tracks for each day of Advent. The album features celebrated carols as
Away in a Manger
, specially arranged for the group and other traditional carols performed in their original versions. Five ...
» More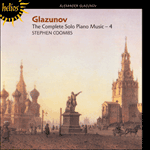 Glazunov: The Complete Solo Piano Music, Vol. 4
'A series that will surely raise this composer's status immeasurably' (Gramophone)
» More
Maw: One foot in Eden still, I stand & other choral works
'Nicholas Maw comes out of that excellent group of British composers born in the 30s. Congratulations to Hyperion for producing this CD, which is not ...
'Schola Cantorum, Oxford's premier mixed choir, connects deeply with Maw's Romanticism, and gives a rich, sound-driven account … more Maw, say I' ...
» More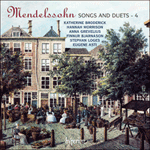 Mendelssohn: Songs and Duets, Vol. 4
Mendelssohn seems to have finally hit the big league in this bicentenary year of his birth. Critical reappraisals of his music have confirmed this somewhat elusive composer as an important Romantic figure, and probably the greatest child prodigy o ...
» More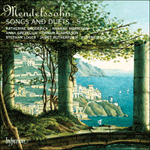 Mendelssohn: Songs and Duets, Vol. 5
Eugene Asti's pioneering series, containing a large number of first recordings and rarities, concludes with this fifth volume, a generous two CDs for the price of one. It places Mendelssohn firmly in the canon of the great Lieder composers.
» More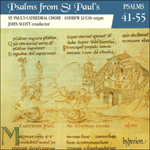 Psalms from St Paul's, Vol. 4 41-55
'St Paul's is the king of cathedral choirs, and the sound of their singing, with the majesty of the organ in the awesome reverberance of the great bui ...
» More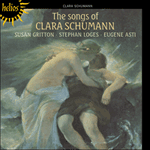 Schumann: Songs
'Stephan Loges brings to his contributions the youthful warmth of his attractively vibrant baritone and his wonderful feeling for line and word … ...
'I don't know how Hyperion keeps coming up with such fine young talent, but here we go again with another beautifully sung and superbly recorded effor ...
» More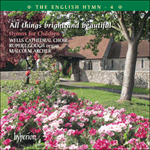 The English Hymn, Vol. 4 – All things bright and beautiful
'The boy and girl descants are on fine form' (Classic FM Magazine)
» More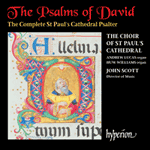 The Psalms of David
'Will surely remain unique for many decades' (Gramophone)
'All Old Testament life is here … how useful to be able to hold such a big chunk of English culture in a box five inches square' (The Times)
» More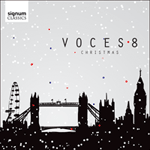 Voces 8 Christmas