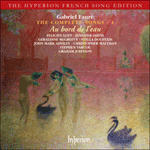 Fauré: The Complete Songs, Vol. 1 – Au bord de l'eau
'Hyperion's sound is impeccable and in both his playing and accompanying essay, Graham Johnson penetrates to the heart of one of music's most subtle a ...
'There can be nothing but praise for Johnson's pianism and his selection and arrangement of the songs. Volumes 3 and 4 are eagerly awaited' (The Sunda ...
» More