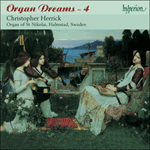 Organ Dreams, Vol. 4
'Whether your dreams are of the nocturnal or day variety there is plenty to enjoy on this fastidiously engineered disc; Herrick's playing is strong on ...
'as ever, an enterprisingly devised selection of music, excellently performed on a pristine instrument. And, by the way, the quality of the recording ...
» More