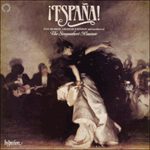 ¡España!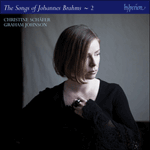 Brahms: The Complete Songs, Vol. 2 – Christine Schäfer
Following the iconic series of the complete songs of Schubert and Schumann, Graham Johnson's latest enterprise traverses the complete songs of Brahms. He is joined here on Volume 2 by the wonderful Christine Schäfer, whose contribution to the Schu ...
» More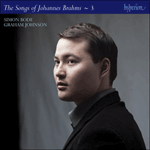 Brahms: The Complete Songs, Vol. 3 – Simon Bode
For this third volume in Hyperion's Brahms Songs cycle, Graham Johnson is joined by the young German tenor Simon Bode in his debut recording for the label. Equally at home in the opera house and the recital hall, Bode's is a voice fusing control a ...
» More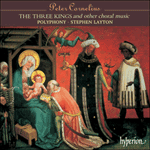 Cornelius: The Three Kings & other choral works
'An appealing collection of choral works from the composer of the celebrated carol, Three Kings from Persian lands afar. Polyphony are perfect advocat ...
'These are superior performances, Layton's group Polyphony offering refined tone and exceptional precision, together with a careful observation of Cor ...
» More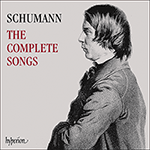 Schumann: The Complete Songs
Schumann's songs are among the greatest musical achievements of the nineteeth century, and this is the perfect release with which to mark the composer's 200th birthday. This marvellous collection comprises Schumann's complete songs, presented for ...
» More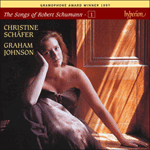 Schumann: The Complete Songs, Vol. 1 – Christine Schäfer
'Schäfer evokes comparison with Elisabeth Schumann and with the young Elly Ameling, whom in tone and freshness of response she often resembles. In sum ...
'Her voice combines ethereal radiance and clarity with resolute, unwavering focus. Johnson's account of the piano parts is superlative [and] his bookl ...
» More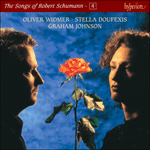 Schumann: The Complete Songs, Vol. 4 – Oliver Widmer & Stella Doufexis
'Excellent performances and recording offer superb advocacy of late songs by Schumann and, even more affecting, by Clara … This, the fourth offer ...
'At a time when the multinational labels fill their booklets with gushing hype about the artists, Hyperion's documentation puts all to shame: as in hi ...
» More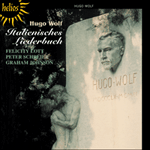 Wolf: Italienisches Liederbuch
'An artistically consummate performance. These musicians bring an immediacy and intimacy, to both text and music, which is thrilling' (BBC Music Magaz ...
'If I had to live with only one Italienisches Liederbuch, it would have to be that belonging to Lott, Schreier and Johnson' (BBC Music Magazine)
» More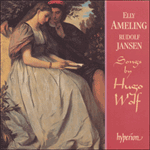 Wolf: Songs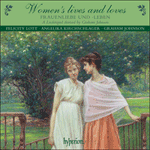 Women's lives and loves
'The performances give unalloyed pleasure. Lott's still-radiant soprano combines beautifully with the vibrant, musky mezzo of Kirchschlanger, while Jo ...
'I'll leave you to experience the conjuring for yourself. For conjuring it is: any element of the didactic is totally absent in this seamless garment ...
» More