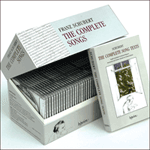 Schubert: The Complete Songs
'This would have been a massive project for even the biggest international label, but from a small independent … it is a miracle. An ideal Christ ...
'Please give me the complete Hyperion Schubert songs set – all 40 discs –and, in the next life, I promise I'll "re-gift" it to Schubert himself … ...
» More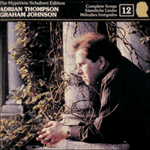 Schubert: The Hyperion Schubert Edition, Vol. 12 – Adrian Thompson
'An established and thoughtful interpreter of Schubert, one who sings German like a native' (Gramophone)
'His keen insight and regard for the words illuminate these fascinating songs. Hard as it now is to find fresh words of praise for Graham Johnson's pe ...
» More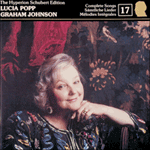 Schubert: The Hyperion Schubert Edition, Vol. 17 – Lucia Popp
'Piano-playing, notes and recording all enhance the virtues of this rewarding disc, which will surely be a thing of joy for many years to come' (Gramo ...
'A moving and fitting memorial to one of the loveliest and most beloved singers' (The Sunday Times)
» More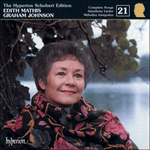 Schubert: The Hyperion Schubert Edition, Vol. 21 – Edith Mathis
'What riches are to be found here in a recital that is, by any yardstick, a profoundly satisfying one … the musical marriage of the performers se ...
'A delectable group of 24 songs written in 1817/18, including a high proportion of charmers' (The Penguin Guide to Compact Discs)
» More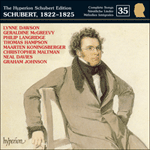 Schubert: The Hyperion Schubert Edition, Vol. 35
'Throughout the disc, Graham Johnson's accompaniments are typically illuminating with numerous touches of detail glossed over by many pianists. And, a ...
'Revelatory' (The Guardian)
» More