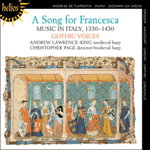 A Song for Francesca
'Performances which stimulate the mind and invariably cosset the ear … these vibrant performances are matched by a fine recording in the Hyperion ...
'Another of Gothic Voices' beautifully planned medieval programmes' (The Observer)
» More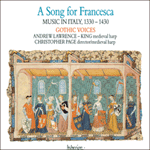 A Song for Francesca
'Performances which stimulate the mind and invariably cosset the ear … these vibrant performances are matched by a fine recording in the Hyperion ...
'Another of Gothic Voices' beautifully planned medieval programmes' (The Observer)
» More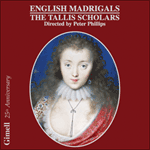 English Madrigals
This unique album, the only recording by The Tallis Scholars of English Madrigals and their first-ever digital recording, was made in the Great Hall at Deene Park, Northamptonshire, on April 23rd, 24th and 25th, 1982. There are also 7 bonus tracks ...
» More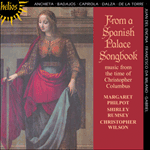 From a Spanish Palace Songbook
'Captivating' (The Daily Telegraph)
'This presents the beauty of the music to perfection' (Early Music Review)
» More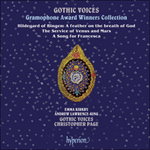 Gothic Voices Gramophone Award Winners Collection
'If you've managed to avoid buying these so far, don't miss the bargain offer' (Early Music Review)
» More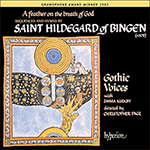 Hildegard of Bingen: A feather on the breath of God
'I was spellbound by both the music and the presentation … and have remained so ever since … a jewel in Hyperion's crown' (Gramophone)
'These hymns and sequences, most expertly performed and recorded, have excited much acclaim – and rightly so. A lovely CD.' (The Penguin Guide to Comp ...
» More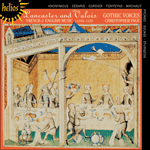 Lancaster and Valois
'We are exceptionally lucky to have such brilliantly persuasive advocates of such wonderful music' (Gramophone)
'The clarity of intonation and line has the freshness of an illuminated page of manuscript revealed for the first time for two thirds of a millenium' ...
» More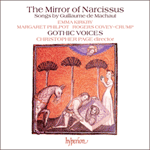 Machaut: The Mirror of Narcissus
'This is an exceptionally fine and important record. It makes Machaut's music sound more consistently pleasing and acceptable to a wider public than a ...
'Superb' (BBC Record Review)
» More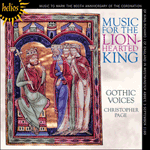 Music for the Lion-Hearted King
'This is rather special—the best record I have ever reviewed' (Gramophone)
'The singers cannot be applauded too highly for performances marked by an extraordinary insight into how this music should be tackled' (The Good CD Guide)
» More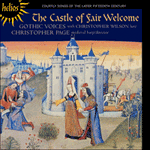 The Castle of Fair Welcome
'The sound is beautifully carved out, and the ensemble includes some of Britain's finest singers' (Gramophone)
» More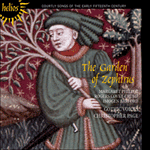 The Garden of Zephirus
'I believe this is the finest record of medieval polyphonic song yet produced' (Gramophone)
'I don't know a finer record of such fascinating material. Beautifully done' (BBC Record Review)
» More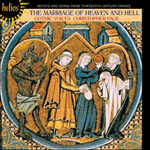 The Marriage of Heaven and Hell
'A wonderful collection. Lusciously sung sensuous music … a remarkable addition to the distinguished series of records from Gothic Voices' (Gramo ...
'Gothic Voices at its most imaginative. The group's choice of repertory is sublime and the freedom of its interpretation is bracing. Recommended' (BBC ...
» More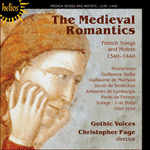 The Medieval Romantics
'These performances reach an unrivalled level of excellence … and show just how marvellous medieval music can be' (BBC Record Review)
'The beauty of this once-so-remote music is all immaculately tuned and articulated: what else do you expect from Gothic Voices? … I hope those wh ...
» More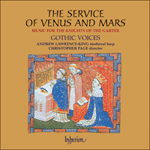 The Service of Venus and Mars
'The music is fascinating. Readers interested in trying medieval repertoire could hardly do better than start here' (The Penguin Guide to Compact Discs)
'It's a treasure' (Fanfare, USA)
» More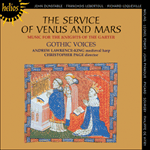 The Service of Venus and Mars
'The music is fascinating. Readers interested in trying medieval repertoire could hardly do better than start here' (The Penguin Guide to Compact Discs)
'It's a treasure' (Fanfare, USA)
» More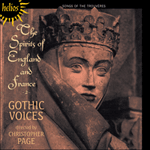 The Spirits of England & France, Vol. 2
'Outstanding' (BBC Music Magazine)
'I found myself extraordinarily moved … this is a CD that grabs you and hangs on to the end' (Early Music Review)
» More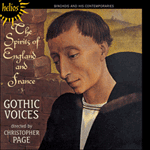 The Spirits of England & France, Vol. 3
'Deeply moving and magical' (Gramophone)
'Another compelling release in this series—up to Gothic Voices' usual standard' (BBC Music Magazine)
» More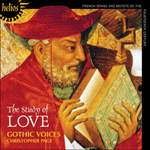 The Study of Love
'Subtle, intelligent performances reflecting the refined art of 14th-century French music' (BBC Music Magazine Top 1000 CDs Guide)
'A wonderful addition to the catalogue, and the recorded sound … is superlative' (Gramophone)
» More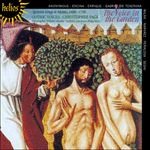 The Voice in the Garden
'An enthralling disc, a wholly persuasive introduction both to this little-known repertoire and to how it should be performed' (BBC Music Magazine)
'Whatever else you may have, don't miss this' (Fanfare, USA)
» More