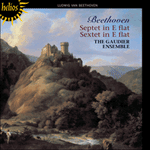 Beethoven: Septet & Sextet
'I'm delighted to be able to hail this … as first rate on all counts. The recording itself cannot be over-praised for its vivid clarity and truth ...
'Beethoven offers players the chance to sparkle in his Septet and in the delightful Sextet (new to me, and not to be missed), a chance that The Gaudie ...
» More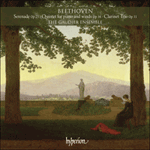 Beethoven: Serenade, Quintet & Trio
'The performances are of superlative quality: sophisticated 'conversations' between musicians of rare insight deserving wider circulation' (The Sunday ...
'This is a delightful program of 'Beethoven-lite' for which the Gaudier Ensemble makes the best possible case. Recording and notes are up to Hyperion' ...
» More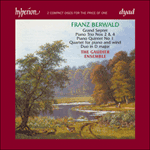 Berwald: Chamber Music
'I can't imagine [Susan Tomes's] playing will be surpassed in its sense of style and finesse. Much the same must be said of The Gaudier Ensemble who a ...
'Cherish this glowing collection of near-masterpieces, played with the utmost sensitivity and panache by the Gaudiers and the always wonderful Susan T ...
» More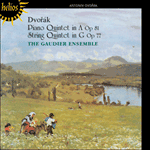 Dvořák: Piano Quintet & String Quintet
The two works recorded here come from different periods in Dvořák's career. In both works he achieves a remarkable fluency, with five instruments operating as consistent equals and in harmonious unity and balance.
» More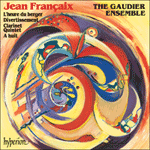 Françaix: L'heure du berger, Divertissement, Clarinet Quintet & À huit
'Four delightful works. Music which is as easy on the ear as it is beguilingly performed. A magical disc ideal for unwinding after a long hard day at ...
'An absolute must for every Françaix addict' (Fanfare, USA)
» More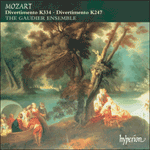 Mozart: Divertimenti K247 & 334
'A thoroughly delightful disc' (The Daily Telegraph)
'The playing thoughout is a delight: easy, perceptive, recognizing the subleties with a light touch, fresh and well balanced, with the conversational ...
» More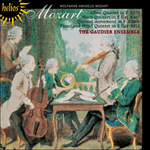 Mozart: Oboe Quartet, Horn Quintet & other works
'Ravishingly delightful' (American Record Guide)
'Anyone interested in this particular program is unlikely to be anything but delighted with this disc' (Fanfare, USA)
» More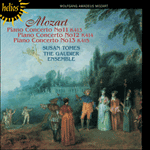 Mozart: Piano Concertos Nos 11, 12 & 13
'Susan Tomes's playing has all the qualities for which Mozart himself was renowned: delicacy, agility, neatness, expressive eloquence. In close creati ...
'Chamber music at its best—unified, warm, intimate' (American Record Guide)
» More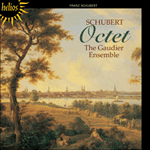 Schubert: Octet
An elegant, poetic performance of one of the most popular chamber works of the nineteenth century.
» More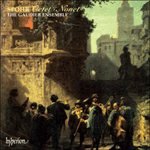 Spohr: Octet & Nonet
'An excellent pairing of two enduringly attractive works' (Gramophone)
'It's doubtful that either has ever received a performance superior to this … superb' (Classic CD)
» More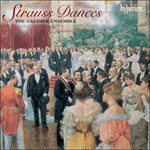 Strauss Dances
'Played with a controlled panache that adds extra fizz to the music's already infectious gaiety' (Classic FM Magazine)
'The Gaudier Ensemble regularly wins rave reviews here and elsewhere. This disc easily sustains their reputation as ideal in every way. Sad must be th ...
» More
Weber: Chamber Music
'The talented members of the pan-European Gaudier Ensemble are perfectly equipped to convey these different aspects of Weber's musical personality ...
'The Gaudier's performances are thoroughly enjoyable: gracefully shaped, rhythmically exuberant and relishing the music's sense of fun. In the Clarine ...
» More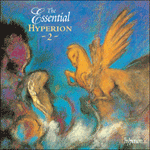 The Essential Hyperion, Vol. 2
'More than just a highlight sampler. This is a classy collection, brought together with a great deal of care and attention to musical programming seldom found in this kind of CD … A stocking-filler any music lover would appreciate' (Scotland ...
» More