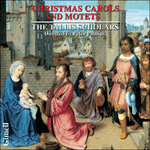 Christmas Carols and Motets
This recording presents three traditional ways of celebrating Christmas in music: medieval carols, renaissance motets praising the Virgin Mary, and German chorales.
» More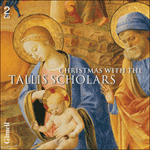 Christmas with The Tallis Scholars
"I am delighted to recommend this seasonal selection. Over the years we have recorded many different types of Christmas music—carols, chant, chorales, hymns, motets and masses—but this is the first time they have been put together in one collectio ...
» More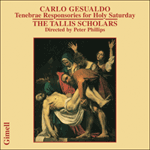 Gesualdo: Tenebrae Responsories for Holy Saturday
'Is this great music or merely weird?' wrote John Milsom in his review of this album in Gramophone. Gesualdo's sacred music, like his secular madrigals, is both eccentric and passionate.
» More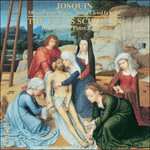 Josquin: Missa Pange lingua & Missa La sol fa re mi
The
Gramophone
magazine Record of the Year in 1987, the first time an independent label won this prestigious award.
» More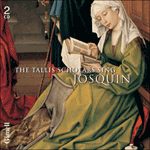 Josquin: The Tallis Scholars sing Josquin
"If one were looking for a superstar among Renaissance composers then Josquin is unquestionably the front runner. He was a star in his lifetime and he has become a star again more recently, aided in part when the recording of the two Masses on the ...
» More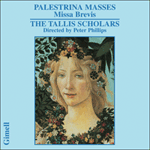 Palestrina: Missa brevis
This recording of Palestrina's Missa brevis is also available on our specially priced 2-CD set The Tallis Scholars sing Palestrina. The recording of Palestrina's parody Mass Nasce la gioja mia is also included as a bonus on the 25th Anniversary re ...
» More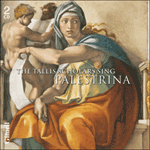 Palestrina: The Tallis Scholars sing Palestrina
"Palestrina is probably the most talked-about composer in the history of classical music. Beethoven and Mozart are possible rivals in this, but with them the process hasn't been going on for so long. The Tallis Scholars have sung his music more th ...
» More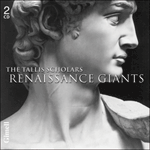 Renaissance Giants
"The Renaissance is well known for its cultural giants. Leonardo da Vinci, Raphael, and above all Michelangelo epitomize a period when the human spirit seemed to grow and gain in confidence. This collection of complete works celebrates the musical ...
» More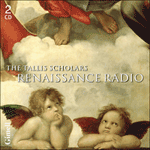 Renaissance Radio
Sacred Music from the Renaissance Era for Celestial and Secular Radio. When Peter Phillips founded The Tallis Scholars in 1973 sacred vocal music from the Renaissance Era was seldom heard on radio. Now it is firmly established as one of the great ...
» More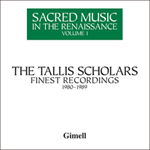 Sacred Music in the Renaissance, Vol. 1
The first of three volumes featuring The Tallis Scholars' finest recordings, one for each decade, and each offering over five hours of the award-winning performances that helped establish Renaissance Polyphony as one of the great repertoires of we ...
» More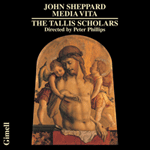 Sheppard: Media vita
The first recording of John Sheppard's masterpiece Media vita. It begins with some of the most haunting words in any of the Offices: 'In the midst of life we are in death'. Lasting over 21 minutes it is a unique and absorbing achievement.
» More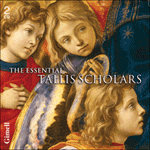 The Essential Tallis Scholars
"I am delighted to recommend this selection from our recordings. It is an excellent introduction to our work and to Renaissance music in general." (Peter Phillips)
» More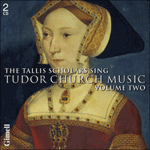 The Tallis Scholars sing Tudor Church Music, Vol. 2
"Of all the polyphony we have recorded, this early English style with its dazzling high treble parts and luminous sonorities is, for me, as good as it gets. Our pioneering performances of Sheppard and White have shown them to be the equals of Tall ...
» More