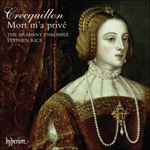 Crecquillon: Missa Mort m'a privé & other sacred music
'A gem of a CD' (Gramophone)
'A superbly balanced and expressive performance by the Brabant Ensemble shows the work to great advantage' (Early Music Review)
» More
Gombert: Tribulatio et angustia
'It's one of very few discs of this repertoire I've been happy to play in its entirety, and then several times since. This is in part a tribute to Gom ...
'The Brabant Ensemble's exploration of the 'forgotten generation' of composers between Josquin and Palestrina is reviving an abundance of unwarrantedl ...
» More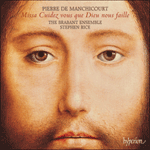 Manchicourt: Missa Cuidez vous que Dieu & other sacred music
'A must-have disc from the Brabant Ensemble … first-rate music stirs this young ensemble to their finest disc yet' (Gramophone)
'This well-selected collection places Manchicourt firmly on the musical map. The centrepiece of the recording, the Cuidez vous mass, is an insp ...
» More