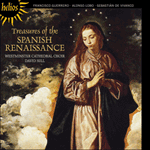 Treasures of the Spanish Renaissance
'A record that should be on the shelves of every lover of Renaissance music' (The Musical Times)
» More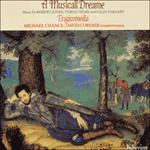 A Musicall Dreame
'A very attractive and more-ish recording. Highly recommended' (Gramophone)
'Comme ce CD porte bien son titre!' (Compact, France)
» More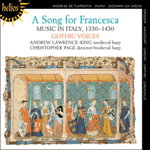 A Song for Francesca
'Performances which stimulate the mind and invariably cosset the ear … these vibrant performances are matched by a fine recording in the Hyperion ...
'Another of Gothic Voices' beautifully planned medieval programmes' (The Observer)
» More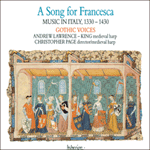 A Song for Francesca
'Performances which stimulate the mind and invariably cosset the ear … these vibrant performances are matched by a fine recording in the Hyperion ...
'Another of Gothic Voices' beautifully planned medieval programmes' (The Observer)
» More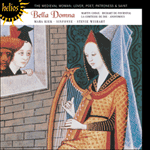 Bella Domna – The medieval woman: Lover, poet, patroness & saint
'Like so much that has been good, innovative and dangerous in recent recordings of early music, this comes from Hyperion' (BBC Record Review)
'Surely one of the most memorable and touching recitals of the decade' (The Independent)
» More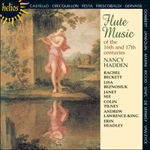 Flute Music 16th & 17th century
'Beautifully engineered … and played by all concerned with effortless artistry, the music of Frescobaldi has rarely sounded as seductive as this' ...
'The whole production, very pleasing' (Hi-Fi News)
» More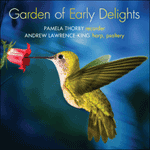 Garden of Early Delights
Recorder virtuoso Pamela Thorby collaborates with Andrew Lawrence-King in this delightful selection of unusual and eloquent pieces for recorders, harps and psaltery.
» More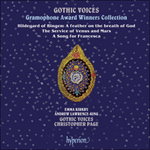 Gothic Voices Gramophone Award Winners Collection
'If you've managed to avoid buying these so far, don't miss the bargain offer' (Early Music Review)
» More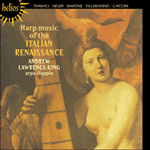 Harp music of the Italian Renaissance
'An impressive debut, beautifully recorded' (Gramophone)
» More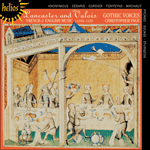 Lancaster and Valois
'We are exceptionally lucky to have such brilliantly persuasive advocates of such wonderful music' (Gramophone)
'The clarity of intonation and line has the freshness of an illuminated page of manuscript revealed for the first time for two thirds of a millenium' ...
» More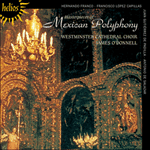 Masterpieces of Mexican Polyphony
'This is a magnificent recording. Pure Mexican gold' (Gramophone)
'Unusual, timely, interesting, and beautiful' (Fanfare, USA)
» More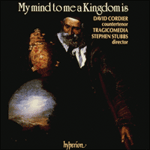 My mind to me a kingdom is
'This recording would be worth adding to your collection just to let yourself become engulfed by countertenor David Cordier's graceful and expressive ...
» More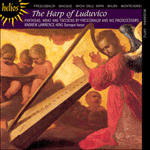 The Harp of Luduvico
'This is a quite stunning record. Treat yourself to it, even if it means pawning something you can live without' (Gramophone)
'This is a stunning record' (Fanfare, USA)
» More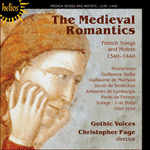 The Medieval Romantics
'These performances reach an unrivalled level of excellence … and show just how marvellous medieval music can be' (BBC Record Review)
'The beauty of this once-so-remote music is all immaculately tuned and articulated: what else do you expect from Gothic Voices? … I hope those wh ...
» More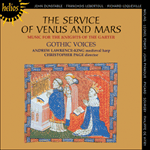 The Service of Venus and Mars
'The music is fascinating. Readers interested in trying medieval repertoire could hardly do better than start here' (The Penguin Guide to Compact Discs)
'It's a treasure' (Fanfare, USA)
» More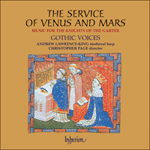 The Service of Venus and Mars
'The music is fascinating. Readers interested in trying medieval repertoire could hardly do better than start here' (The Penguin Guide to Compact Discs)
'It's a treasure' (Fanfare, USA)
» More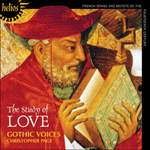 The Study of Love
'Subtle, intelligent performances reflecting the refined art of 14th-century French music' (BBC Music Magazine Top 1000 CDs Guide)
'A wonderful addition to the catalogue, and the recorded sound … is superlative' (Gramophone)
» More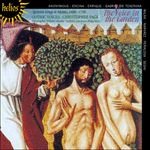 The Voice in the Garden
'An enthralling disc, a wholly persuasive introduction both to this little-known repertoire and to how it should be performed' (BBC Music Magazine)
'Whatever else you may have, don't miss this' (Fanfare, USA)
» More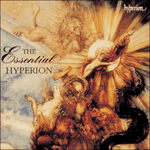 The Essential Hyperion, Vol. 1
'You'll be discovering what a superb label Hyperion is' (The Modern Dance)
» More