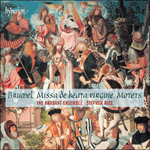 Brumel: Missa de beata virgine & motets
The Brabant Ensemble continues its exploration of hidden gems of the Renaissance with an album of music by Antoine Brumel, famous for his 'Earthquake' Mass but otherwise barely known today.
» More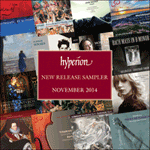 Hyperion monthly sampler – November 2014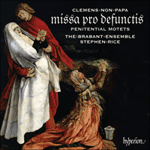 Clemens non Papa: Requiem & Penitential Motets
The Brabant Ensemble and Stephen Rice present music for the dark time of the year. Their latest disc features the extraordinary music of Clemens non Papa, represented by the Requiem Mass and a selection of motets. Despite the popularity of the com ...
» More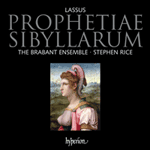 Lassus: Prophetiae Sibyllarum & Missa Amor ecco colei
Orlande de Lassus was an undisputed master of all the vocal genres of the late Renaissance. This recording features the glorious polyphony of the Missa Amor ecco colei and Prophetiae Sibyllarum, one of his most celebrated works. With their immacul ...
» More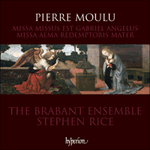 Moulu: Missa Alma redemptoris & Missus est Gabriel
Little is known about the life of the composer Pierre Moulu—he joins the long lists of Renaissance musicians whose lives are all but entirely masked in shadow. Fortunately a number of his works appear in numerous early manuscripts and prints. Like ...
» More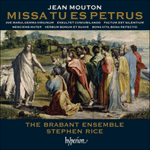 Mouton: Missa Tu es Petrus & other works
The Brabant Ensemble and Stephen Rice are renowned exponents of the sixteenth-century Franco-Flemish repertoire, and here they bring their artistry and expertise to Jean Mouton, long recognized as 'important' while being barely performed. The prog ...
» More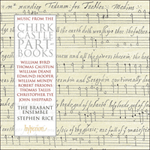 Music from the Chirk Castle Part-Books
This disc presents a selection of works from the Chirk Castle part-books, a fascinating collection of devotional music from the Tudor period that remained hidden in the castle library for three hundred years. This recording focuses on the unaccomp ...
» More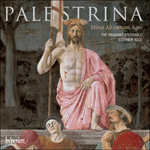 Palestrina: Missa Ad coenam Agni & Eastertide motets
Within Palestrina's huge output there are many hidden gems, lacking both recordings and modern performing editions, and it is from among these that The Brabant Ensemble's director Stephen Rice has chosen the repertoire for this album. The Ensemble ...
» More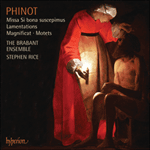 Phinot: Missa Si bona suscepimus & other sacred music
The young Oxford choir turns its immaculate ensemble, lucid diction and faultless tuning to an exciting find: a hugely neglected composer from the 16th century. Phinot's output consists of over a hundred motets, two Masses, and settings of Vesper ...
» More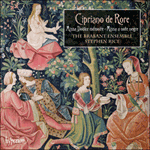 Rore: Missa Doulce mémoire & Missa a note negre
A new recording from The Brabant Ensemble and Stephen Rice features the sacred music of Cipriano de Rore, a Renaissance master principally known for his madrigals. The album contains two Mass settings based on French chansons and a selection of mo ...
» More