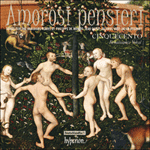 Amorosi pensieri
A new departure for the wonderful all-male vocal ensemble Cinquecento. They turn to the secular music—generally much less well known—of the Renaissance masters Philippe de Monte, Jacobus Vaet and Jacob Regnart whose sacred music they have explored ...
» More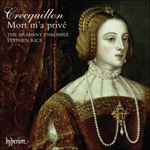 Crecquillon: Missa Mort m'a privé & other sacred music
'A gem of a CD' (Gramophone)
'A superbly balanced and expressive performance by the Brabant Ensemble shows the work to great advantage' (Early Music Review)
» More
Gombert: Tribulatio et angustia
'It's one of very few discs of this repertoire I've been happy to play in its entirety, and then several times since. This is in part a tribute to Gom ...
'The Brabant Ensemble's exploration of the 'forgotten generation' of composers between Josquin and Palestrina is reviving an abundance of unwarrantedl ...
» More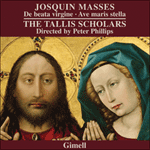 Josquin: De beata virgine & Ave maris stella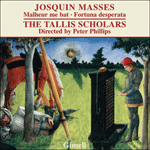 Josquin: Malheur me bat & Fortuna desperata
This album, the fourth in our planned cycle of complete Josquin Masses, was nominated for a Grammy Award in 2010.
» More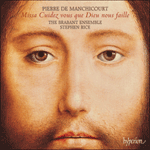 Manchicourt: Missa Cuidez vous que Dieu & other sacred music
'A must-have disc from the Brabant Ensemble … first-rate music stirs this young ensemble to their finest disc yet' (Gramophone)
'This well-selected collection places Manchicourt firmly on the musical map. The centrepiece of the recording, the Cuidez vous mass, is an insp ...
» More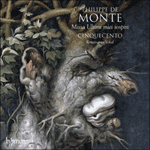 Monte: Missa Ultimi miei sospiri & other sacred music
In their third disc for Hyperion, the acclaimed vocal ensemble Cinquecento continue their exploration of the rich repertoire engendered in the Habsburg court. The prolific composer De Monte, Kapellmeister to the Emperor Maximilian II, wrote over a th ...
» More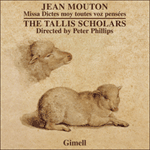 Mouton: Missa Dictes moy toutes voz pensées
"With a musical language quite distinct from everyone else, Jean Mouton is nonetheless often compared with Josquin on account of his astonishing technique. His music is able to convey such a spirit of calm and poise that in the whole gamut of rena ...
» More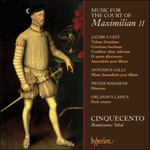 Music for the Court of Maximilian II
'From this showing, Cinquecento would be well placed to advocate Vaet further. An all-male a cappella ensemble, they sound clear and bright, and artic ...
'The fine motets recorded here suggest that his [Vaet] skill in achieving the closest possible union between text and music was comparable with that o ...
» More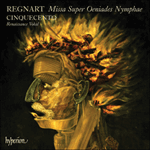 Regnart: Missa Super Oeniades Nymphae & other sacred music
'The polyphony of Jacob Regnart deserves a disc to itself, and this well-constructed programme is an excellent advocate for his varied and inventive m ...
'The repertory is glorious, important and little known; the sextet's vocal technique is superb, in solo performance as well as in ensemble, and the di ...
» More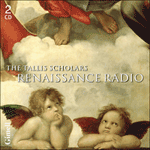 Renaissance Radio
Sacred Music from the Renaissance Era for Celestial and Secular Radio. When Peter Phillips founded The Tallis Scholars in 1973 sacred vocal music from the Renaissance Era was seldom heard on radio. Now it is firmly established as one of the great ...
» More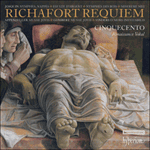 Richafort: Requiem & other sacred music
Richafort's Requiem, once attributed to Josquin and now believed to be a tribute to the great Renaissance master, is performed here with a selection of motets by their contemporaries. The programme is sung with luminous beauty by Hyperion's all-ma ...
» More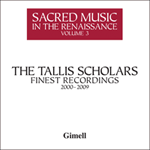 Sacred Music in the Renaissance, Vol. 3
The third of three volumes featuring The Tallis Scholars' finest recordings, one for each decade, and each offering over five hours of the award-winning performances that helped establish Renaissance Polyphony as one of the great repertoires of we ...
» More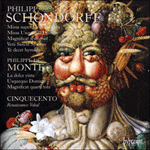 Schoendorff: The Complete Works
In this recording the Gramophone Award-nominated Cinquecento uncover the complete surviving works of Philipp Schoendorff. Schoendorff, originally a pupil of the illustrious Philippe de Monte, was a successful choirmaster at the Prague court of the ...
» More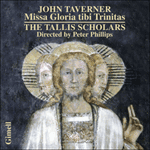 Taverner: Missa Gloria tibi Trinitas
"I chose to celebrate our 40th anniversary with Taverner's because I believe it to be one of the greatest compositions ever to have been written in England—a perfect ambassador for the repertoire we have made our own. It is also spectacularly diff ...
» More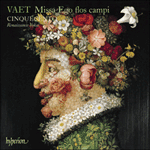 Vaet: Missa Ego flos campi & other sacred music
The vocal sextet Cinquecento are rapidly becoming one of the most admired early music ensembles recording today. Their latest release presents the music of Jacobus Vaet, repertoire they began to explore in their first disc for Hyperion (Music for ...
» More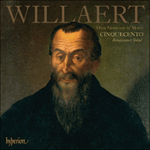 Willaert: Missa Mente tota & motets
The all-male vocal ensemble Cinquecento have won great praise for their recordings of Renaissance rarities. Their tone, vocal flexibility, collective and individual musicianship and commitment to their chosen repertoire places them at the very for ...
» More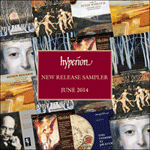 Hyperion monthly sampler – June 2014