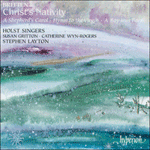 Britten: Christ's Nativity & other choral works
'Their commitment to what they are singing rings out with every note. A Boy was Born is imbued with more ravishing feeling than I would have thought p ...
'Remarquable! Les Holst Singers se révèlent être de remarquables interprètes de leur cher répertoire national. Cette anthologie atteste du niveau voca ...
» More