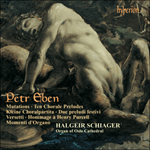 Eben: Organ Music, Vol. 3
'A delightful programme of short pieces continues this series devoted to the organ music of a contemporary Czech composer. He could hardly wish for a ...
'This CD continues the barnstorming success of the previous two … Eben's organ music is a major discovery, full of variety and invention. Heartil ...
» More