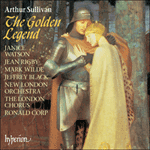 Sullivan: The Golden Legend
'A welcome opportunity to reassess the worth of Victorian England's favourite musician. The superb performance conductor Ron Corp draws from his New L ...
'A Victorian favourite impressively revived. Ronald Corp is a persuasive advocate, drawing alert playing and singing from the chorus and orchestra wit ...
» More