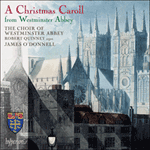 A Christmas Caroll from Westminster Abbey
Hyperion presents a delightful and unusual selection of music for Christmas from the Abbey Choir. It encompasses all the diverse themes of Christmas which have inspired composers across the ages: light shining in darkness; the tenderness of mother an ...
» More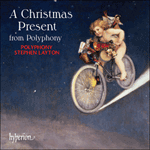 A Christmas Present from Polyphony
'Stephen Layton directs the performances and deserves major credit for the very high standards evident on this compilation' (BBC Music Magazine)
'This is a disc for listening to in peace, after the Christmas Day festivites are over and the visitors have gone' (The Daily Telegraph)
» More
A Festival of Nine Lessons & Carols - The Centenary Service
A moment of pure magic as the light fails on a midwinter's day and the still, small voice of a solo treble is heard … this is a cherishable document of one of this country's timeless musical traditions on its centenary.
» More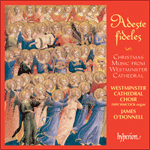 Adeste fideles
'An extremely well-sung traditional carol collection. The concert makes a great appeal by the quality of the singing and the beautiful digital recordi ...
'A model of its kind' (The Times)
» More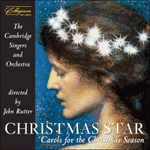 Christmas Star
'I can't imagine any Christmas recording bringing more happiness' (Gramophone)
'New life is breathed into the old favourites, and I guarantee that whatever your musical tastes, you will be bowled over by the quality of the music. ...
» More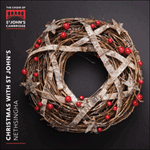 Christmas with St John's
'Christmas with St John's' presents a typically adventurous programme from this most illustrious of choirs, as new commissions by Judith Bingham and Michael Finnissy join established favourites by the likes of Bob Chilcott and John Rutter.
» More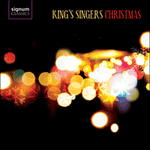 Christmas with the King's Singers
A King's Singers Christmas album comprising 24 tracks for each day of Advent. The album features celebrated carols as Away in a Manger, specially arranged for the group and other traditional carols performed in their original versions. Five centur ...
» More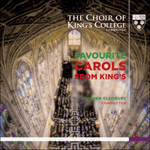 Favourite Carols from King's
Favourite Carols from King's is a collection of the most popular carols featured in the Festival of Nine Lessons and Carols over the years, and a tribute to the King's Christmas tradition.
» More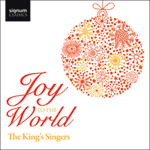 Joy to the World
Joy to the World is the King's Singers second Christmas Album featuring an eclectic assortment of classics with special arrangements of some much loved favourites
» More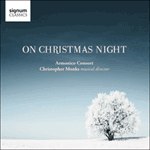 On Christmas night
A Ceremony of Carols, Benjamin Britten's timeless work is interpreted by Armonico Consort, under the artistic direction of Christopher Monk for an aesthetically inspiring Christmas Night.
» More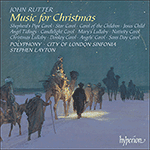 Rutter: Music for Christmas
'It's hard to imagine them better performed than by the award-winning British choir Polyphony' (The Mail on Sunday)
'The performances by both choir and orchestra are ideal in tone, style and accomplishment … a Christmas treat' (Gramophone)
» More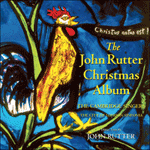 Rutter: The John Rutter Christmas Album
The definitive collection of John Rutter carols and arrangements, this album forms a programme which narrates, reflects upon, and celebrates the Christmas story.
» More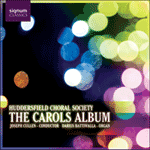 The Carols Album
Following their highly successful releases on Signum (the Hymns Album and Handel's Messiah conducted by Sir Charles Mackerras) the Huddersfield Choral Society is back in force with a magnificent collection of Christmas carols.
» More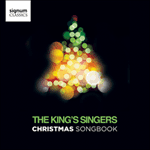 The King's Singers Christmas Songbook
The King's Singers—and their crack arrangers Robert 'Berty' Rice, Keith 'Keith' Roberts, and Alexander 'Arnd' L'Estrange—turn up the sparkle for their latest festive offering …
» More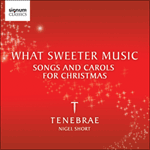 What sweeter music
'What Sweeter Music' is a real festive treat, with a sumptuous collection of songs and carols for Christmas—touching on traditional favourites (Silent Night, Away in a Manger), modern classics (The Lamb, What Sweeter Music) and some new light-hear ...
» More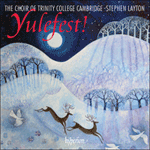 Yulefest!
Twenty-one tinsel-bedecked bundles of joy from Stephen Layton and his expert singers. Mulled wine essential.
» More