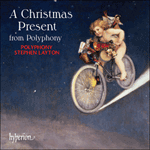 A Christmas Present from Polyphony
'Stephen Layton directs the performances and deserves major credit for the very high standards evident on this compilation' (BBC Music Magazine)
'This is a disc for listening to in peace, after the Christmas Day festivites are over and the visitors have gone' (The Daily Telegraph)
» More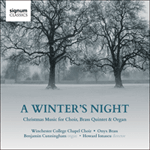 A winter's night
Bringing together a number of works for the specific forces of choir, brass quintet, organ and percussion (some arranged specially), this new album includes the first complete recording of Cecilia McDowall's 'Christmas cantata' in its original sco ...
» More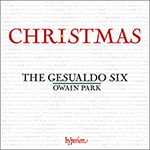 Christmas
Owain Park presents a programme of Christmas treats which effortlessly spans styles and centuries.
» More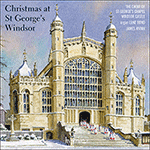 Christmas at St George's Windsor
The Choir of St George's Chapel in performances of a wide range of music appropriate to Advent, Christmas and Epiphany.
» More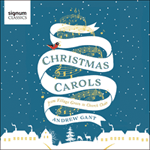 Christmas carols from Village Green to Church Choir
A new album bringing classic carols to life under the expert direction of conductor and author Andrew Gant, marking the release later this year of his new book 'Christmas Carols, from Village Green to Church Choir'. Christmas Carols brims with ane ...
» More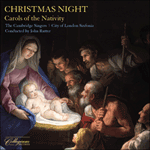 Christmas Night
Twenty-two carols spanning more than six centuries: some of these carols have long been widely known and loved, others have become so thanks to the annual Festival of Nine Lessons and Carols at King's College, Cambridge, and a few were newly writt ...
» More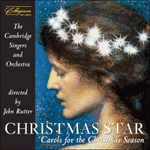 Christmas Star
'I can't imagine any Christmas recording bringing more happiness' (Gramophone)
'New life is breathed into the old favourites, and I guarantee that whatever your musical tastes, you will be bowled over by the quality of the music. ...
» More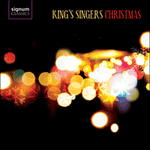 Christmas with the King's Singers
A King's Singers Christmas album comprising 24 tracks for each day of Advent. The album features celebrated carols as Away in a Manger, specially arranged for the group and other traditional carols performed in their original versions. Five centur ...
» More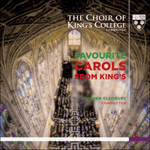 Favourite Carols from King's
Favourite Carols from King's is a collection of the most popular carols featured in the Festival of Nine Lessons and Carols over the years, and a tribute to the King's Christmas tradition.
» More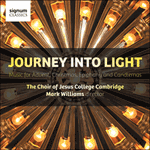 Journey into light

Gramophone
'This album provides a lovely programme of music. The Choir of Jesus College, Cambridge perform beautifully and the album contains a lot of wonderful ...
» More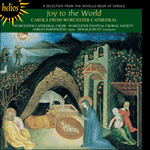 Joy to the World
'Altogether a very enjoyable disc' (Organists' Review)
'As beautiful as anything you will hear this festive season' (Yorkshire Post)
» More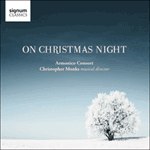 On Christmas night
A Ceremony of Carols, Benjamin Britten's timeless work is interpreted by Armonico Consort, under the artistic direction of Christopher Monk for an aesthetically inspiring Christmas Night.
» More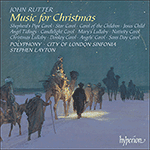 Rutter: Music for Christmas
'It's hard to imagine them better performed than by the award-winning British choir Polyphony' (The Mail on Sunday)
'The performances by both choir and orchestra are ideal in tone, style and accomplishment … a Christmas treat' (Gramophone)
» More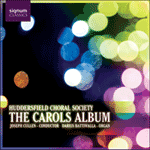 The Carols Album
Following their highly successful releases on Signum (the Hymns Album and Handel's Messiah conducted by Sir Charles Mackerras) the Huddersfield Choral Society is back in force with a magnificent collection of Christmas carols.
» More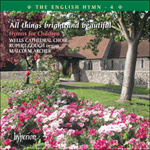 The English Hymn, Vol. 4 - All things bright and beautiful
'The boy and girl descants are on fine form' (Classic FM Magazine)
» More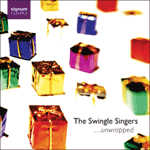 The Swingle Singers … unwrapped
What defines the Swingle Singers is not the personnel, nor even the choice of music, but the intimate, close microphone, quasi-instrumental sound with which they stunned the world all those years ago. They continue to do so today both live and in ...
» More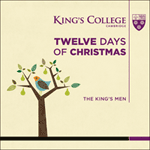 Twelve days of Christmas
The King's Men explore the Christmas tunes you're unlikely to be hearing in the Festival of Nine Lessons and Carols any time soon …
» More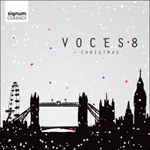 Voces 8 Christmas

BBC Music Magazine
'Another winner from Signum is Voces 8's Christmas. As the name implies, these are eight young singers: two sopranos, two counter-tenors, two tenors, ...
» More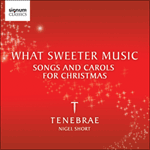 What sweeter music
'What Sweeter Music' is a real festive treat, with a sumptuous collection of songs and carols for Christmas—touching on traditional favourites (Silent Night, Away in a Manger), modern classics (The Lamb, What Sweeter Music) and some new light-hear ...
» More